PHOTO

Dubai-based Samana Developers is embarking on an ambitious expansion plan within the UAE and overseas. While CEO Imran Farooq remained tight-lipped about details, he disclosed to Zawya Projects that within the UAE, the developer is expanding to the Ras Al Khaimah emirate, where they "are actively searching for the ideal piece of land."
The overseas foray, which he described as "mission sun, sand, sea," marks the company's first-ever hospitality venture beyond the residential sector.
"It will be a 'second home' product, elevating your lifestyle to the next level," said Farooq in an interview at the Company's Business Bay office.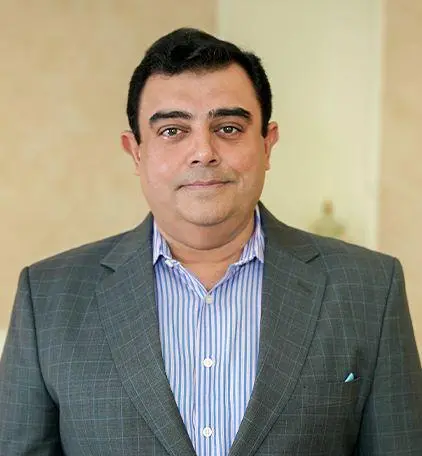 Samana's development portfolio of ongoing and completed projects in Dubai stands at more than 3.3 billion UAE dirhams ($898.5 million), encompassing 3,378 residential and 28 retail units, according to data supplied by the company. In 2023, the developer has launched, to date, nine new projects out of the 12 planned for the year. The company is also one of the fastest-growing real estate developers in Dubai, according to Dubai Land Department (DLD) data.
Farooq emphasised Dubai's unique position as a global hub, attracting investors from around the world due to its reputation as a peaceful and stable destination, especially during times of crisis.
"As a developer based in Dubai, home to 200 nationalities, our target market is 90 percent of the world's nationalities," he said.
Looking ahead to 2024, Farooq expressed a bullish outlook for the Dubai real estate market. He cited several factors contributing to this optimism, including capital inflow from regions experiencing economic slowdowns, higher rental yields, robust capital appreciation, and increasing rental income. He also anticipated a 25 to 35 percent increase in real estate prices before a potential consolidation phase, which he viewed as a positive development.
The company's projects pipeline for 2024 is expected to be AED8 billion ($2.3 billion), he stated.
Excerpts from the interview:
What excites you about the Dubai real estate market today?
Developers around the world will always target their local markets. As a developer based in Dubai, home to 200 nationalities, our target market is 90 percent of the world's nationalities. Dubai's reputation as a peaceful global hub attracts investors from around the world, especially during times of crisis.
Samana pioneered lifestyle projects that offer resort-like amenities, including private pools, within a single apartment title deed. You pay the service charges of an apartment while enjoying the luxuries of a five-star hotel. This unique concept has been highly successful, with competitors adopting similar ideas. All our projects are consistently sold out, and demand remains high. This is a pretty exciting space because when all these new lifestyle projects are delivered, they will stand out.
What are your expectations for the upcoming year? Are you anticipating any market consolidation in 2024?
I believe there are several compelling reasons to maintain a bullish outlook on the market's prospects. First, I expect demand to remain strong due to various global factors. Due to high borrowing costs, many economies are slowing down, leading to stagnation in their real estate markets. Capital gain investors have withdrawn from these regions, and this capital is now finding its way into Dubai. Prominent fund managers are coming to Dubai, drawn by higher rental yields, robust capital appreciation, and year-on-year increases in rental income. Given these factors, there is little reason for pessimism about the upcoming year.
Second, I firmly believe in the benefits of consolidation within the market because it is healthy and contributes to sustaining long-term growth. Currently, we are in a seller's market rather than a buyer's market. However, if a consolidation phase lasting between three to six months were to occur next year, where rates stabilise, it would be a positive development. In fact, we anticipate a capital appreciation of 25 to 35 percent before we come to that point, and if consolidation happens at that level, it will be super healthy for the markets.
If we examine the rental trends this year, we can see a significant shift. Rental rates for villas started to climb, and then the prices for prime villas shot up. For instance, in areas like Barsha, where families rented for AED250,000, it's now virtually impossible to find anything below AED 450,000. When renewals come up, many families may opt to move out of these villas and explore options outside a 25-minute driving radius, or they might consider three-bedroom apartments. This shift will likely exert upward pressure on rental rates in those areas.
This year, the real estate market appears to be in a full-fledged cyclical phase. Moreover, we've witnessed a significant rally in commercial real estate, so the pressure is now cascading across various segments, and a 25 to 35 percent increase in real estate prices is expected.
Do you feel that much of the money coming from crisis spots involves short-term investors seeking returns rather than long-term end-users?
As a developer, I want to focus more on end-users than investors. Dubai is currently experiencing a surge in buyers, so we maintain a certain level of risk appetite. However, we are cautious not to allow more than 15 percent of the project to be allocated to investors. The rationale lies in the fact that in challenging market conditions, investors often choose to exit, but end-users tend to collaborate with the developer to preserve the value of their units.
Every week, I get multiple offers for entire buildings and even offers for multiple floors, but we do not engage in such arrangements. We are steadfast in our commitment to being a company that caters mainly to end-users.
Buyers are still required to bring a certain amount of equity when purchasing a home. From a developer's standpoint, what is the current mortgage landscape like?
The Central Bank of the UAE rules caps off-plan mortgages at a maximum of 50 percent. Otherwise, banks in Dubai are displaying a significant appetite for lending and providing suitable products to their customers. Even in a global environment with higher interest rates, I reckon that one can secure a mortgage in Dubai at rates ranging from 4.7 to 4.8 percent, which is somewhat competitive.
How did you deal with issues associated with the increase in building material prices, shortages and delivery delays in the aftermath of the pandemic and ongoing Russia-Ukraine war?
I firmly believe that brand equity should carry more weight in a thriving business with strong sales. While there were some challenges, the bottom line is that project delays can be avoided if you are willing to accept a modest 3 to 5 percent increase in costs. We are not inclined to hold out for the same prices as the previous year if it means delaying a project. We don't have that mindset. We believe that the price of the day is the prevailing price. Our average construction cost increased by 3 to 5 percent, but we consider that reasonably manageable because it's more important to uphold the Samana promise of delivering on time every time rather than cribbing about that price increase.
How does the situation look for Samana this year regarding new launches and project deliveries?
Samana Golf Avenue in Dubai Studio City, which was launched in October 2020 during the pandemic, has been completed. Next year, we intend to complete Samana Park Views in Arjan and Samana Waves in Jumeirah Village Circle. I am pleased to report that all our construction work is on track or running ahead of schedule by approximately 30 to 50 days.
Please give us visibility into your plans. Do you plan to expand beyond Dubai, within the UAE, the region, or overseas?
I call our expansion plan 'mission sun, sand, sea.' All I can disclose at this stage is that we are venturing into an overseas jurisdiction for a very exciting waterfront project, which we hope to launch this quarter [Q4 2023]. This will be a high-end product with a ticket range of about AED10-11 million. It will be a 'second home' product, elevating your lifestyle to the next level.
Additionally, we have plans to extend our presence within the UAE by venturing into Ras Al Khaimah. We are actively searching for the ideal piece of land for this expansion.
In Dubai, we now have active projects spanning ten areas, which include JVC, Arjan, Furjan, Majan, Dubai Sports City, Dubai Production City, Dubai Studio City, and Dubailand Residential Complex. Our project pipeline for 2024 is valued at AED 8 billion.
We will be announcing two new property projects in retail and residential sectors soon.
Are you looking at projects in the hospitality sector as an extension of your holiday homes business?
Our overseas foray is a greenfield hospitality project, where you are buying into a piece of a five-star hotel. At the same time, you have the option of not putting the unit in the [rental] pool. We will soon be announcing a strategic partnership with a five-star brand.
However, in Dubai, our hospitality plans are different because, commercially, we have seen challenges in sectioning title deed owners. There's a difference between buying the entire building and my team running it for me or the operator running for me versus sectioning it out. Following an extensive market study, we uncovered several additional issues, which have led us to defer our plans till the rates pick up. Furthermore, the expansion of short-term rental platforms like Airbnb is putting pressure on the revenue of traditional hotels and operators.
(Reporting by Anoop Menon; Editing by Bhaskar Raj)
Subscribe to our Projects' PULSE newsletter that brings you trustworthy news, updates and insights on project activities, developments, and partnerships across sectors in the Middle East and Africa.