PHOTO

The board of directors of Oman-Etihad Rail Company met in Oman's capital Muscat to review progress of the $3 billion UAE-Oman Railway Network Project.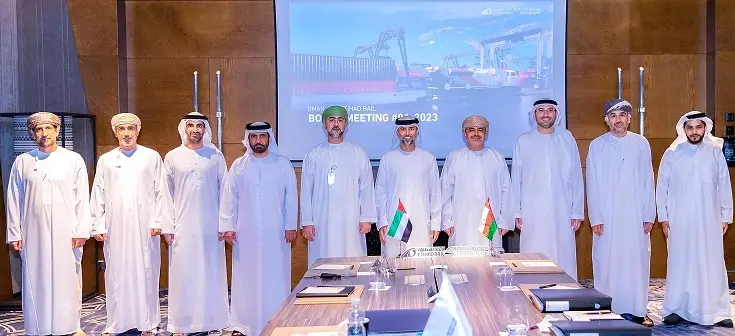 During the meeting, the board members were updated on the results of engineering design reviews and system studies, and their alignment with international standards and local environmental conditions.
In March, the company had invited companies to prequalify for civil works tenders with submission deadline of 27 March 2023.
The board also discussed the company's efforts to ensure the application of international best practices and the adoption of the latest technologies and systems to develop an integrated railway network for smooth train operations and seamless border crossings for passenger and freight.
The meeting was attended by Suhail bin Mohamed Faraj Faris Al Mazrouei, UAE Minister of Energy and Infrastructure, and Chairman of the Board of Directors of Oman-Etihad Rail Company, and Saeed bin Hamoud Al Maawali, Omani Minister of Transport, Communications and Information Technology, and Vice Chairman of the Board of Directors of Oman-Etihad Rail Company.
In February 2023, Oman-Etihad Rail Company signed a cooperation agreement with Mubadala Investment Company, a sovereign investor in Abu Dhabi, for exploring investment opportunities and accelerating the preparatory work and completion of the project's implementation plan.
(Writing by Senthil Palanisamy; Editing by Anoop Menon)