PHOTO

The growth momentum in Dubai's real estate sector will persist for the rest of 2023, with market consolidation projected for next year, Ravi Menon, Co-Chairman of Sobha Realty, told Zawya Projects.
"At present, in the first half of 2023, the market is already at 30-40 percent growth over the first half of last year, and we expect this momentum to continue for the rest of 2023 as well," he stated, adding the emirate is well-positioned to address future challenges and maintain its upward trend going forward.
Menon affirmed that the company has achieved its sales and financial targets for the first half of 2023 without disclosing specific financial numbers.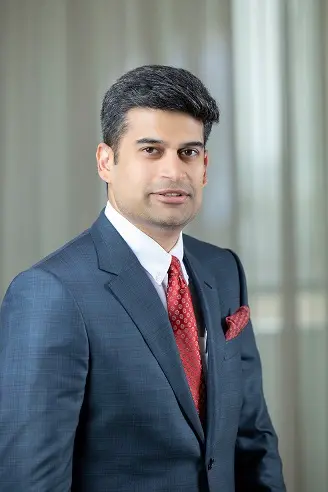 In 2022, Sobha Realty took a proactive step to release its first environment, social, and governance (ESG) report as per the guidelines set by the Global Reporting Initiative (GRI).
"Work is currently underway on the second report," Menon stated.
Excerpts from the interview:
As the Co-Chairman of Sobha Realty, what are your priorities in the first year of taking on the new role?
The conception of a robust growth strategy for the company's existing business and the identification of new growth opportunities continues to be our top priorities. We aim to evaluate and improve the company's operations to ensure efficiency and quality across all facets of the business, including project management, construction, marketing, and customer service.
Sobha Realty's financial performance will also be evaluated to maximise revenues, profitability, liquidity, and long-term stability. By developing financial strategies to optimise revenue generation, cost control, and risk management, we look forward to streamlining financial decisions and thus driving sustained growth for the future.
Do you intend to change or retain the same growth and development strategy in the UAE and the GCC?
Growth and development strategies may be modified or retained depending on several external factors, such as market conditions, competitive landscape, economic outlook, and specific corporate goals.
Market analysis is crucial as it helps assess market conditions by considering factors such as supply and demand dynamics, pricing trends, consumer preferences, and the regulatory environment.
Businesses must determine whether their current strategy is in line with market realities and pinpoint areas where it needs to be adjusted or improved. Similarly, we must also consider the overall economic climate and future projections for the market.
This requires careful consideration of GDP growth, government spending, infrastructure development, and other sector-specific indicators.
When you state that Dubai is primed for significant real estate growth, what kind of growth are you estimating in the real estate sector for the rest of 2023 and 2024?
In recent years, Dubai has become a hub for real estate investments, with numerous ambitious projects and initiatives fuelling growth in the sector.
This is supported by a strong emphasis on infrastructure development. Projects like Dubai Metro and the expansion of Al Maktoum International Airport further improve connectivity and accessibility, making Dubai an appealing location for real estate growth.
Dubai's tourism and hospitality sectors are also important in driving this growth, as the city is known for its luxury and world-class hospitality, attracting both leisure and business travellers. These factors, along with the emirate's favourable business environment and laws that permit foreign ownership of properties, are why we believe the emirate's growth will continue and demand for residential real estate will be on the rise.
At present, in the first half, the market is already at 30- 40 percent growth over the first half of last year, and we expect this momentum to continue for the rest of 2023 as well. Given a strong market run in the last two years, we expect the market to consolidate the gains in 2024.
Have you met your 2023 targets in terms of new project launches and construction timelines for your existing projects?
We have successfully met our sales and financial targets for the first half of 2023. We completed our Waves project at the waterfront district in the Sobha Hartland community, which received its building completion certificate earlier than scheduled.
Similarly, we handed over our latest residential tower, One Park Avenue, and Tower B of our Creek Vistas project in Sobha Hartland, Mohammed Bin Rashid Al Maktoum City (MBR City).
Using our backward integration model, we were able to complete and deliver these premium projects on time, upholding the highest standards in quality.
What factors motivated you to launch Sobha Hartland II in MBR City and Sobha SeaHaven in Dubai Harbour?
These projects were motivated by a variety of factors, especially market demand, which developers typically gauge for residential or commercial properties in a specific area. Likewise, the location of a project is critical to its success.
We were strongly influenced to pursue Sobha Hartland II inspired by the phenomenal success of Sobha Hartland and its ideal location near Downtown Dubai. Besides that, we aimed to establish a strong presence in MBR City, which is a flagship location of the emirate.
The Sobha Seahaven project also benefited from its waterfront location at Dubai Harbour, a prime locale in Dubai. With its unparalleled architecture and spectacular views of the Palm and Ain Dubai, we were confident it would be a sought-after project amongst our discerning clientele.
Who is the architect of these two projects?
As part of our backward integration model, we have our own architectural firm – PNC Architects, that makes us entirely self-reliant, enabling us to design iconic landmarks and control quality and deliveries, thus upholding customer confidence in Sobha Realty. In terms of design, architectural excellence has been one of our key priorities.
Sobha Hartland II's distinct USP is luxurious resort-style amenities and an unrivalled residential experience. The community is located a few minutes from Downtown Dubai and has a business district and mall surrounded by lush, green landscape and crystal blue waterscapes.
As for the Sobha SeaHaven development, its architectural style is inspired by the graceful forms and dynamic profiles of super yachts. This is evident in the project's fluid lines, sharp angles, and floor-to-ceiling windows, which replicate the expansive views from a yacht's deck. The open-concept layouts of the project enable a seamless transition between indoor and outdoor living, evoking the spaciousness and freedom observed in a luxury yacht.
What are the sustainable elements in your projects?
Our operations have always prioritised sustainability. As developers, we aim to optimise energy consumption and lower our carbon footprint by incorporating energy-efficient design components such as insulation, double-glazed windows, efficient HVAC systems with suitable VFD and energy recovery system, LED lighting with motion sensors, centralised hot water system with partial solar back up, water-efficient fixtures, use of condensate drain for irrigation, and smart home automation.
Incorporation of solar panels in projects has aided us in producing clean energy and lessening reliance on fossil fuels. Advanced environmental monitoring systems including intelligent building management, energy monitoring, and air quality sensors enhance resource optimisation.
Notably, Sobha Realty's new developments are built in accordance with green building codes to offer residents a built environment that is robust and sustainable. Our landscaping incorporates a mix of local and adaptive species and employs high-efficiency drip irrigation techniques using treated water.
Our internal facilities management division also makes sure that all buildings are operated effectively by utilising cutting-edge technology, ensuring real-time monitoring, and minimising waste.
The unique backward integrated ecosystem has significantly helped generate value and sustainability during design, construction, operations and further on to provide excellent service and comfort to the occupants.
How have you approached ESG?
Sobha Realty is committed to incorporating sustainable practices into its business operations, promoting environmental stewardship, and upholding its teams' welfare through a robust, responsible, and ethical governance framework.
Our ESG strategy has been developed in accordance with the UN sustainable development goals, UAE net zero strategy 2050, UNGC's principles for responsible business, Task Force on Climate-Related Financial Disclosures (TCFD) recommendations, ILO's international labour standards, and the Paris climate agreement.
In 2022, Sobha Realty voluntarily released its first ESG report, which followed the GRI guidelines, and work is currently underway on the second report.
Likewise, we joined the TCFD in 2022, making us the third company in the real estate segment and the eighth company in the UAE to do so.
Sobha Realty's forward-looking reporting strategies are expected to articulate our ESG credentials and climate ambitions transparently and clearly to a diverse group of stakeholders, including policymakers, authorities, governments, ministries, financial institutions, and buyers.
What will be the sector's biggest challenges in the coming years and how are you planning to overcome them?
Consumer preferences are changing, focusing more on wellness, technology integration, and community engagement. The real estate sector is rapidly evolving due to technology, potentially changing traditional business models. To stay competitive, companies need to adopt digital transformation, innovative marketing, and customer engagement strategies.
However, it is undeniable that Dubai has transformed and experienced remarkable success over the years, owing to the astute leadership of Sheikh Mohammed bin Rashid Al Maktoum, Vice President and Prime Minister of the UAE and Ruler of Dubai. His vision has transformed the emirate into a global hub for business, tourism, innovation, and culture.
This growth also comprises the city's outstanding infrastructure, urban planning, and innovative architecture, all of which have transformed the city's landscape and solidified its position as one of the world's most futuristic and aesthetically appealing destinations. This positions Dubai well to tackle future challenges and sustain its growth.
(Reporting by P Deol; Editing by Anoop Menon)
Subscribe to our Projects' PULSE newsletter that brings you trustworthy news, updates and insights on project activities, developments, and partnerships across sectors in the Middle East and Africa.