PHOTO

All six countries of the Gulf Cooperation Council (GCC) held relatively low rankings for credit availability on the World Bank's Doing Business 2018 report.
The annual Doing Business report, whose 15
th
 edition was published last week, measures the ease of doing business in 190 countries. It scores countries in the progress made in a number of areas including getting credit, dealing with construction permits and protecting minority investors, among others.
In the report's Getting Credit category, all six Gulf Arab states: Bahrain, Kuwait, Oman, Qatar, Saudi Arabia and the United Arab Emirates (UAE) held low positions, ranging from the 90
th
 to the 133
rd  
 among 190 countries studied in the report.
According to the 2018 report, which is based on data gathered in 2016 and 2017, both Saudi Arabia and the UAE, the Middle East's two biggest economies, ranked joint 90th in the Getting Credit category. In last year's report, Saudi Arabia held the 82
nd
 position, while the UAE was 101
st
.
As for the other GCC states, Bahrain held the 105
th
 position (down from 101
st
 in 2017), while Kuwait, Oman and Qatar all held the 133
rd
 position. In last year's report, the three Gulf Arab states ranked 118th, 133rd and 139
th
, respectively.
Small and medium-sized enterprises (SMEs) constitute the majority of companies in the GCC region and account for around 60 percent of the UAE's gross domestic product.
Many SMEs in the Middle East complain about limited access to finance. In February this year, the UAE's central bank drafted new regulations aimed at boosting banks' lending to SMEs, 
Reuters reported
.
The 
UAE held the highest position
in the Middle East for the overall Ease of Doing Business, finishing 21
st
 in the global rankings. This was an improvement of five places on last year's report.
As for the rest of the GCC, Bahrain came second after the UAE in the Ease of Doing Business, holding the 66
th
 position, followed by Oman (71), Qatar (83) and Saudi Arabia (92). Kuwait came last of the GCC countries in 96
th
 position.
Among all of the 190 countries measured in the report, New Zealand held the first position in the Ease of Doing Business, followed by Singapore, Denmark, South Korea, Hong Kong, the United States and the United Kingdom respectively.
The tables below illustrate how the GCC countries ranked for all of the main indicators that make up the Ease of Doing Business ranking for both the 2018 and 2017 reports.
The countries are ranked from highest to lowest rank in the 2018 report, or alphabetically in the cases where two or more countries share the same rank.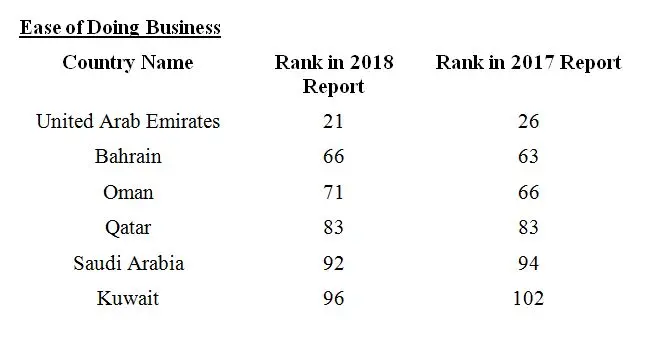 >
Click on the image above to open the full version of the report.
© ZAWYA 2017