PHOTO

While the hospitality industry worldwide is grappling with the coronavirus pandemic's impact, the development pipeline of new hotels in the Middle East and Africa region remains healthy.
According to exclusive data shared by global hospitality analysts STR, the Middle East region has 191,327 rooms in the pipeline comprising 670 projects as of September 2020, registering a 1.8 percent year-on-year (YoY) growth over last September.
Whereas the Africa region (including North Africa) has 65,935 rooms comprising 352 properties in the pipeline as of September 2020, unchanged over the year.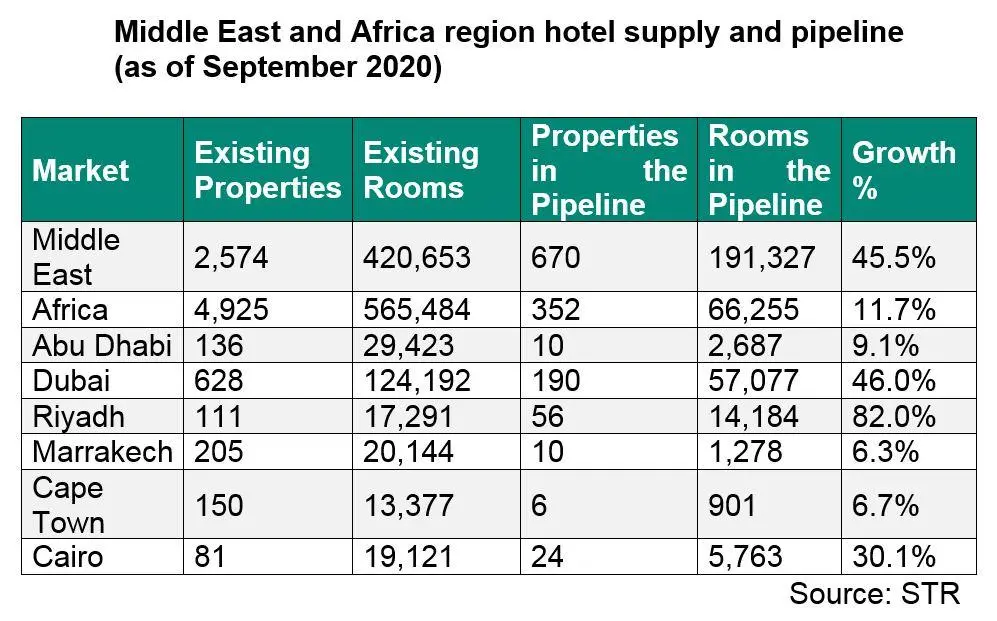 >
STR's total pipeline figures include hotel projects in construction, final planning, and planning stages.
"The pipeline of new hotels in the region is still strong, especially in countries where tourism is a key diversification factor identified by governments (for instance Saudi or UAE)," said Bruno Trenchard, Senior Manager - Hotels & Hospitality at CBRE Middle East.
Historically, slowdowns have tended to impact projects in the planning or final planning stages, while under-construction projects usually get completed.
Trenchard pointed out that projects planned to start during 2020 are the most likely to be delayed, with some also getting delayed due to restrictions in the construction sector (workforce or sourcing of materials).
"But overall, operators and investors still have a positive view of the region as it comprises a high number of untapped growth opportunities," he said.
Dubai leads the new supply within the region with 57,301 rooms in the pipeline involving 190 projects, although it recorded a YoY fall of 7.6 percent over last September, the STR data said.
The emirate, scheduled to host Expo 2020 this year before the event got shifted to 2021, currently has the highest number of hotels under operation in the region, with 124,192 rooms spread over 628 hotels.
Saudi Arabia, which is aggressively diversifying its economy away from energy to other sectors, including tourism, has a pipeline of 56 hotels in Riyadh that will add 14,184 rooms to the city. On a YoY basis, this is a growth of 31.2 percent over last September's pipeline of 10,812 rooms.
The COVID-19 crisis has also forced owners and operators to revisit previously scheduled hotel openings.
"Depending on the impact of resumption of travel, state of COVID-19 and travellers' propensity to travel, it can be considered that new hotel openings (especially those that were scheduled to open in the latter half of 2020) will still open but on a case by case basis," said Thuku Kimani, Senior Consultant at Colliers International MENA.
Commenting on new hotel projects, he cited Colliers' April 2020 Survey on Hotel Market Sentiment, where 65 percent of hotel owners reported that they would not scale back hotel construction or development, with 54 percent expecting the market to recover within 12 months.
STR data further showed that Egypt's capital Cairo has 24 projects that will add 5,763 rooms while the Moroccan city of Marrakech has 10 projects (1,278 rooms)
Expo 2020
The shifting of the Expo 2020 by a full year to 2021 to contain COVID-19 and allow the resumption of travel helped ease the pressure on hotel developers and operators and avoid rushing through the last stages of construction.
According to Kimani, unless delayed by issues like ineffective project management and capital constraints, on-going projects are expected to open in time for the Expo as government and private sectors implement precautionary health and safety measures and restart regular activity.
Trenchard also pointed out that hotels are being built "to sustain the long-term growth of tourism in Dubai rather than one-off demand for the Expo."
"Despite COVID-19, Dubai and other emirates are still investing heavily in their future, and hence we don't foresee a steep downward revision of planned hotel supply in the medium to long term," he said.
Ali Manzoor, Partner, and Head of Hospitality & Leisure at Knight Frank Middle East, agreed that short-term mega-events like the Expo would not be enough of a pull factor to convince a developer to build a hotel.
"What is far more interesting is the Dubai South masterplan, which industry participants are keeping a close eye on. As the scheme gains traction, I would imagine that more developers would consider embarking on hotel projects within the context of the wider masterplan rather than just the event," he said.
COVID effects
A significant challenge that existing hotel owners had to address during the COVID-19 crisis was capital preservation, given the significant drop in profit levels.
"Operators face the same challenge; as such, owners and operators have had to work hand-in-hand on this particular challenge," said Kimani.
"For this reason, flexibility in terms of maintaining hotel assets, ensuring health and safety, and encouraging the resumption of travel to the benefit of both owners and operators has been the priority during COVID-19," he said.
In Colliers' April 2020 Hotel Market Sentiment survey, most owners reported that the owner-operator relationship has either been very cooperative and/or with general understanding.
Whether there could be new business/revenue sharing models between operators and owners, Trenchard said the operators in the region have a lot of bargaining power.
"We don't foresee a strong, rapid change as this [existing] model - overall - is the most adapted to the region," he said, adding that they expect gradual changes with more and more franchise in established destinations with either owners or third-party managers in charge of operations.
Knight Frank's Manzoor pointed out that many operators have already been giving concessions to hotel owners to cope with the challenging market environment. "Ultimately, it is the hotel owners that have to manage their finances, and within this, there is often a consideration for debt service."
To this end, he said, they have had to rely heavily on the flexibility of the operator and funding institutions to enable them to navigate the current situation effectively.
(Reporting by Syed Ameen Kader; Editing by Anoop Menon)
(anoop.menon@refinitiv.com)
Disclaimer: This article is provided for informational purposes only. The content does not provide tax, legal or investment advice or opinion regarding the suitability, value or profitability of any particular security, portfolio or investment strategy. Read our full disclaimer policy here.
© ZAWYA 2020