PHOTO

Net interest margins (NIMs) for nine of the ten biggest listed banks in the United Arab Emirates dropped during the fourth quarter (Q4) of last year, according to Alvarez and Marsal.
In its UAE Banking Pulse report, the professional services firm stated that NIMs for the UAE's biggest banks dropped by six basis points quarter-on-quarter, to 2.52 percent in Q4 2018, from 2.58 percent in Q3 2018 .
"We will probably continue to see some pressure on NIMs as we go forward," Dr. Saeeda Jaffar, managing director at Alvarez and Marsal, told journalists at a media roundtable discussing the Banking Pulse report.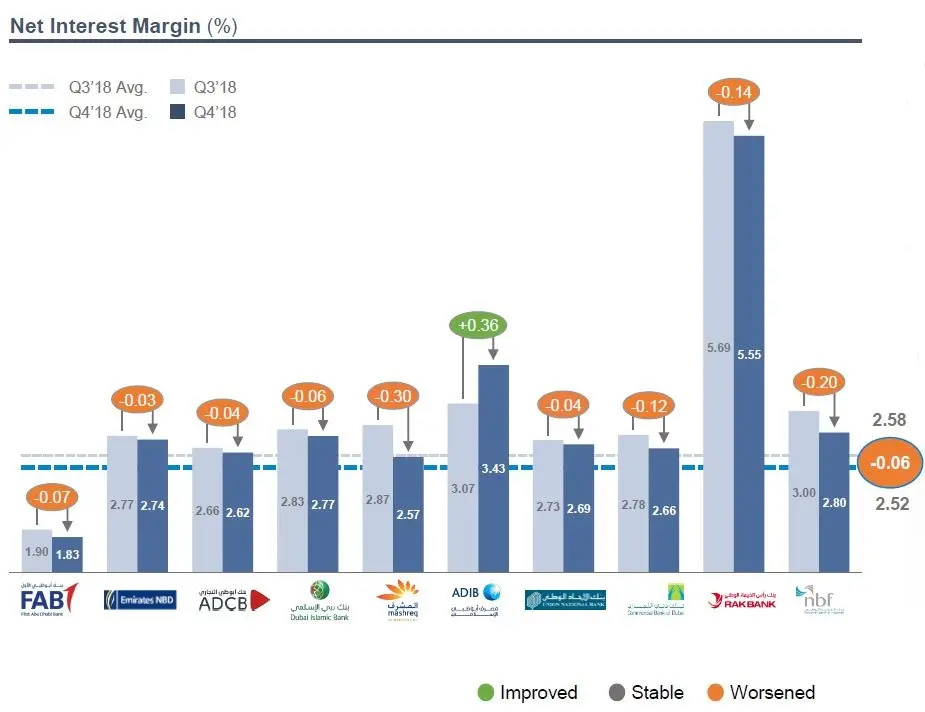 >
Source: Financial statements, investor presentations, Alvarez & Marsal analysis


Net interest margins are mainly affected by three factors, yield on credit (positive relationship), cost of funds (negative relationship), and the loan-to-deposit ratio (positive relationship).
Despite a 32 basis point (bps) increase in yield on credit in Q4 2018, NIMs were dragged lower by a 22 bps increase in cost of funds and a 10 bps decrease in in the loan-to-deposit ratio.
Out of the ten banks covered in the report, Abu Dhabi Islamic Bank (ADIB) was the only bank to report an increase in NIM, to 3.43 percent in Q4 2018 from 3.07 percent in Q3 2018 (36 bps). Mashreq Bank and National Bank of Fujairah (NBF) reported the steepest decline in NIMs, with drops of 30 bps and 20 bps respectively.
According to the report, the banks' cost-to-income ratio rose by 96 bps quarter on quarter, driven by an increase in operating expenses and an almost stagnant operating income.
Jaffar said that the reason behind the cost increase is that banks have been focusing for the past 2 or 3 years a lot on spending into digitisation.
The report added that average return on equity (ROE) declined by 1.6 percent in Q4 2018 to 13.7 percent from 15.3 percent in Q3 2018, due to an increase in operating expenses and lower income margin. Jaffar noted, however, that the majority of banks have healthy ROE, despite the drop in the last quarter.
ADIB and Dubai Islamic Bank (DIB) had the highest returns "because their cost of risk is low," Jaffar said. ADIB's cost of risk stood at 65 bps, while DIB recorded 71 bps.
Five banks out of the ten witnessed an increase in the cost of risk, with Union National Bank (UNB) recording the highest increase of 161 bps and Abu Dhabi Commercial Bank (ADCB) seeing the highest decrease of 58 bps.
The report said that UNB and Commercial Bank of Dubai (CBD) gained in financing and deposit market shares, while Abu Dhabi Commercial Bank (ADCB), First Abu Dhabi Bank (FAB) and NBF increased their deposit market share but lost out in financing market share. On the other hand, Dubai Islamic Bank (DIB) and Emirates NBD (ENBD) lost in deposit market share but gained in financing, while ADIB, Mashreq and RAK Bank lost both in deposit market share and financing.
Alvarez and Marsal's Jaffar said that the gain or loss in market share, both on the financing and deposit side, does not reflect the bank's performance but is mainly "linked to the strategy of the bank".
(Reporting by Gerard Aoun; Editing by Michael Fahy)
Our Standards: The Thomson Reuters Trust Principles
Disclaimer: This article is provided for informational purposes only. The content does not provide tax, legal or investment advice or opinion regarding the suitability, value or profitability of any particular security, portfolio or investment strategy. Read our full disclaimer policy here.
© ZAWYA 2019