PHOTO

29 March 2016

The Abu Dhabi green energy firm Masdar will produce the first litres of alternative aviation fuel within the next year.

Abu Dhabi's Masdar will start producing the first litres of biofuel capable of powering airplane engines within the next year, representing a big milestone in the aviation industry's ambitions to develop a sustainable alternative energy source.
The Masdar Institute of Science and Technology this month began operating what it claims is the world's first research facility to grow both food and fuel on desert soil irrigated by processed seawater.
Dr. Alejandro Rios, director of the Sustainable Bioenergy Research Consortium (SBRC), which is funding the facility, told Zawya it is making strong progress in developing a clean, sustainable and alternative fuel supply for the aviation industry, but said that the commercial model could take decades to materialise.
"For us, our pathway indicates that in the next year we are going to be producing our first fuel litres that are completely produced in the UAE [United Arab Emirates]. A few hundred [litres], depending on the amount of biomass we produce," Rios said.
"We will then have a proof of concept. Nobody else has the capacity to produce this type of fuel, so that is a major milestone," he added.
The facility, located at a two hectare site within Masdar City, uses seawater for large-scale, industrial fish farming. The resulting nutrient-rich wastewater is then used to fertilise halophyte (salt-tolerant) plants which are rich in oil seeds that can be harvested for aviation biofuel production.
The final stage in the process sees the biofuel wastewater used to irrigate a mangrove forest, which boosts the process's carbon footprint, while the treated effluent is then discharged back into the sea, completing the cycle.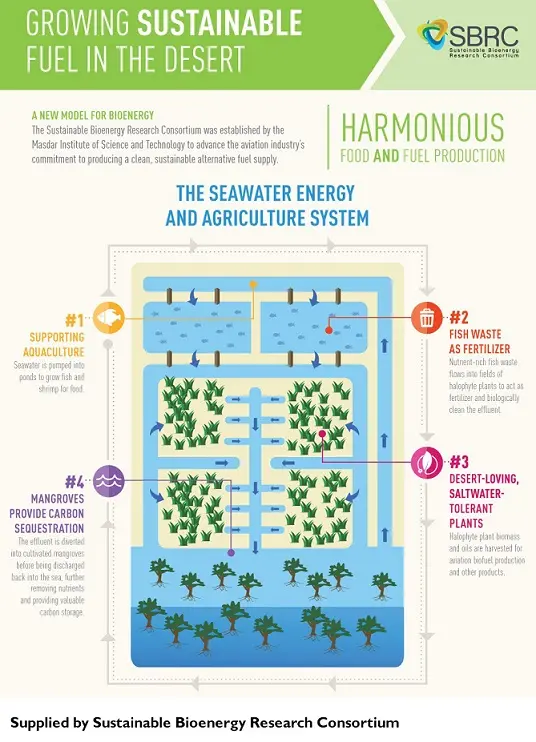 >
The opening of the new facility is part of The Biojet Fuel project, which was launched in the UAE last summer and aims to power the Gulf state's aviation sector with carbon-neutral fuel developed from sustainable sources readily available within the country.
SBRC's members include the Masdar Institute, Etihad Airways, Boeing, Abu Dhabi refining company Takreer and GE Aviation
Commercial viability
Rios said the commercial model was not yet in place for biofuel to become a viable alternative to jet fuel for airlines or the wider industry in the short-term.
"For the next 50 years we are going to be flying on the same type of planes we are flying on today with the same type of fuel. There has been an emphasis on making sure we have an alternative," he said.
"I would say cost parity is not there yet," Rios responded when asked to compare the pricing of biofuel and crude oil. "Gradually you will see a very large number of airlines starting to have a diversified portfolio in their energy input."
Etihad Airways embraced biofuels in January 2011 when it operated the Gulf region's first biofuel flight, using a Boeing 777 aircraft which was powered by a mix of petroleum-based and certified plant oil-based jet fuel.
"This breakthrough research places the UAE at the centre of a global movement to advance technology that supports the sustainable production of food and bioenergy," James Hogan, Etihad Airways' president and chief executive officer, said in a press statement issued by SBRC earlier this month.
"The commercialisation of aviation fuels - cleaner, superior-performing fuels - is a critical step toward balancing our industry's dependency on fossil fuels, while also incubating innovation that may have profound global implications to address energy, water and food security."
Boeing hopes that by the end of 2016 sustainable aviation biofuel will supply 1 percent - or around 800 million gallons - of global jet fuel demand.
Going global
The concept is slowly making inroads in the industry and the latest data from the International Air Transport Association (IATA) showed that around 2000 flights operated by over 20 different airlines used alternative fuels last year.
This month, United Airlines announced it will use biofuel to power its flights between Los Angeles and San Francisco, aiming to eventually expand this to its entire domestic network across the United States, according to a report by the Washington Post.
For this practice to become commonplace across the globe, Rios believes facilities like Masdar will need to develop a way to produce large quantities of biomass.
"It is all about scaling up and producing enough biomass in a consistent and sustainable way so we are able to establish an industry that is able to produce food, biomass and fuel," he said.
Abu Dhabi has big ambitions. Should the two hectare site prove to be a success on a small scale, SBRC aims to expand the facility further to a 200-hectare demonstration site and turn sustainable biofuel into the UAE's next big energy windfall.
Masdar is wholly owned by Abu Dhabi investment fund Mubadala.
© Zawya 2016