PHOTO

VFS Global, the world's largest outsourcing and technology services specialist for governments and diplomatic missions worldwide, has announced revised opening hours for its Visa Application Centres in UAE, including extended working hours for some, to provide greater convenience to visa applicants during the holy month of Ramadan.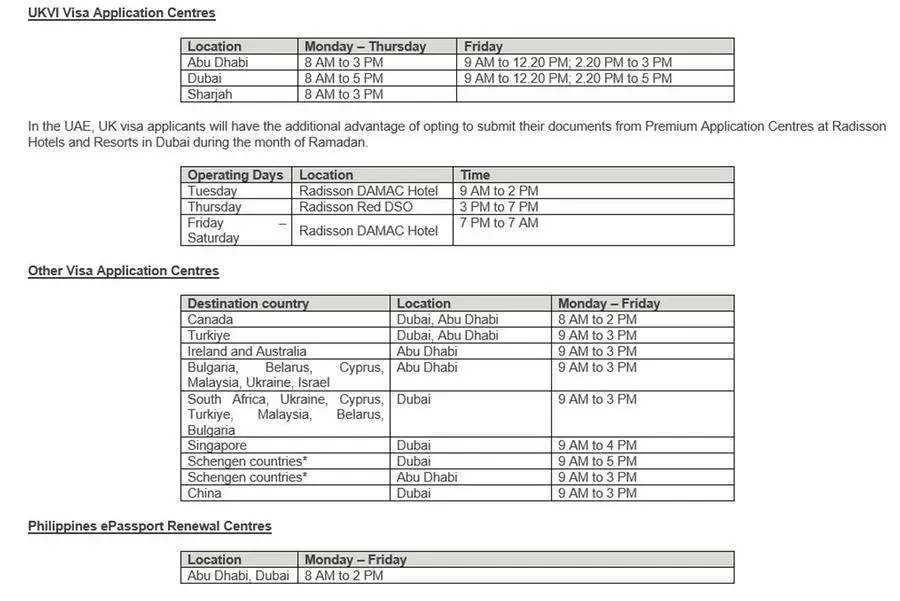 Please visit www.vfsglobal.com for more details on the timings of the Visa Application Centres near you.
VFS Global advises citizens and residents to plan their travel itinerary and visa applications well in advance to avoid delays in processing during the peak season.
VFS Global offers a range of optional services** for the comfort and convenience of applicants, including Premium Lounge services for a seamless customer journey in a plush lounge setting.
Applicants can also opt for our Visa At Your Doorstep service to submit applications from the comfort of their home or office. Visa At Your Doorstep is available for select destination countries, and has trained staff visiting the applicant's location of choice to complete the process. Details of the service and its availability are available at https://www.vfsglobal.com/visa-at-your-doorstep/.
*VFS Global offers Schengen visa services for Austria, Belgium, Croatia, Czech Republic, Denmark, Estonia, Finland, France, Germany, Greece, Hungary, Italy, Latvia, Lithuania, Malta, Norway, Portugal, Slovakia, Sweden, Switzerland, The Netherlands in the UAE
**Some of the services may not be offered in some countries, or for specific client governments. Opting for these services does not influence the outcome of your visa application; this is at the sole discretion of the Embassy/Consulate.
Visit www.vfsglobal.com for details.
Opting for any optional, value-added services (such as Prime Time Services or Form-filling, or any other service) does not guarantee a quicker or more positive decision by the concerned Embassy/Consulate.
About VFS Global
VFS Global is the world's largest outsourcing and technology services specialist for governments and diplomatic missions. VFS Global is the trusted partner of 67 client governments, operating a global network with more than 3,400 Application Centres in 145 countries. The company has processed over 253 million applications since its inception in 2001. The company manages non-judgmental and administrative tasks related to applications for visa, passport, and consular services for its client governments, enabling them to focus entirely on the critical assessment task. VFS Global has its headquarters in Zurich/Switzerland and Dubai/United Arab Emirates.
VFS Global is majority-owned by funds managed by Blackstone, the world's largest alternative asset manager. Blackstone seeks to create positive economic impact and long-term value for their investors, the companies in which they invest, and the communities in which they work. Blackstone's USD 915 billion in assets under management include investment vehicles focused on private equity, real estate, public debt and equity, infrastructure, life sciences, growth equity, opportunistic, non-investment grade credit, real assets, and secondary funds, all on a global basis.

The Swiss-based Kuoni and Hugentobler Foundation and EQT, a global investment organisation, headquartered in Stockholm/Sweden, hold minority stakes in VFS Global.