Enables On-Premises Solutions for Companies and Governments to maintain data privacy
Falcon LLM advances UAE's sovereign capabilities in AI with proprietary LLM
Abu Dhabi-UAE – The Technology Innovation Institute (TII), a leading global scientific research center and the applied research pillar of Abu Dhabi's Advanced Technology Research Council (ATRC), has upped its generative AI credentials with the launch of "Falcon LLM," a foundational large language model (LLM) with 40 billion parameters. AI and Digital Science Research Center's (AIDRC) AI Cross-Center Unit, the team behind building Noor the world's largest Arabic language model, builds Falcon LLM, the 40B model which outperforms GPT3. Falcon LLM 40B model is trained on one trillion tokens. The model uses only 75 percent of GPT-3's training compute, 40 percent of Chinchilla's, and 80 percent of PaLM-62B's.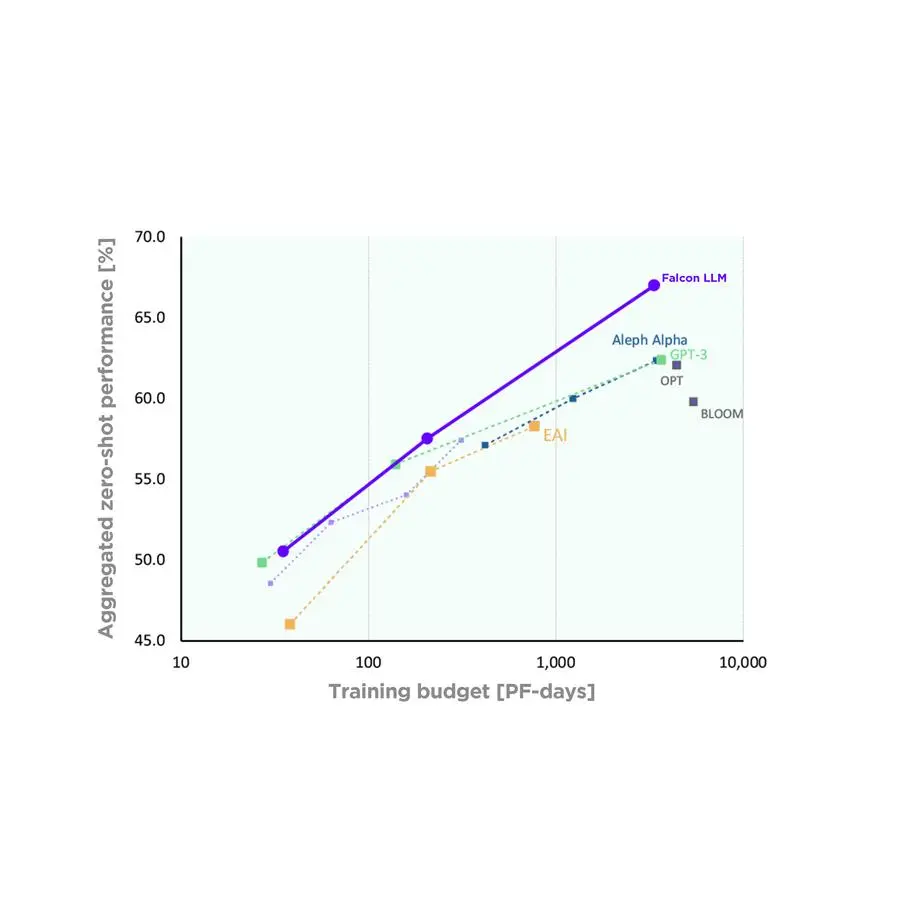 Today, the recent advancements in large language models have demonstrated their ability to generate creative text, solve complex problems, and offer significant benefits to billions of people. LLMs can be used in a wide range of applications, such as chatbots, virtual assistants, language translation, content generation, and sentiment analysis. They can help businesses to streamline their customer service operations by providing efficient and effective responses to customer inquiries. This deep tech is allowing companies and countries to garner huge savings – from improving efficiencies to cutting down labor costs and identifying new revenue streams – simply with its implementation in businesses or departments. Further, on-premises LLMs are ideal for organizations requiring real-time processing and managing confidential or proprietary data. This is critical for safeguarding data privacy to maintain competitive advantage.
Speaking about this LLM breakthrough, Dr. Ray O. Johnson, CEO, of TII said: "The year 2023 is turning out to be the year of AI. Falcon LLM is a landmark announcement for us, but this is just the beginning. By the end of the year, we will be sharing news on a huge increase in capabilities in this space.
"We understand that this is the start of a momentous journey," Johnson continued, "we will press on to give this region its own AI success stories, well-aligned with the UAE's National AI Strategy."
Prof. Mérouane Debbah, Chief Researcher, AI and Digital Science Research Center, said: "We are thrilled to advance the world's understanding of the power and benefits of these LLMs which will have an important impact in various fields such as education, healthcare, film production, and CGI. As the country continues to develop and diversify its economy, this is an important milestone in the field. Falcon LLM model is just the start of a new journey."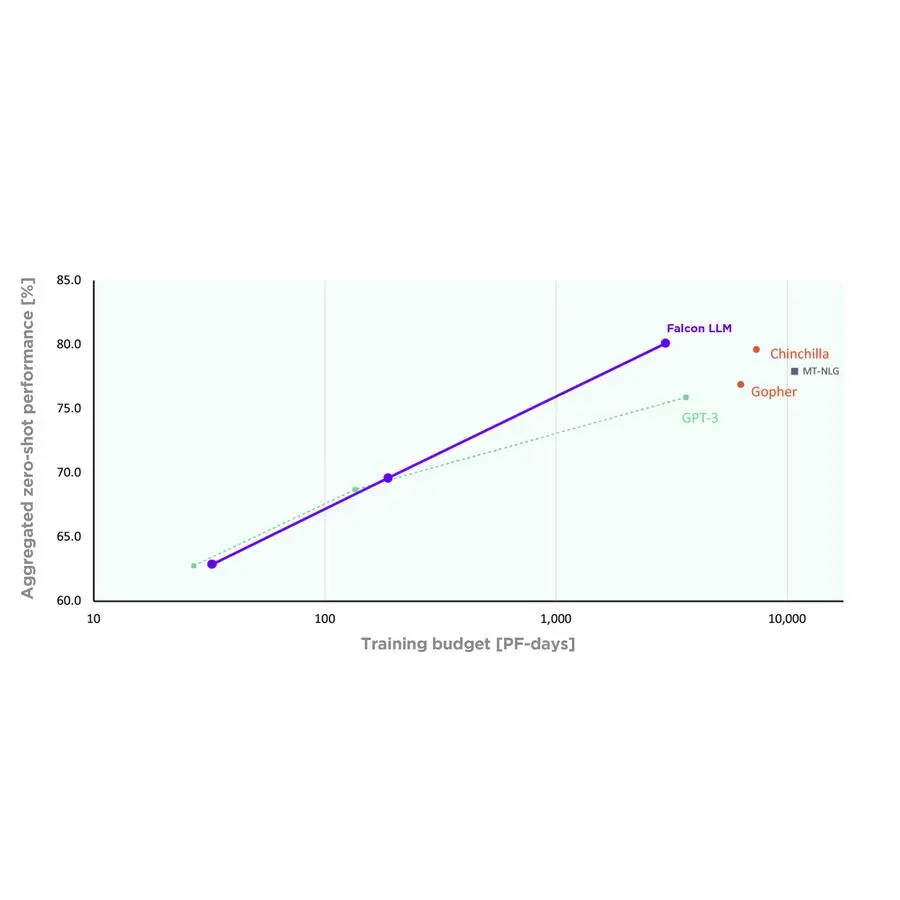 Dr. Ebtesam Almazroui, Director, AI Cross-Center Unit at AIDRC, and project lead of LLMs who plays a pivotal role to build LLMs and step up the UAE's capability in this space, said: "This achievement serves as a testament to the UAE's forward-thinking approach and the importance it places on innovation and technology. The development of this model is part of our journey towards realizing the country's economic vision and strategic plan "We the UAE 2031".
"We are thrilled to announce the ground-breaking achievement of our Falcon LLM 40B model which significantly outperform models like BLOOM and GPT-3, even at a fraction of the size. Thanks to state-of-the-art data pipeline, Falcon LLM also improves upon new-generation models. For instance, it matches the performance of Chinchilla (from DeepMind) and PaLM-62B (from Google), at considerably lower training costs in comparison. Falcon LLM is trained on scaling laws from Hoffmann, et al, and the model was kept relatively modest in size with unprecedented data quality.  We extend our heartfelt congratulations to the entire team for their tireless efforts in this ground-breaking endeavor. With Falcon LLM 40B as our flagship LLM model, we are confident that the UAE will continue to lead the way in the knowledge economy, driving progress and prosperity."
-Ends-
About The Technology Innovation Institute (TII)
The Technology Innovation Institute (TII) is the dedicated applied research pillar of Abu Dhabi's Advanced Technology Research Council (ATRC). TII is a pioneering global research and development center that focuses on applied research and new-age technology capabilities. The Institute has 10 dedicated research centers in advanced materials, autonomous robotics, cryptography, AI and digital science, directed energy, quantum, secure systems, propulsion and space, biotechnology, and renewable and sustainable energy.
By working with exceptional talent, universities, research institutions and industry partners from all over the world, the Institute connects an intellectual community and contributes to building an R&D ecosystem that reinforces the status of Abu Dhabi and the UAE as a global hub for innovation.
For more information, visit www.tii.ae 
About AI and Digital Science Research Center (AIDRC)
The AI and Digital Science Research Center (AIDRC) – at the Technology Innovation Institute (TII) – is dedicated to pioneering next-generation AI-powered telecommunications and secure systems, applications, and services. A multi-disciplinary and industry-focused applied research and development center, AIDRC fosters the adoption of safe, sustainable, and reliable intelligent autonomous and connected systems and specializes in high-impact AI-powered cyber security and wireless communications (B5G, 6G) to bring to life operational and practical solutions to key challenges faced across vertical markets in their digital transformation journey. AIDRC collaborates with key international organizations, such as ITU, and 3GPP to inspire far-reaching benefits to society in the UAE and the wider region and is well aligned with the UN's Sustainable Development Goals and its commitment to harnessing AI for good.
For more information, visit https://www.tii.ae/ai-and-digital-science
Connect with us on social media:
LinkedIn: https://www.linkedin.com/company/tiiuae/ 
Twitter: https://twitter.com/TIIuae 
Instagram: https://www.instagram.com/tiiuae/ 
For media enquiries, please contact:
Technology Innovation Institute
Comms@atrc.ae