PHOTO

The 10th edition of the annual Dubai Food Festival (DFF) promises to be its biggest yet with a strong focus this year on "diversity in cuisine, location and price".
This year's DFF started on April 21, in time for the Eid Al Fitr celebrations. The 17-day festival will give residents and visitors a taste of what Dubai has to offer on the gastronomy scene, with more than 13,000 restaurants currently operating across the city, according to figures released by the Dubai Festivals and Retail Establishment (DFRE).
Crowd favourites such as the Etisalat by e& Beach Canteen, Dubai Restaurant Week and Foodie Experiences make a return this year along with the 10 Dirham Dish segment, which will allow people to sample the city's many offerings at a fraction of the cost.
With so many opportunities to tuck into a hearty meal offered by Michelin-starred restaurants, here's a look at what DFF has to offer this year.
Etisalat by e& Beach Canteen
April 21–May 7
The popular Etisalat e& Beach Canteen returns once again, providing visitors with an opportunity to sample fare being catered by 53 restaurants, which will include interesting food concepts, pop-up dining events, farm-to-table dining experiences and a special food truck park.
Added to the mix is plenty of live entertainment, beachside dining, daily activities and dazzling fireworks display that will mark the Eid festivities on April 21 at 9 pm.
According to the DFRE, close to 100,000 visitors are expected to visit the popular destination, located behind Sunset Mall, over the 17 days.
The venue will also serve as the launch of the Food Focus Dubai Exhibition, running in conjunction with Gulf Photo Plus and featuring inspirational photos of the food scene across the city.
Added incentives for those with kids are the Splash Zone, the Kids Adventure Island and the Yalla Fun Zone, which are bound to keep the young ones entertained while you tuck into some delicious treats.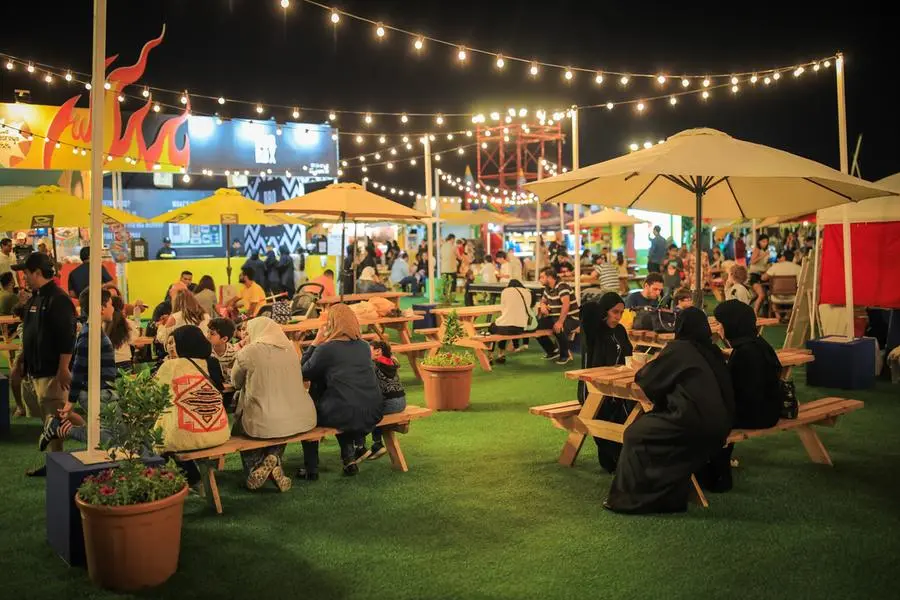 10 Dirham Dish
April 21–May 7
In celebration of the festival's 10th edition, the 10 Dirham Dish will make its debut this year as participating restaurants and cafés offer their classic and signature dishes for AED 10 throughout the festival.
The full list of participating outlets can be found on Zomato or Visit Dubai, but popular names such as Hell's Kitchen by Gordon Ramsay, JLT's famous Streetery Food Hall and CZN Burak Gurme in Downtown are all participating.
Foodie Experiences
April 21–May 7
Fancy a Korean street-food masterclass or keen to try your hand at Anatolian cuisine? Then the DFF may have the perfect ingredients for you.
Foodie Experiences, which also returns this year, has close to 100 curated experiences on offer this edition, such as masterclasses hosted by award-winning chefs, exclusive Chef's Tables, kids' workshops, culinary collaborations and immersive experiential dining events.
Indulge in a Chef's Table experience at Nobu, Atlantis The Palm on April 29, an experience hosted by the executive chef Damien Duviau and sushi master chef Michio Iwata, or take a gander at the Italian six-hands dinner at W Dubai The Palm Hotel in a culinary collaboration featuring Mattia Agazzi of Gucci Osteria Beverly Hills and Florence-based Martina Bonci from Gucci Giardino 25, who join Torno Subito's Alessio Priozzi.
We are particularly partial towards the International City Noodle Tour with Frying Pan Adventures—the experience is a rare opportunity to explore some of China's lesser-known regional cuisines as the famed foodie guides of Frying Pan Adventures help you slurp your way around International City. You'll be able to try dishes from Sichuan, Yunan, Xinjiang and Guangzhou, all based on different varieties of noodles.
Not to be left behind, the first week of DFF will also feature kids' workshops at Arabian Tea House, Black Tap kids CrazyShake Masterclass, and a pizza-making workshop at Marina Social.
All Foodie Experiences can be found on Visit Dubai's website and can be booked through Open Table.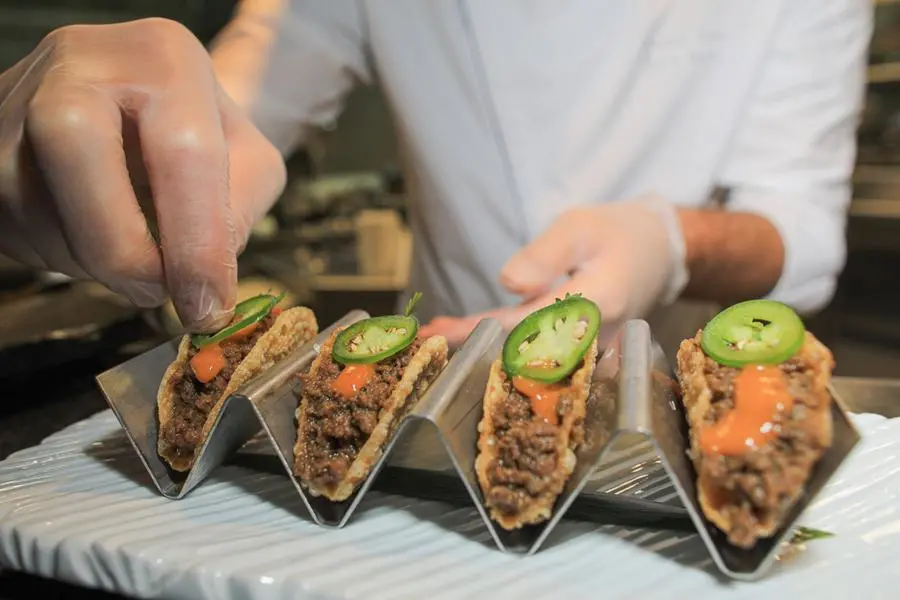 Chefs in Town
April 21–May 7
A new addition this year is the Chefs in Town segment, which allows residents to meet the famous faces behind the local dining scene. We are talking about the likes of celebrity chef, author and filmmaker Vikas Khanna, who will be hosting a Chef's Table at his restaurant Kinara, at the JA Beach Hotel. 
The chef behind Michelin-starred Junoon in New York has personally created a five-course dinner celebrating India's culinary heritage.
Another experience to embark on is a voyage around the world of caviar at Michelin-starred Ossiano, with a nine-course menu at the popular Atlantis The Palm restaurant. Each dish has been carefully paired with a different caviar to bring out the subtlety of this dish.
Dubai Restaurant Week
April 28–May 7
Dubai Restaurant Week also returns this year with more than 50 of the city's top restaurants participating.
Diners can enjoy a two-course set lunch menu from AED 95 onwards or a three-course set dinner menus from AED 150 onwards, with restaurants including 3 Fils, Mimi Kakushi, Twiggy by La Cantine, Pierchic, Demon Duck by Alvin Leung, Akira Back, Coya, Clap, Roka, and Carnival by Tresind.
With diversity in focus at the DFF this year, the DFRE has stated that it has ensured restaurants from all communities and neighbourhoods are included to ensure a greater reach for visitors and residents.
Reservations for all the experiences can be made through Open Table.
(Reporting by Bindu Rai, Editing by Seban Scaria)