PHOTO

Saudi Arabia's Rua Al Madinah Holding, the master developer for the Rua Al Madinah project in Madinah, has signed an agreement with Marriott International to manage 8 hotels within the master plan.
Anticipated projects will add nearly 4,400 rooms in the Muslim world's second holiest city, according to press statements issued by Rua Al Madinah Holding and Marriott International.
Ahmed Al Juhani, CEO of Rua Al Madinah Holding Company said the agreement will create 4,100 employment opportunities.
Satya Anand, President, Europe, Middle East & Africa, Marriott International said the multi-deal agreement strengthens the company's footprint in Saudi Arabia.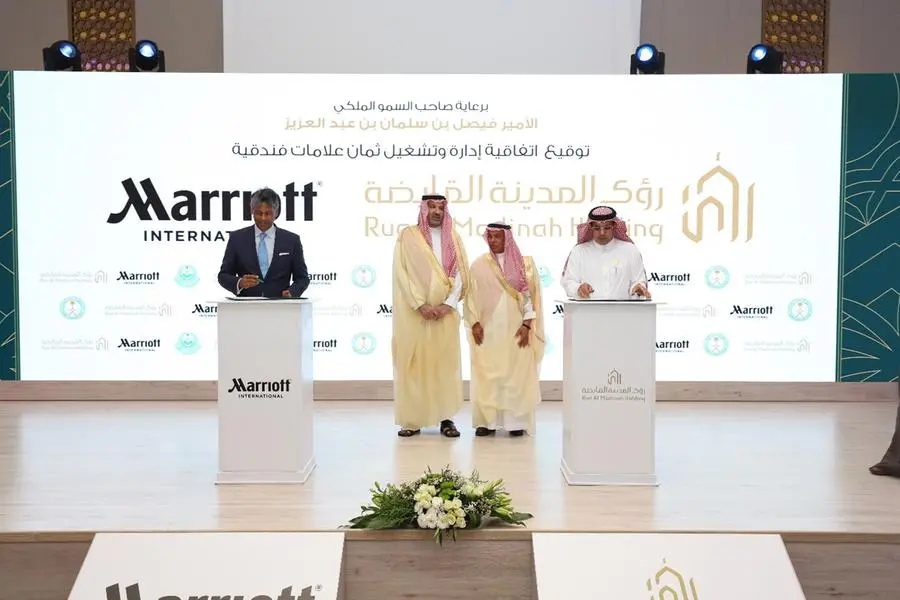 The eight planned properties include:
The Ritz-Carlton, Rua Al Madinah with 151 keys
JW Marriott Rua Al Madinah with 252 keys
Madinah Marriott Hotel Rua Al Madinah with 450 keys
Le Méridien Rua Al Madinah with 533 keys
The Westin Rua Al Madinah with 361 keys
Four Points by Sheraton Rua Al Madinah with 777 keys
Aloft Rua Al Madinah and Courtyard by Marriott Rua Al Madinah with combined 1,810 keys
Marriott International's current portfolio in the Kingdom encompasses 36 properties and more than 10,000 rooms across 11 of its brands.
The masterplan for the Rua Al Madinah project covers 1.5 million square metres, including 47,000 new rooms by 2030.
Read More:
Saudi's Rua Al Madinah Holding signs agreements for hotels, support offices in Madinah
Hyatt signs agreement with Rua Al Madinah Holding Company to bring three new hotels to the Kingdom of Saudi Arabia
Parsons awarded project management contract for Rua Al Madinah
(Writing by Anoop Menon; Editing by Bhaskar Raj)