PHOTO

Hospitality businesses in the Middle East are using robots to meet staff shortages, improve productivity and drive competitive advantages in a notoriously low-margin industry.
At the Souq Madinat Jumeirah branch of The Noodle House in Dubai, the reception and food-delivery automaton Kettybot has been meeting and greeting diners for more than a year. A second Kettybot was rolled out at the chain's City Walk outlet recently.
"Robots in the hospitality industry are becoming increasingly popular. They are being used to enhance the guest experience, improve operational efficiency, and streamline various tasks," said Manoj Ganapathy, Division Manager of the Visitors Management & Robotics Division at Jacky's Business Solutions, the company that markets Kettybot and another half dozen robots to the Middle East.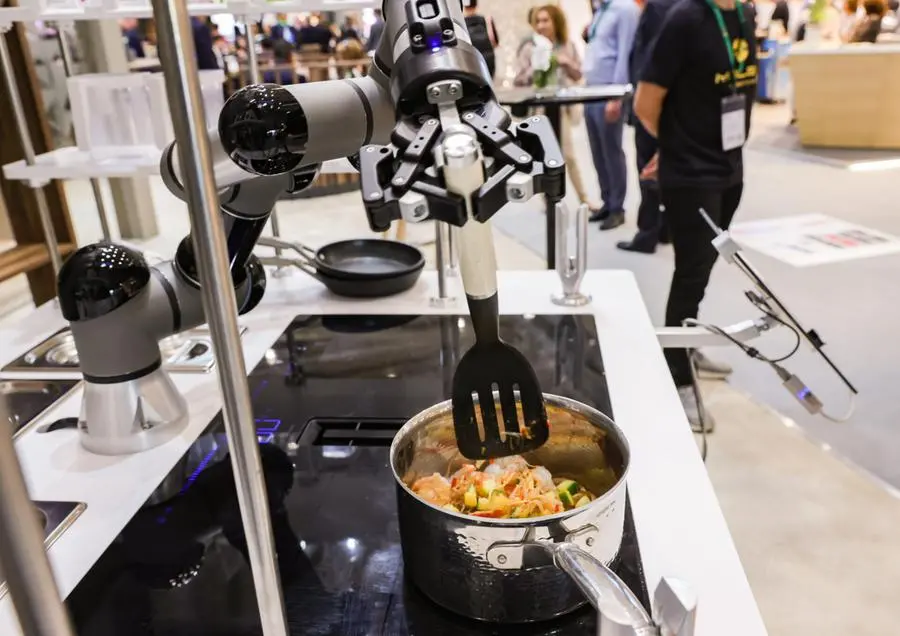 Delivery robots were an easy fix for contactless and hands-free operations during the pandemic, he added. New iterations are being programmed to help in other ways, such as interacting with guests as a mobile information point.
"Robots can also contribute to the overall ambiance and futuristic feel of an establishment. They can attract attention and leave a lasting impression on guests, enhancing their overall experience," Ganapathy said.
Robots can be used in hospitality functions such as concierge and customer services, food preparation and delivery, cleaning, security and even wellness.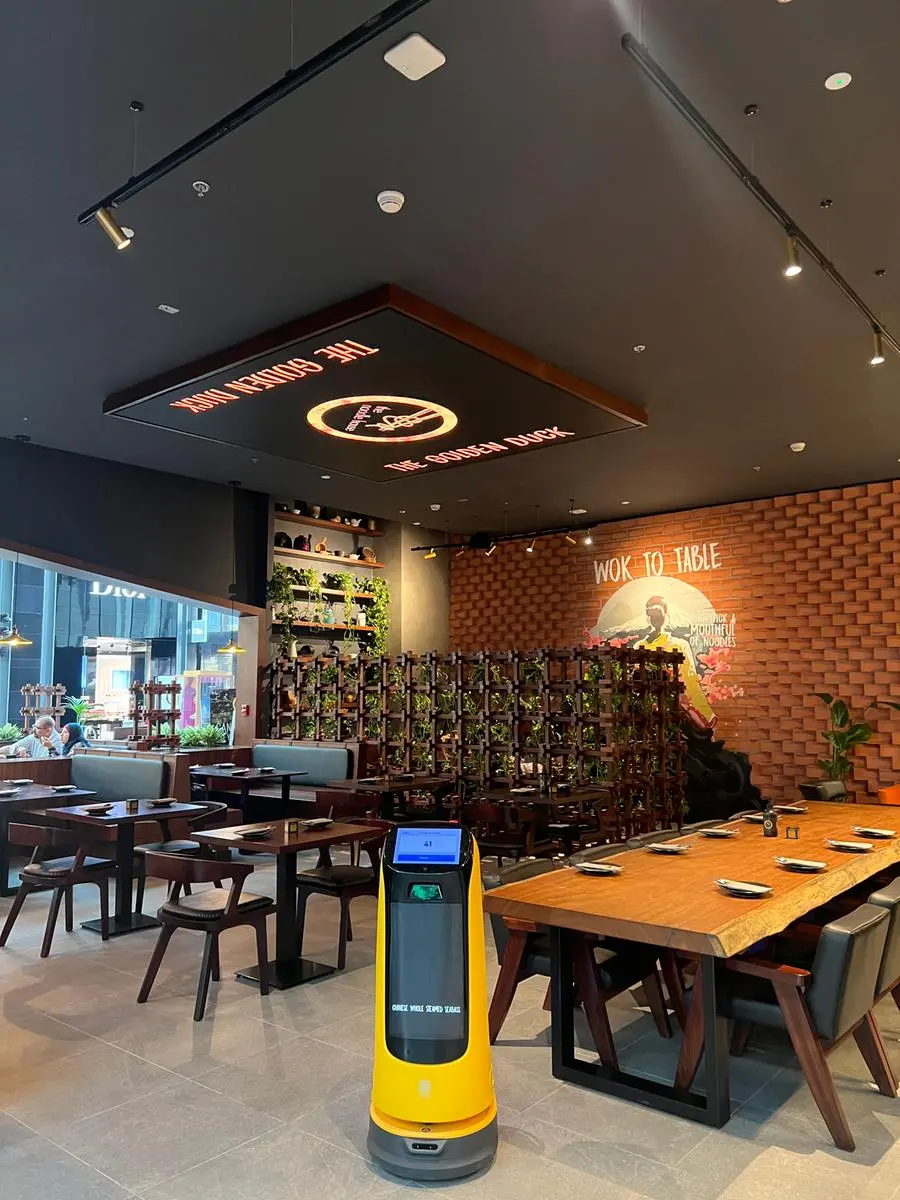 Since fast-food chain Wimpy's opened in the Dubai Mall food court last year, its operations have been supported by Flippy 2, a robotic fry cook. When staff press the right button, it can "fry nearly anything", according to supplier Miso Robotics.
Restaurants in the US are using other robots from the California-based company, such as Chippy, which cooks tortilla chips, and Sippy, an automated beverage-dispenser and server.
And in Hamburg this June, inflight hospitality company dnata, part of the Emirates Group, displayed a robot capable of handling cooking tasks in commercial and residential kitchens.
Developed by Moley Robotics in the UK and powered by artificial intelligence (AI), it can be programmed to prepare identical dishes at scale. Digital sensors and machine learning capabilities equip it to measure ingredients and execute cooking jobs, the company says.
A GAME CHANGER FOR HOSPITALITY
For dnata, robots could be a boon by streamlining the production of its 110 million annual meals.
Robin Padgett, CEO of dnata Catering & Retail, said the robot was one of several new solutions to optimise various aspects of its operations, including consumption analysis, ingredient sourcing, inventory, and waste management. Elsewhere, at dnata's Sharjah Airport lounge, hospitality robots Bella and Kitty are serving meals and refreshments.
The global service robotics market is growing at a compound annual rate of 21.5%. By 2030, the sector could be worth $216 billion, according to analytics company GlobalData. Overall, the robotics industry is projected to grow from $70 billion in 2022 to $568 billion in 2030.
The region is ripe for uptake of robotics as governments in countries such as the UAE and Saudi Arabia have prioritised the sector, according to Ahmed Baharoon, the founder and CEO of Qaswara Consulting Services.
Dubai's Robotics and Automation Program, for example, seeks to raise robotics' contribution to the emirate's GDP to 9% by 2032. Over the next decade, some 200,000 robots will support manufacturing, consumer services, tourism, logistics and healthcare in the emirate.
"Robots can make workers' lives easier by taking care of mundane tasks that consume workers' time and efforts so they can focus on making the best of their daily operations. They can save the business a lot of time and money," Baharoon said.
He gave the example of a recent client, a Saudi building manager with five service employees on each floor, who wanted to cut expenses immediately following the pandemic. By replacing two employees per floor with service robots, the business could potentially recoup costs within eight months, saving SAR 480,000 (approx. $127,944) per floor in direct expenses.
AI INTEGRATION
As AI is integrated into a greater number of robots, the industry is invigorating new areas.
Robosculptor, an automated system for aesthetic body contouring, says robots can even help at hotel spas, a major revenue centre for the hospitality sector. "We are negotiating with several hotel chains to introduce our technology in their spa and wellness facilities," said its CEO, Denis Ledenkof. "By doing so, we aim to pioneer a unique blend of relaxation and cutting-edge robotics, enhancing the guest experience while further asserting our presence in the region's market."
Ledenkof claims that robots can significantly increase productivity and reduce costs. For example, a human therapist performing four $120 procedures a day brings in around $9,600 a month. By contrast, a machine working around the clock could perform double the number of procedures, potentially generating 2.4 times the revenue, or $23,000, even after a 20% discount. And in the rental robot-as-a-service model, operational costs could decrease by up to 40%.
Overall return on investment for his product extends to 54% per annum for one device and 104% for five studio devices over a year, he said.
"Moreover, implementing our robots can lead to significant cost savings, bypassing expenses associated with hiring and training personnel, payrolls, vacation and maternity leave, social security, insurance and corporate programs, and workplace equipment costs," he added.
That, however, assumes customers don't want the human touch in a sector where service is a prized differential.
Although intelligent automatons have several benefits, they work best in conjunction with human staff to ensure a seamless guest experience, Ganapathy said. "Human employees are still crucial for more complex interactions, personal touches, and handling unique situations that may arise."
(Reporting by Keith J Fernandez; editing by Seban Scaria)