PHOTO

Dubai's residential rents are expected to rise further this year due to supply constraints and strong demand, according to a new report from Betterhomes. 
The real estate market enjoyed a record year in 2022, with sales transactions exceeding pre-pandemic levels and rents jumping by as much as 60%. Total apartment and villa sales transactions reached 86,490, beating the previous record of 80,000 deals set in 2009, while rents registered an average rise of 36%. 
Last year's total transactions were 61% higher than the previous year. Betterhomes also registered 39% more new buyers, with a ratio of 19 buyers for every seller, an increase of 22% from the previous year. 
The trend is likely to continue this year, as the supply of both new and completed property will remain constrained and Dubai is likely to continue to attract new residents and investors, according to Richard Waind, Betterhomes Group Managing Director. 
"Coupled with a growing population and a lack of new homes being delivered, we can expect further rises in rents. This will be welcome news to investors who have seen average yields rise to 6.5%, and it is likely to result in greater tenant demand for more rural periphery communities in the coming months," Waind wrote in the report.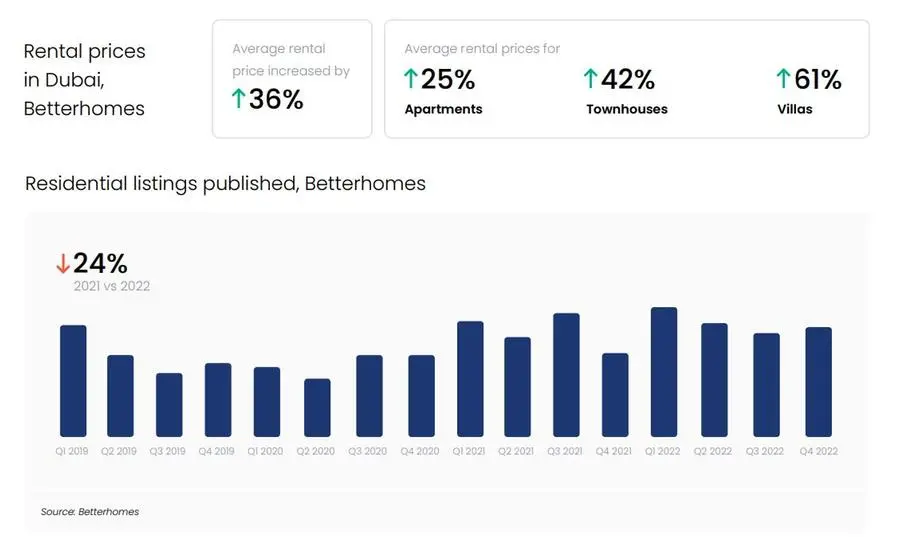 Residential rents 
Overall, villa properties registered a 61% rise in rents last year, while townhouses and apartments saw 42% and 25% increase, respectively. 
Properties in Jumeirah recorded the largest increase, with average rents rising by 56%. This was followed by Dubai Hills Estate, up 46% and Mohammed Bin Rashid City, up 42%. 
Properties in Downtown Dubai, Business Bay, Dubai Marina and Jumeirah Lake Towers all recorded growth in average rents of 20% to 22%. 
Sales transactions 
The total value of properties sold last year stood at AED208 billion ($56.6 billion), up by 78% from the previous year. 
Apartments led the growth, with sales rising by 73% year-on-year to 62,363. Townhouse properties saw a 61% increase in sales transactions, while villa transactions registered the smallest increase, up by only 3%, mainly due to a lack of supply in the market. 
However, property prices registered only an 11% growth, slower than the 21% increase recorded in 2021. Betterhomes noted that higher borrowing costs have dampened price increases in the secondary market. 
The most significant price growth was recorded in Palm Jumeirah, where prices jumped by 30% to an average of AED1,815 per square foot. Properties in Mohammed Bin Rashid City came second on the list, with a 24.86% growth in prices. 
Within the villa segment, Jumeirah Golf Estates and Jumeirah Islands led the growth, registering 30% and 26% increase in prices, respectively. In Palm Jumeirah, villas posted a 19% jump in prices. 
In other areas, however, prices for apartments fell, especially in locations like Dubai Science Park and Dubai Production City, which both recorded a 24% decline. Nad Al Sheba prices dropped by 6%. 
(Reporting by Cleofe Maceda; editing by Seban Scaria)