Indian rupee hits record low of 20.89 against UAE dirham
The Indian rupee opened higher at 20.70 per UAE dirham on Tuesday compared to the previous close, then went on to touch a new low of 20.89 against previous close of 20.71 per dirham.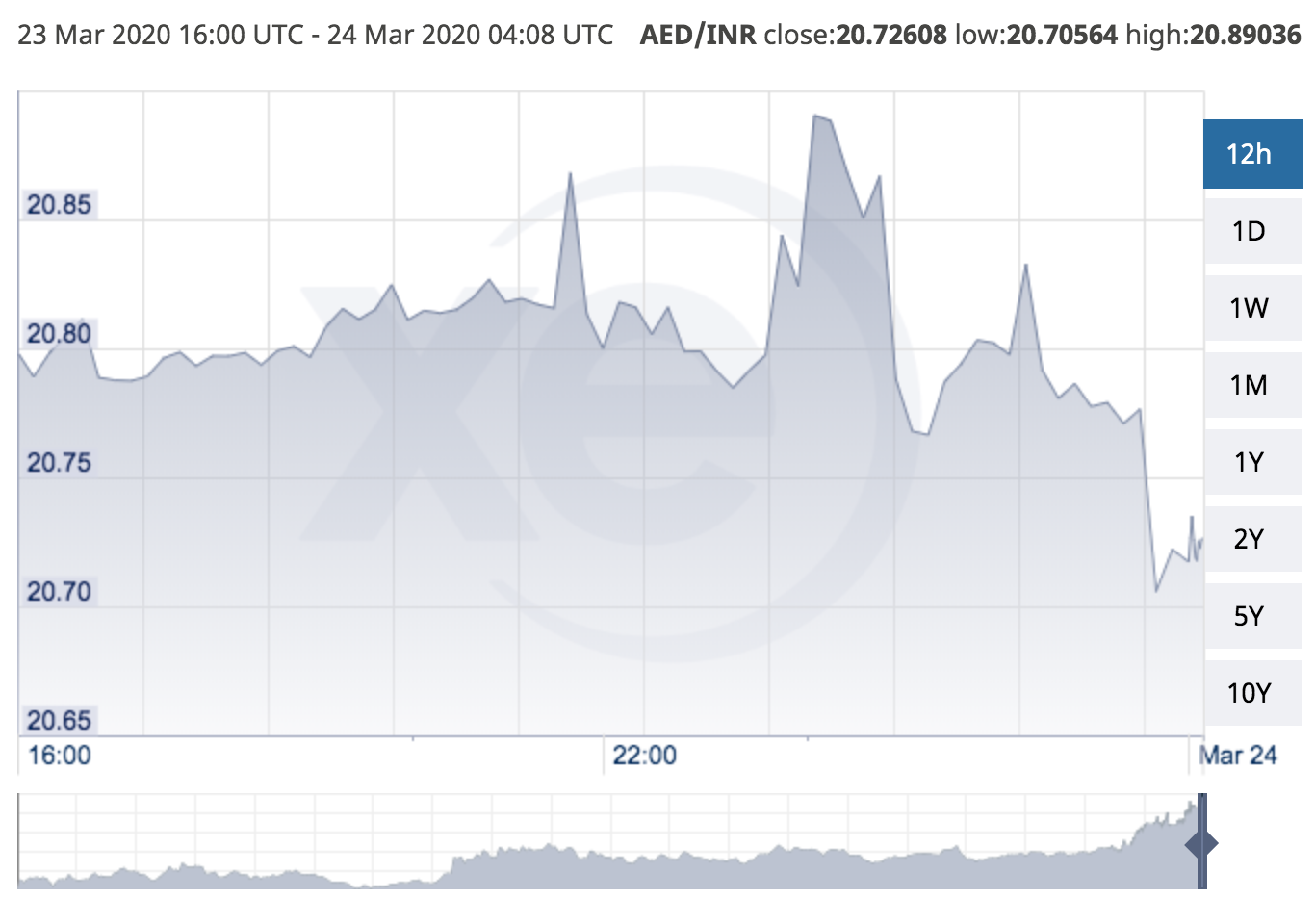 The rupee was trading at 20.72 at 8am (UAE time), according to XE.com.
Currency analysts said the Indian currency remained under mounting pressure amid huge outflows from the capital market. The rupee is likely to test 76.50 any time now in such a risk-averse situation, when investors are unloading equities, bonds and currency.
Analysts said the fall in the rupee comes even as the RBI has been heavily intervening in the spot market. The RBI provided $2 billion of dollar liquidity via a forex swap lasts Monday and is expected to provide a similar line today.
Asia stocks rally
Asian stocks rebounded sharply on Tuesday as the US Federal Reserve's promise of bottomless dollar funding eased painful strains in financial markets, even if it could not soften the immediate economic hit of the coronavirus.
While Wall Street seemed unimpressed, investors in Asia were encouraged enough to lift E-Mini futures for the S&P 500 by 3 per cent and Japan's Nikkei 6.2per cent. If sustained it would be the biggest daily rise for the Nikkei since late 2016.
MSCI's broadest index of Asia-Pacific shares outside Japan jumped 4.2per cent, to more than halve Monday's drop. Shanghai blue chips gained 2.7 per cent.
Dollar off peaks on promise of bottomless liquidity
The dollar eased just a touch on the yen to 110.90 after hitting a one-month top at 111.59 on Monday, while the euro inched up to $1.0754 from a three-year trough of $1.0635.
The dollar index stood at 102.120, off a three-year peak of 102.99.
Gold rises over 1%
Gold prices rose on Tuesday, following a near 4 per cent jump in the previous session after the US Federal Reserve announced unprecedented measures to support an economy which is reeling from the coronavirus pandemic.
Spot gold climbed 1.7 per cent to $1,578.83 per ounce by 0116 GMT. The metal rose 3.7 per cent on Monday, its highest percentage gain since June 2016.
US gold futures rose 1.6 per cent to $1,592.20 per ounce.
Copyright © 2020 Khaleej Times. All Rights Reserved. Provided by SyndiGate Media Inc. (Syndigate.info).
Disclaimer: The content of this article is syndicated or provided to this website from an external third party provider. We are not responsible for, and do not control, such external websites, entities, applications or media publishers. The body of the text is provided on an "as is" and "as available" basis and has not been edited in any way. Neither we nor our affiliates guarantee the accuracy of or endorse the views or opinions expressed in this article.
Read our full disclaimer policy here
.