PHOTO

Abu Dhabi, UAE – AD Gaming has expanded its gaming ecosystem by welcoming MY.GAMES to Abu Dhabi, marking the latest multinational gaming business to select the emirate as its regional hub. Headquartered in Amsterdam, MY.GAMES is a leading publisher and developer of mobile, PC, and console games, with over one billion registered users worldwide.
Expanding its presence globally, MY.GAMES is using Abu Dhabi's status as the centre of the MENA region's gaming industry to better tap into the world's fastest-growing gaming market. MY.GAMES operates on a 'Think Global, Act Local' model, with 90% of its 2,000-people workforce working in key gaming hubs around the world. In establishing its first MENA base in Abu Dhabi, MY.GAMES will become embedded within the local game development and player community, attuning to the latest regional gaming trends.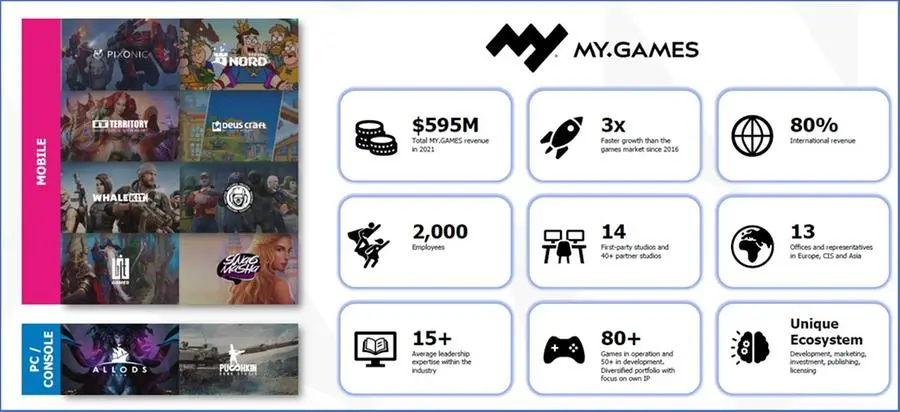 MY.GAMES' Abu Dhabi-based team will work on the more than 70 games across the company's portfolio, including genre-defining titles such as War Robots, Rush Royale, and Hustle Castle. As part of the move, MY.GAMES will also look to hire and develop local game developers, creating tens of jobs over the next 5 years. Additionally, the company will seek out opportunities with local partners to launch internship programmes, developing the next generation of game development talent.
James Hartt, Director of Strategic Initiatives and Business Development at AD Gaming, said: "MY.GAMES selecting Abu Dhabi as their home in the fast-growing MENA gaming market is yet another demonstration of the thriving gaming ecosystem that AD Gaming has developed. This move supports all aspects of our industry's continued growth, so we are proud to welcome them to Abu Dhabi and support them in the next step of their journey."
Vladimir Nikolsky, CEO at MY.GAMES, added: "We are excited to partner with AD Gaming to open up a new regional office at Yas Creative Hub. We can't wait to both learn from Abu Dhabi's ever-growing, passionate player base, and contribute to the developments that are well underway as the emirate's gaming ecosystem continues to expand."
Alex Chachava, owner of MY.GAMES, said: "Abu Dhabi's strategic location and thriving gaming ecosystem make it a crucial region for the entire gaming industry, and MY.GAMES recognizes its importance as a gateway to the fast-growing MENA market. We are thrilled to be establishing our regional hub in Abu Dhabi and look forward to collaborating with local partners and talent to drive the industry forward."
In joining AD Gaming, MY.GAMES has reaffirmed AD Gaming's status as the largest ecosystem of gaming and esports businesses in the region. AD Gaming is currently home to over 50 gaming companies including the likes of international industry giants such as Unity Technologies and Ubisoft, as well as local success stories such as Boss Bunny, AA Meta, and many more.
About AD Gaming
Abu Dhabi Gaming is a collaborative initiative that aggregates the broad efforts throughout Abu Dhabi to drive and build a self-sustaining gaming and esports ecosystem. Its role is to facilitate, empower and create an industry that is essential for the future of Abu Dhabi's media and entertainment industry.
Fostering an environment of growth and knowledge, AD Gaming will provide a support system for the next generation of game developers and players, consumers, and businesses alike.
Abu Dhabi Gaming is powered by the collaboration of multiple Abu Dhabi based governmental and commercial organisations, as well as content creators and gamers, with the collective focus to build this creative sector.
Media Contact: Charlie May – cmay@brunswickgroup.com
About MY.GAMES
MY.GAMES is a leading European publisher and developer headquartered in Amsterdam, with more than one billion registered users worldwide. The company develops games for mobile, PС and console platforms. War Robots, Hustle Castle, Rush Royale, Left to Survive, and many other games are produced by MY.GAMES. The company unites over a dozen development studios, a strong team of specialists working together from across the globe.  For more information, please visit http://my.games.