PHOTO

Bollywood legend Asha Bhosle returns to enthrall her fans in Dubai with a musical extravaganza titled "Asha @ 90: Live in Concert" on Friday, September 8, 2023, at Coca-Cola Arena. This is her first return to the stage in Dubai in a decade.
"I am the last Mughal of the Indian film industry," said the almost 90-year-old petite soprano singer when she announced her landmark birthday concert recently.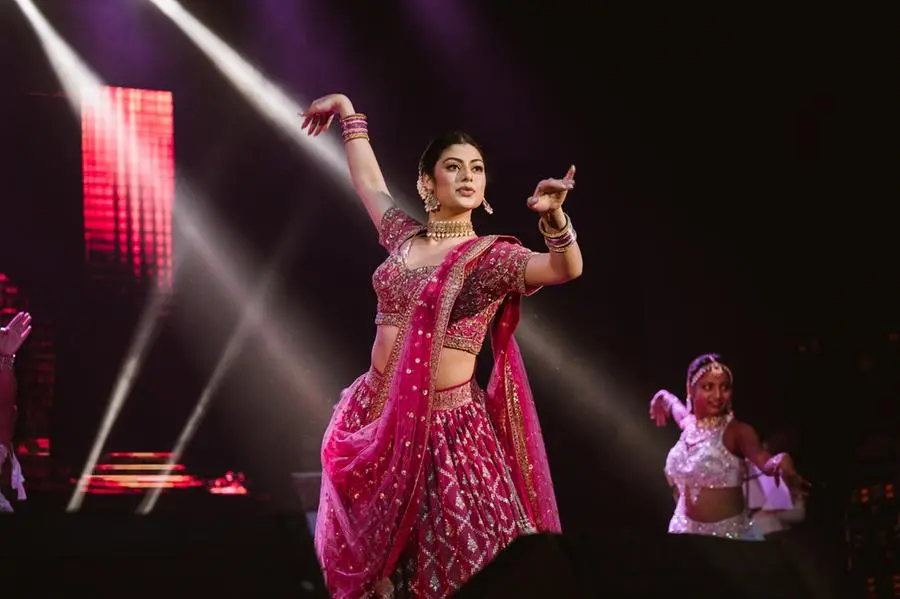 Elaborating on her "last Mughal" comment during an exclusive interview with Zawya, she explained: "I have been working in the industry for 80 years. Many of my contemporaries are no longer alive and, therefore, I'm the last of the original creators of Indian cinema."
Renowned for her golden voice and versatility and dressed in a light blue saree and her trademark maroon bindi on her forehead, the iconic Indian playback singer landed in Dubai with her family a few days ahead of her concert.
The legend has built her brand and legacy in Bollywood and the Indian film industry over eight decades and now she wants to pass the baton to her granddaughter, Zanai Bhosle, who will be performing on stage with her grandmother in Dubai. Twenty-one-year-old Zanai is a trained Indian classical dancer (Kathak) and singer. 
"My concert is going to be a showstopper. It's designed like a Broadway spectacular," the Bollywood legend said. "There will be a cast of over 50 persons in this show. My granddaughter has been accompanying me in several concert tours since she was 9 years old. She is an accomplished classical artiste."
The audience can look forward to a scintillating three-hour show on Friday evening that will take them on a journey through Bhosle's musical legacy. 
In fact, a decade ago, Bhosle had celebrated her 80th birthday with a sold out, three-hour concert in Dubai's World Trade Center auditorium.
The Dubai connection
Dubai is a second home for Bhosle, so it came as no surprise to fans when the celebratory concert was announced at the beginning of 2023.
"PME Entertainment [the organiser of this concert] had approached me a year earlier for an event in Dubai wherein they had expressed their desire to celebrate my 90th birthday with my performers."
The versatile singer has performed multiple times in the UAE over the decades. "I first visited Dubai on May 14, 1970, and since then I have performed in the UAE many times. Over the years, I have formed close friendships with many UAE residents, including members of the UAE's royal family."
Her special relationship with the country shines through in her choosing to spend her birthday with her fans in Dubai despite receiving multiple offers to perform in India.
The entrepreneur
Besides being a singing legend, Bhosle is also a well-known culinary artiste and has her own chain of Indian restaurants: Asha's.
"Two decades ago, I inaugurated my first restaurant, Asha's, in Dubai. Since then, Asha's has become an international brand with around 20 outlets in the GCC and the UK," she said. Her flagship restaurant is located in Dubai's Pyramids at Wafi Mall. The artiste-entrepreneur inaugurated her 19th restaurant in Abu Dhabi in 2019.
"The Asha's brand is growing stronger even after 20 years of operation," said Anand Bhosle, her son. He also manages the flagship restaurant at Wafi Mall. "We plan to open more restaurants in the coming years."
Lifelong passion
What's the secret behind Bhosle's endless passion for music? She has not let her advancing age or personal tragedies (she lost her elder sister Lata Mangeshkar in 2022) slow her down. Her sold-out show is evidence of her immense popularity as she continues to inspire generations of music lovers.   
"I have never delved too deeply into the reasons for my popularity. All I can say is I owe my popularity to my listeners and audience. The Asha Bhosle brand's sustainability is because I have adapted to changing fashions and trends and, therefore, I'm relevant." She also wakes up at 4 am every day, without fail, to practice her craft through voice exercise for several hours.
Bhosle has lent her versatile voice to thousands of songs in more than 1,000 Bollywood films as well as more than 20 regional and foreign languages. In 2013, she made her debut as an actress in the film Mai and received critical acclaim for her performance.
"In India, I am one of those persons who has worked in the cinema industry and seen it grow to what it is today. Indian cinema has come a long way and it shall continue to grow and prosper," she said.
(Reporting by Mily Chakrabarty; editing by Seban Scaria)