Egypt's Islamic bank profits are up, structural reforms are accelerating an economic rebound and banking penetration among ordinary Egyptians remains low, all of which suggest Shariah-compliant financial services can make major gains in 2018.
Yet government antipathy towards Islamic banking and a lack of specific regulations to govern the sector could stymie growth.
Of the 40 banks operating in Egypt, three are fully-fledged Islamic banks, with about a dozen conventional banks operating Islamic windows. Islamic bank assets reached 226 billion Egyptian pounds in 2017, around $12.8 billion, up 10.24 percent in the previous year, according to the Egyptian Islamic Finance Association (EIFA).
Islamic banking makes up 6 percent of Egypt's overall banking sector, EIFA chairman Dr. Mohamed El Beltagy told Salaam Gateway. This is a low market share for a country in which the world's first bank that put the principles of Islamic banking in practice opened in the 1960s. Shariah-compliant financial services has failed to gain widespread acceptance in the decades since, especially suffering long-term damage after millions of Egyptians lost money on Ponzi schemes in the 1980s that were sold as Islamic investments.
State hostility is another, perhaps bigger factor, with the government of former president Hosni Mubarak, who ruled Egypt from 1981 to 2011, fearing Islamic banking could empower Islamist organizations.
The year-long presidency of Mohamed Mursi in 2012-2013 sought to introduce reforms to bolster the sector, but Mursi's overthrow and the reinstatement of army-influenced rule again led to the marginalization of Islamic banking.
Mursi's Freedom and Justice Party in June 2012 proposed regulatory changes that aimed to expand Islamic banks' market share to 35 percent within five years, from 5 percent at that time, Reuters reported. These would have included inserting a dedicated section on Islamic banking into the existing banking law and the formation of an independent Shariah authority to oversee Islamic banking activities.
Those proposed reforms, for now, seem to have been put on ice, although Ahmad Gad, an asset manager at Faisal Islamic Bank of Egypt, told Salaam Gateway the central bank is considering creating a department devoted to Islamic banking. The central bank did not respond to requests for comment.
At present, there are no specific regulations for Shariah-compliant financial services, with defaults on Islamic facilities handled the same as those on conventional banking products.
"The biggest challenge for 2018 is that we still don't have separate laws to govern Islamic banks," said EIFA's El Beltagy.
Still, EIFA forecasts a 10 percent growth in deposits this year, with assets likely to grow at a similar rate. The forecasted deposits growth is higher than the 8.47 percent in 2017 when they rose to 192 billion pounds, according to official EIFA figures.
"You can see in Dubai there's the vision and the political will to create an Islamic finance sector. We don't have that in Egypt," said Emad El Sahhar, who from 2010 to 2015 was general manager for Islamic banking at Egypt's state-owned Banque Misr, where he restructured its Shariah-compliant business and three-dozen Islamic branches.
"If you don't have a crystal-clear vision, you will get lost, whether you are using Shariah-compliant or conventional modes of finance. Egypt's decision makers don't have a vision of how to develop the Islamic finance sector."
Banking penetration in Egypt is among the lowest in the Middle East and North Africa, with less than 15 percent of working-age Egyptians holding bank accounts, while around 90 percent of its almost 95 million resident population are Muslim, which should suggest big potential for Islamic banks to woo new customers.
But such is the poverty in Egypt – 28 percent of people live on less than $330 a year – banks seem to think it is little worth their while appealing to unbanked Egyptians.
"I don't think simply having a large Muslim population is sufficient to develop a major Islamic finance industry," said Mohamed Damak, Global Head of Islamic Finance at S&P Global Ratings, citing Indonesia, home to the world's largest Muslim population where Islamic finance accounts for only around 5 percent of the country's banking system.
"Islamic banks must come up with adequate products to meet the needs of potential customers, not just expect customers to come to them because they're Islamic."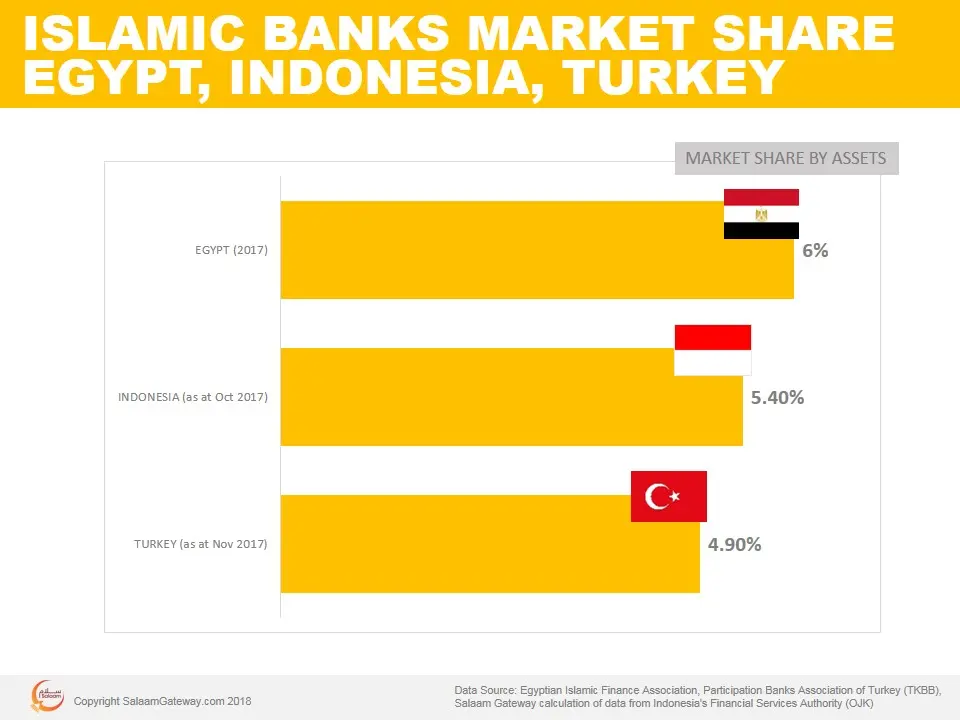 © SalaamGateway.com 2018 All Rights Reserved