Article
financial services
|
03 September, 2019
Commercial Bank of Dubai reports bullish performance in H1 2019
Commercial Bank of Dubai delivered a strong half yearly result with net profit up 25 per cent to Dh701 million due to broad based business improvement. Operating expenses increased marginally by 1.1 per cent primarily on the back of investment in digital innovation, whilst impairment allowances increased by 10.9 per cent as the bank conservatively provided for non-performing loans.

Operating income for H1 2019 amounted to Dh1,510 million, an increase of 13.7 per cent attributable to a 6.6 per cent increase in net interest income (NII) and a 30.9 per cent increase in other operating income (OOI).

Operating expenses were Dh429 million, up by 1.1 per cent. Disciplined expense management contributed to an improved cost-to-income ratio of 28.4 per cent for the first half of 2019 (H1 2018: 31.9 per cent).
Balance Sheet
Total assets were Dh78.4 billion as of June 30, 2019, an increase of 13.8 per cent compared to Dh68.9 billion as of June 30, 2018.

Loans and Advances were Dh54.8 billion, registering an increase of 16.1 per cent when compared to Dh47.2 billion as at the end of first half of 2018.

Customers' Deposits were Dh55.3 billion as at June 30, 2019 representing an increase of 14.8 per cent compared to Dh48.1 billion at the end of the first half 2018. Low cost current and savings accounts (CASA) constitute 40.6 per cent of the total deposit base, while the financing-to-deposits ratio stood at 99.2 per cent.

Asset Quality
The non-performing loans (NPL) ratio improved significantly to 5.52 per cent from 7.49 per cent at the end of the first half of 2018.

In line with the bank's prudent provisioning policy, additional net impairment provisions of Dh380 million were set aside during the first half compared to Dh343 million for the same period in the prior year. As at the end of June 2019, total allowances for impairment amounted to Dh3,445 million.
Liquidity and Capital position
The bank's liquidity position remained robust with the advance to stable resources ratio at 90 per cent (H1 2018: 91 per cent) compared to the UAE Central Bank 100 per cent limit.

CBD's Capital Ratios remain strong with the capital adequacy and Tier 1 capital ratios at 14.96 per cent and 13.81 per cent, respectively, significantly above the regulatory thresholds mandated by the UAE Central Bank.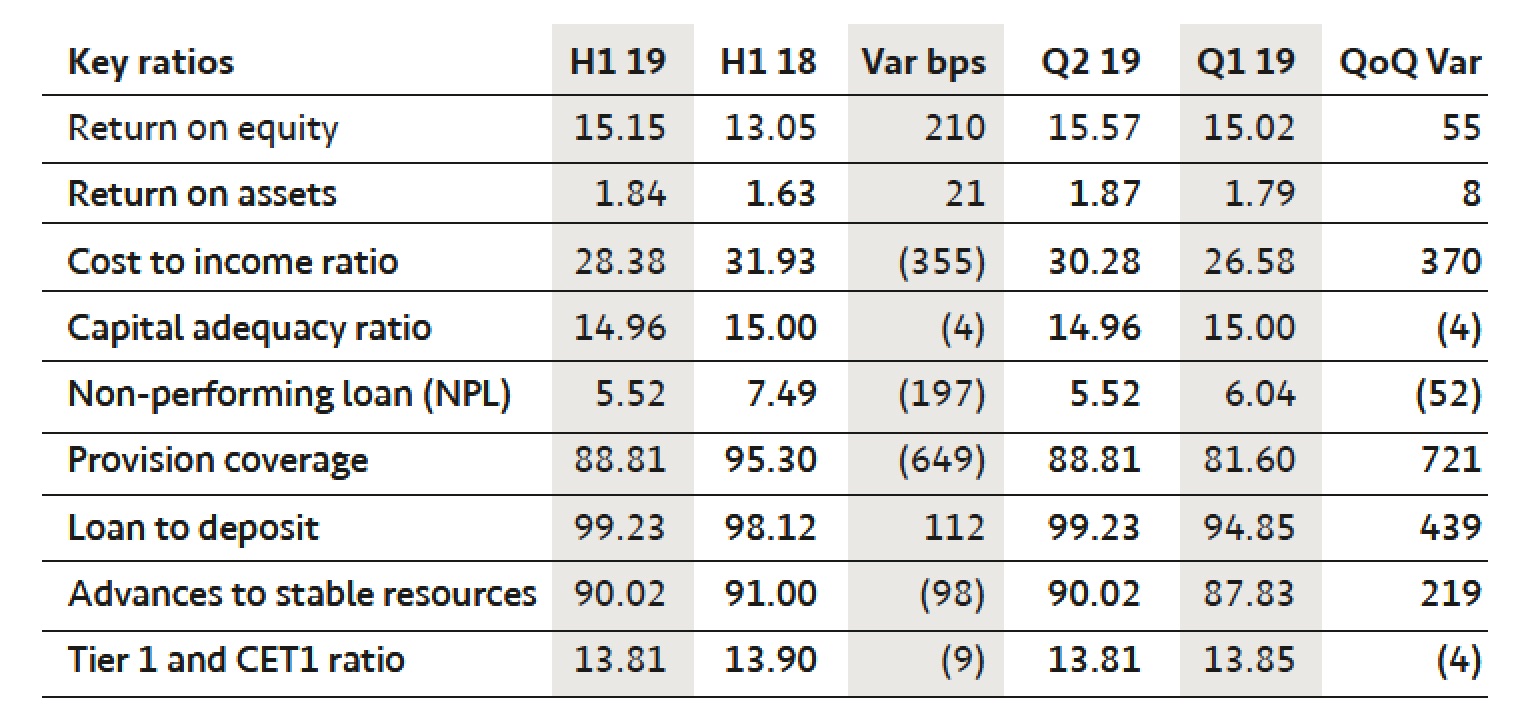 Commenting on the bank's performance, Dr Bernd van Linder, Chief Executive Officer, said: "CBD has delivered its best-ever half-yearly results with the bank's net profit increasing by 25 per cent for the first half of 2019. The result has been achieved through the successful execution of our strategy. We remain on track to deliver a record result for the full year.

"Our financial metrics remain strong as demonstrated by a CET1 ratio of 13.81 per cent coupled with significant improvements across non-performing loans, coverage and the cost-to-income ratios. Our investment in operational excellence and digital transformation has given greater flexibility to our customers and the bank's digital focus was recognised with the 'Best Digital Service' award at the Arab Digital Banking Excellence Awards and the 'Most Innovative Digital Bank' award by the International Finance Magazine (IFM).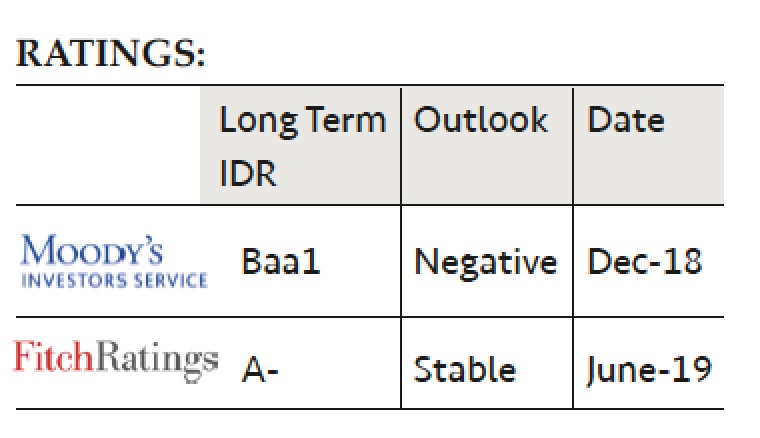 Copyright © 2019 Khaleej Times. All Rights Reserved. Provided by SyndiGate Media Inc. (Syndigate.info).
Disclaimer: The content of this article is syndicated or provided to this website from an external third party provider. We are not responsible for, and do not control, such external websites, entities, applications or media publishers. The body of the text is provided on an "as is" and "as available" basis and has not been edited in any way. Neither we nor our affiliates guarantee the accuracy of or endorse the views or opinions expressed in this article.
Read our full disclaimer policy here
.