PHOTO

The Abu Dhabi Judicial Department (ADJD) has succeeded in amicably settling approximately 61.5% of family disputes brought before the Family Guidance Committees during the first half of the current year 2023, with a total of 7,743 family conflicts, while maintaining a low rate of divorce cases which did not exceed 3% at the level of the Emirate of Abu Dhabi.
His Excellency Yousef Saeed Alabri, Undersecretary of Abu Dhabi Judicial Department, underlined the ADJD's interest in consecrating alternative solutions to resolve disputes and reach amicable settlements, particularly in family conflicts, so as to preserve the stability of the family, in application of the directives of His Highness Sheikh Mansour bin Zayed Al Nahyan, Vice-President of the UAE, Deputy Prime Minister, Minister of the Presidential Court and Chairman of Abu Dhabi Judicial Department, to intensify the efforts geared towards ensuring social cohesion, starting with the family as the first nucleus in the construction of society.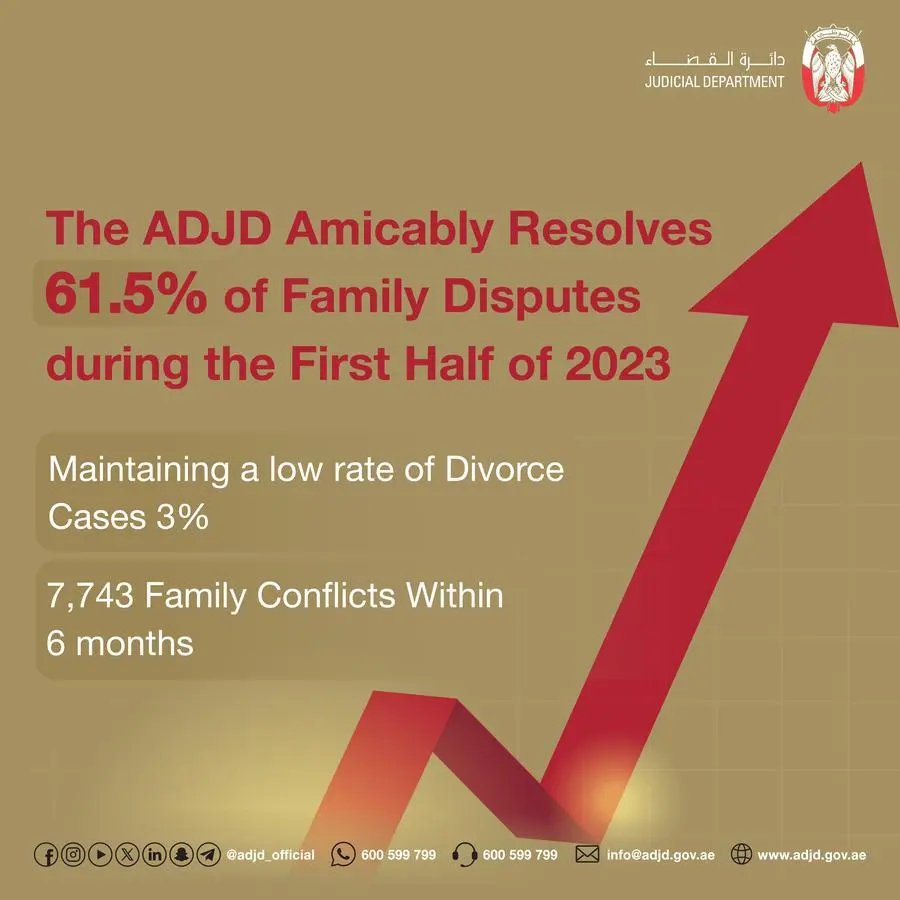 Mr. Yousef Alabri also stated that the ADJD continues the implementation of its initiatives designed to enshrine the culture of alternative dispute resolution, to reach reconciliation agreements and resolve disputes amicably. This approach helps avoiding recourse to the competent courts, and helps spreading the values of tolerance and coexistence in an environment where harmony and understanding prevail in the context of the rule of law and justice, so that all members of society can enjoy security and stability in the land of tolerance.
He emphasised that the innovative measures and educational lectures offered by the Judicial Department, through its "Al Solh Khayr" (Reconciliation is Better) initiative, are bearing fruit by raising the level of family awareness in a rapidly changing world, This is achieved by delivering awareness-raising messages using tried and tested methods, and by organising training workshops supported by multimedia and interactive exercises aimed at instilling skills that will help reduce discord between spouses and allow them to overcome the difficulties that can lead to family disintegration. All of this has contributed to a significant drop in divorce cases over the last two years compared with previous years, Mr. Alabri said.
H.E. the Undersecretary of the ADJD also stressed the vital and important role of family counsellors at the Judicial Department and their effective involvement in persuading spouses to end disputes amicably and reach an agreement that satisfies all parties. He explained that intensive counselling sessions are organised for the parties to the dispute with counsellors specialising in the social, psychological and legal fields, who examine and discuss the problems and their root causes from various angles, and propose appropriate solutions as part of treatment plans that take into account the changes taking place in the family, thus enabling the partners to resolve any future problems they may face.