PHOTO

The value of announced mergers and acquisitions (M&A) with any MENA involvement reached $58 billion during the first nine months of 2020, marking the third highest year-to-date total of all-time, global data provider Refinitiv revealed.
However, the value is down 52 percent from the record high achieved last year with Saudi Aramco's agreement to buy a stake in Saudi Basic Industries Corp for $69.1 billion.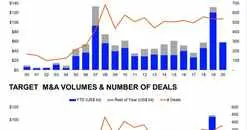 >
According to Refinitiv, $6.3 billion worth of deals were announced during the third quarter of 2020, down 82 percent from the previous quarter which was boosted by two mega deals - Saudi Arabia's National Commercial Bank announced plans to acquire Samba Financial Group for $15.6 billion and a consortium of investors agreeing to buy UAE's ADNOC gas pipeline assets for $10.1 billion.
Despite scoring the second highest first nine-month total of all-time, domestic M&A registered a 71 percent decline from last year to $25.2 billion, again due to the Aramco- SABIC deal.
Click image to enlarge
Inbound M&A, involving an acquirer from outside of the region, increased 36 percent to an all-time year-to-date high of $22.5 billion, while outbound M&A declined 47 percent to $5 billion.
The financial sector was most active, with deals targeting financial companies accounting for 40 percent of total M&A in the region during the first nine months of 2020, followed by energy & power with 21 percent, Refinitiv noted. 
Saudi Arabia was the most targeted nation, followed by the UAE and Egypt.
Morgan Stanley topped the any MENA involvement announced M&A financial advisor league table during the first nine months of 2020 with a 45 percent market share.
(Reporting by Seban Scaria; editing by Daniel Luiz)
Disclaimer: This article is provided for informational purposes only. The content does not provide tax, legal or investment advice or opinion regarding the suitability, value or profitability of any particular security, portfolio or investment strategy. Read our full disclaimer policy here.
© ZAWYA 2020