PHOTO

Sukuk issuance gained momentum in the first half of 2021 as total issuance reached $100 billion compared to $88.7 billion in the same time last year. Total global sukuk issuance for 2021 is expected to hit a new record of around $180 billion, Global data provider Refinitiv said.
Sukuk issuances had a strong start this year and exceeded $50 billion for the first time during Q2, with increased issuance from the GCC and Turkey, including a $6 billion sukuk from Saudi oil giant Aramco.
Historical Sukuk Issuance 2017 – H1 2021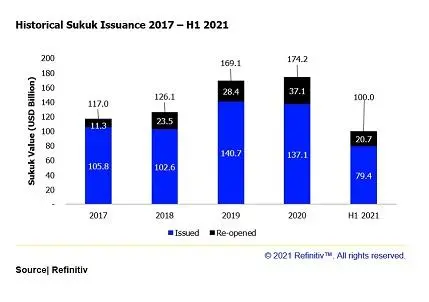 >
Sukuks issued by GCC governments picked up after a slow first quarter, continuing to raise financing for COVID-19 recovery measures and ongoing infrastructure and economic development projects. GCC governments collectively issued $18.7 billion in sukuk during H1 2021, compared to $22.5 billion during H1 2020.
The Saudi government nearly doubled its issuance during Q2, after a sharp reduction in the past two quarters. Meanwhile, Oman returned to the international sukuk market with a $1.75 billion issuance – it's second largest sukuk issuance to date.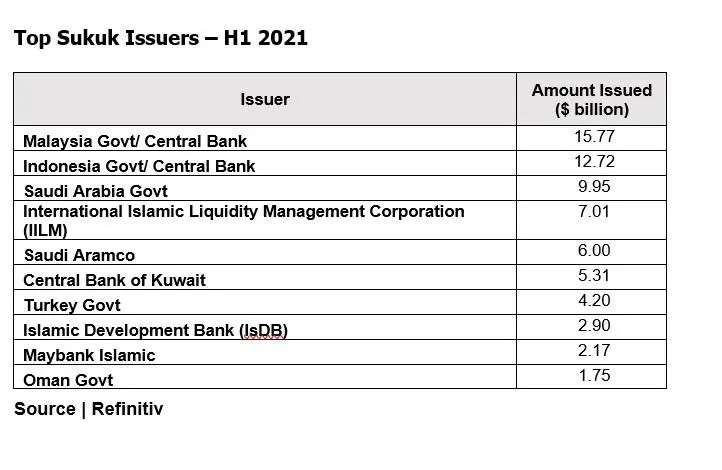 >
Tapping global markets amid greater risk appetite
The market also witnessed a significant increase in International sukuks – mainly dollar sukuks issued in the Eurobond market – during Q2 as issuers capitalised on prime issuance conditions in global markets.
Interest rates have been at a historical low since the onset of the COVID-19 pandemic, increasing investors' appetite for risk and causing investor demand to shift to higher yielding investments, cultivating favourable market conditions for issuers.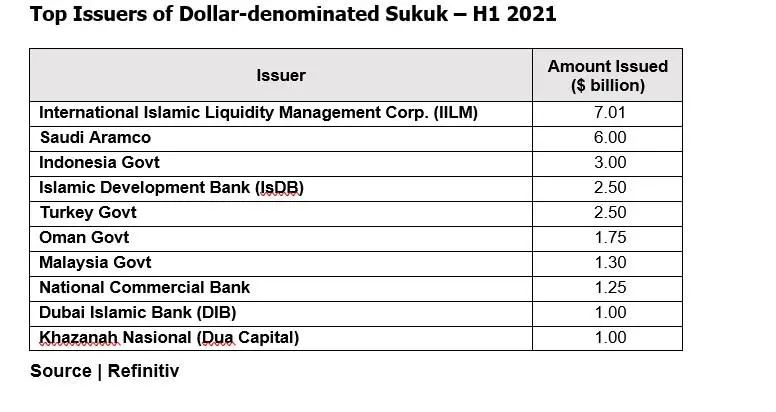 >
A major boost to issuances came from Saudi Aramco's $6 billion debut dollar sukuk, which racked up a record order book worth over $60 billion from a consortium of 29 bookrunners. This was the largest order book ever achieved for a sukuk issuance, with bids mainly coming from both conventional and Shariah-compliant regional investors. The proceeds from this sale will go towards the oil giant's $75 billion bn annual dividend pay-out.
The Malaysian, Turkish and Omani governments all returned to the international sukuk market in Q2 2021 with sukuk issuances of over $1 billion each, all of which were oversubscribed, Refinitiv data said.
Both Malaysia's and Oman's sovereign bonds secured bumper sales, with the issuances oversubscribed more than six times.
With investors anticipating interest rate hikes by the end of the year, more sukuk issuers will likely turn to international markets this quarter to tap high investor demand and a sizeable liquidity pool. Sovereigns would benefit from market conditions to raise funding for strategic economic and infrastructure projects.
For more insights and analysis on the sukuk market size and trends, please visit Refinitiv Workspace/Eikon app, Sukuk Now. https://www.refinitiv.com/en/islamic-finance/sukuk-now
(Reporting by Jinan AlTaitoon editing by Seban Scaria)
This article is provided for informational purposes only. The content does not provide tax, legal or investment advice or opinion regarding the suitability, value or profitability of any particular security, portfolio or investment strategy. Read our full disclaimer policy here. 
© ZAWYA 2021