PHOTO

UNHCR, The UN Refugee Agency supported 2.1 million refugees and internally displaced people (IDPs) through Zakat and Sadaqah funds in 2020, thanks to institutional partners and philanthropists across the region and globally.
Zakat donations last year saw a 12.5 percent increase at $48.5 million compared with 2019.There was also an increase of 59 percent growth in Zakat beneficiaries, the agency said in its Annual Islamic Philanthropy Report, titled 'Islamic Philanthropy - Transforming the Lives of the World's Displaced.'
Majority of Zakat donations (97 percent) came from the Middle East and North Africa. Institutional partners and philanthropists provided 87 percent of donations, while the remaining 13 percent came from digital donations.
Contributions received helped UNHCR in providing lifesaving support through the distribution of cash assistance and goods, allowing refugees and IDPs to address immediate needs including shelter, food, education, healthcare, and debt repayment. The support also provided helped refugees and IDPs to effectively address economic hardships that were further exacerbated by the ongoing COVID-19 pandemic.
Video: Generous Zakat donations help tide over a difficult year
Zakat funds were distributed in ten countries Yemen, Jordan, Lebanon, Egypt, Niger, Mauritania, Iraq, Pakistan, Bangladesh and India. Most of the funding went towards supporting Yemeni IDPs, Syrian refugees, and Rohingya refugees.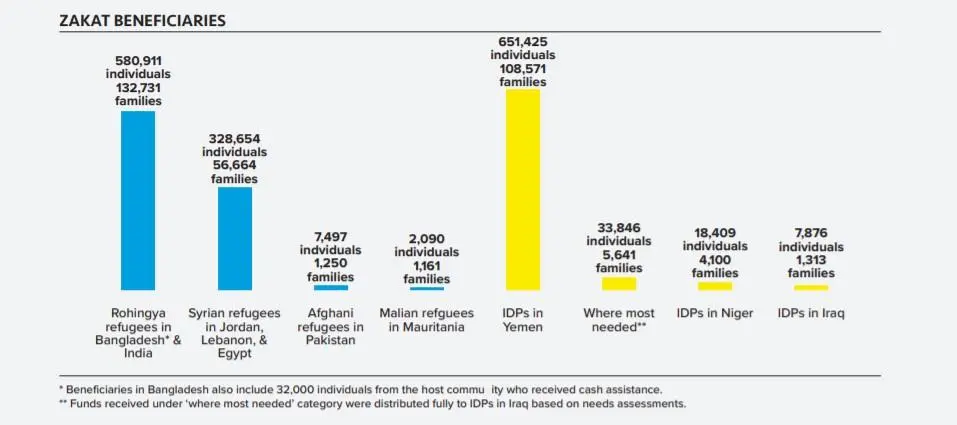 >
Commenting on the impact of Islamic philanthropy on marginalized communities, Koutoub Moustafa Sano, secretary general of the International Islamic Fiqh Academy said: "With more than 50 percent of the refugees and IDPs coming from OIC countries, the Muslim community responded with generosity to UNHCR's Refugee Zakat Fund, in particular in the context of the consequences of the pandemic. But the needs are still high, and there is much space left to cover for the expenditures of Zakat-compliant activities."
According to the UNHCR report, Zakat collected in 2020 was approximately 20 percent of of UNHCR's expenditure on activities identified as Zakat-compliant, namely the distribution of cash and goods, and was a little over 10 percent of total Zakat-compliant needs.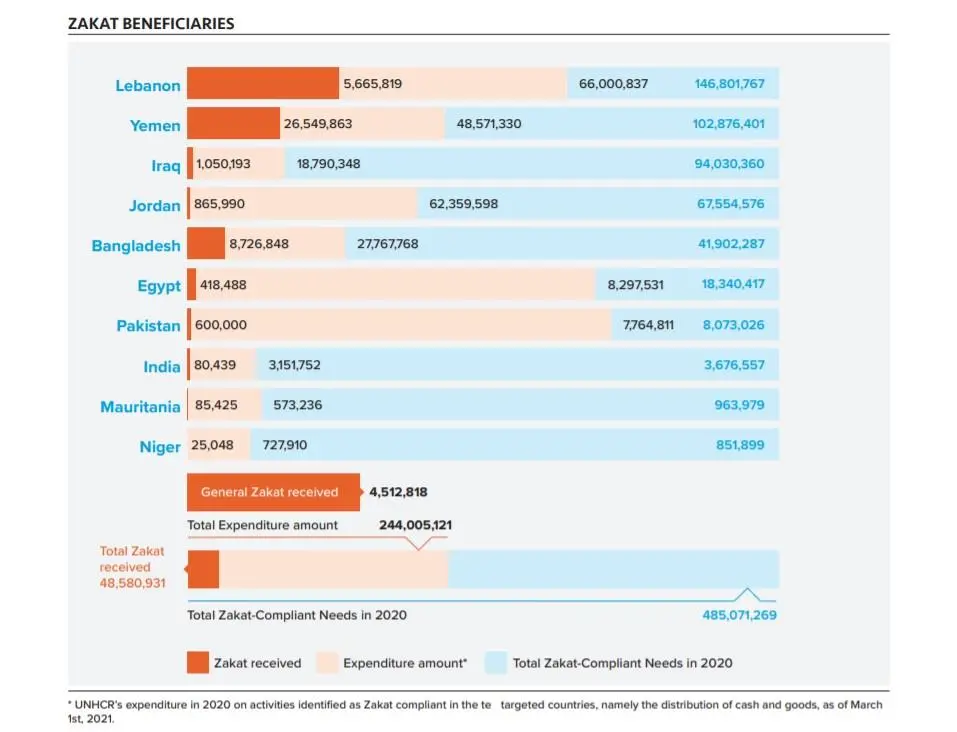 >
Despite the growth in the Zakat fund, the ongoing COVID-19 pandemic has widened the gap between the needs of displaced families and funds received, the report said. To address the unmet needs of these vulnerable populations in 2021, UNHCR has projected global budget needs at $9.1 billion, of which $2.7 billion are needed in countries where it will be distributing Zakat.
(Reporting by Brinda Darasha; editing by Seban Scaria)
Disclaimer: This article is provided for informational purposes only. The content does not provide tax, legal or investment advice or opinion regarding the suitability, value or profitability of any particular security, portfolio or investment strategy. Read our full disclaimer policy here.
© ZAWYA 2021