PHOTO

Banks in the Arab world may have become keen adopters of financial technology (fintech) to cut costs, but too few are paying enough attention to regulatory technology (regtech), the secretary-general of the Union of Arab Banks has said.
Speaking at the Mena Regulatory Summit on Monday, Wissam Fattouh, secretary-general of the Union of Arab Banks and chairman of the MENA Financial Crime Compliance Group, said: "A major reason behind the complexity of the work of compliance officers is a tendency to rely heavily, perhaps overly, on technology in conducting banking and financial operations today."
Fattouh argued that banks' focus in terms of technology investments has been on the development of products such as artificial intelligence, "which aims at reducing costs to improve operational efficiency by reducing human intervention in banking operations".
"We, of course, encourage fintech, but we have to have good, successful regtech applications. We have to improve supervision and monitoring capacity through digital technology and data analysis," Fattouh said.
He argued that without such investments, cyber security risks could heighten, as could banks' vulnerability to financial crime.
Counting the cost
Hans-Peter Bauer, a senior advisor to the Basel Institute on Governance and to the Wolfsberg Group - a body made up of 13 global banks cooperating on financial crime risk - said at the same event that the costs of regulatory technology can be prohibitive for smaller banks.
"My worry is that regtech will be too expensive for small and medium-sized banks who don't have the resources and capacities," said Bauer. "This automatically will force (them) to join forces or to use utilities to apply those technical processes."
During a subsequent panel debate, he said that smaller banks in higher-risk countries could be in danger of being shut out of the international financial system for regulatory breaches, which could push them out of existence.
"I think we all - the big banks as well - have a responsibility to help those smaller banks to stay in business because it is bad for the economy if we see such a concentration."
Antoine Hobeiche, an advisor to the Union of Arab Banks and to the MENA Financial Crime Compliance Group, said that it was "strategically trying to help smaller banks" meet regulatory obligations.
"All statistics point to smaller banks' investments in technology (being) weaker than larger banks. That means they are going to be the weakest link in this whole conundrum of problems."
The MENA Regulatory Summit was organised by Zawya's parent company, Refinitiv, which revealed the results of its fifth annual Financial Crime in the Middle East and North Africa survey during the event.
It found that 44 percent of respondents said their firm had fallen victim to some form of financial crime in the past five years. Fraud was the most common form of financial crime, experienced by almost 25.5 percent of organisations, followed by cyber security breaches (13.7 percent), regulatory breaches (12.4 percent), money laundering (12.4 percent) and bribery and corruption (11.8 percent).
Despite cybercrime topping the list of financial crime concerns highlighted by respondents, only 43.8 percent of respondents said their organisations had a programme in place to deal with the threat.
The survey was based on 262 responses, most of which came from 12 countries across the Middle East and North Africa.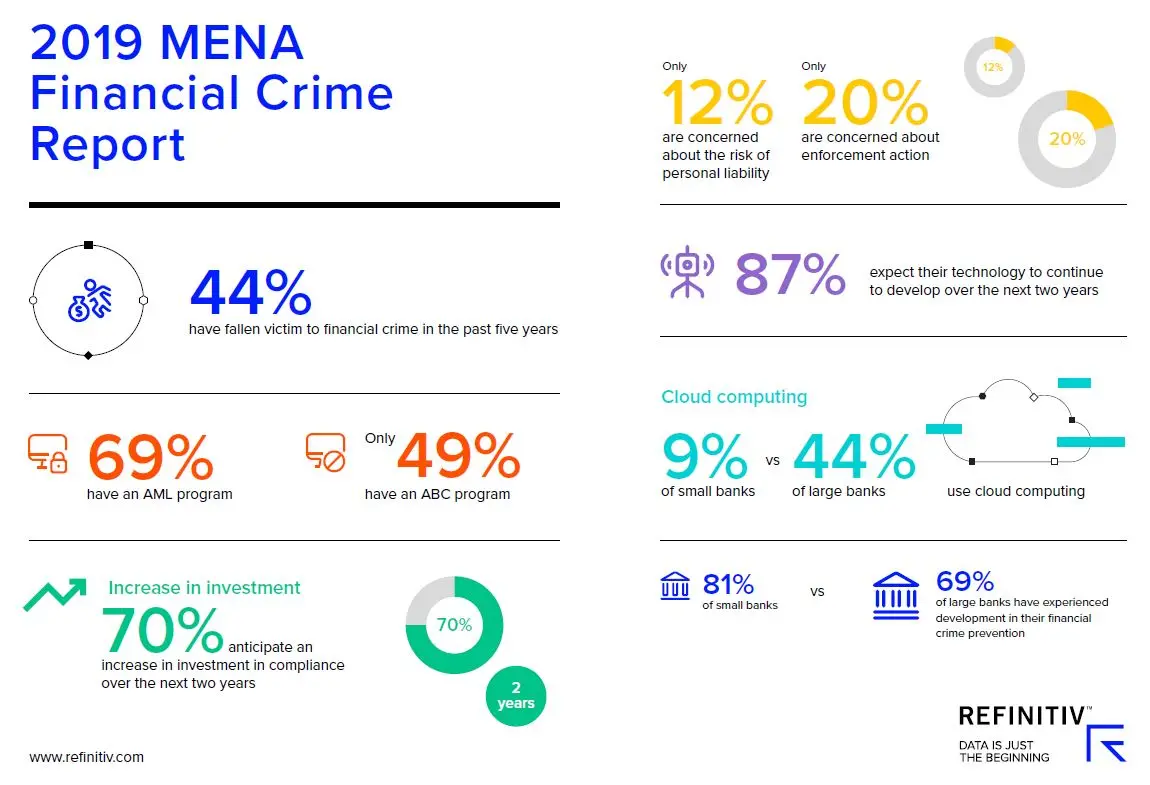 >
Click on the image above to open a high-resolution PDF version in a new tab.
(Reporting by Michael Fahy; Editing by Matt Smith)
(michael.fahy@refinitiv.com)
Our Standards: The Thomson Reuters Trust Principles
Disclaimer: This article is provided for informational purposes only. The content does not provide tax, legal or investment advice or opinion regarding the suitability, value or profitability of any particular security, portfolio or investment strategy. Read our full disclaimer policy here.
© ZAWYA 2019