PHOTO

"It's a plane without wings, a train without wheels, a car without doors". That is how the co-founder of California-based Virgin Hyperloop One describes the futuristic mode of transport that holds the promise of transforming the way people and cargo move quickly across long distances.
With high-profile investors that include British billionaire Richard Branson's Virgin Group and Dubai's DP World, Hyperloop One has transitioned from a technology start-up when Josh Giegel and Shervin Pishevar co-founded the venture in a Los Angeles garage four and-a-half years ago into a transportation company with a range of development projects.
The firm is now making strong progress across the world - from the United States, to India and the Gulf Cooperation Council (GCC) region. In the GCC alone, it is set on building about 4,000 kilometres of hyperloop systems and aims to launch its first commercial operations in India by 2028.
"The project that is moving the fastest right now is in India between Mumbai and Pune," said Josh Giegel, co-founder and chief technology officer (CTO) of Virgin Hyperloop One in an interview with Zawya on Thursday at the Abu Dhabi Ideas forum.
"We're hopeful that we'll start our construction on the certification track for India at the end of this year, beginning next year," he said.
"Most recently, we named the official project proponent there (in India), which is a good step to moving this forward," he added.
Hyperloop One's Indian route will link Navi Mumbai International Airport, Mumbai, to the city of Pune in 25 minutes, reducing the time from around four hours currently, and connecting almost 26 million people.
Across the Gulf
In April last year, Saudi crown prince Mohammed bin Salman unveiled a Vision 2030 Hyperloop Pod during his visit to the United States, affirming a commitment to bring the technology to Saudi Arabia.
Hyperloop One also signed a deal with Saudi Arabia's Misk Foundation to allow for a transfer of knowledge, with the aim of developing a highly skilled workforce in the kingdom.
"We're at a stage working with the Saudi government to look at what potentially the first phase could be," Giegel said.
"They don't want to commit to a national network until the technology is actually in work, which is a responsible approach. But for megaprojects, they're looking at how to get people there, and more importantly how to get people there quickly so that they can go there more often," he added.
On where Hyperloop One will most likely start in Saudi Arabia, he responded: "We've talked about three or four different routes… and that's what we're trying to find out through more detailed studies and engagement with the Ministry of Transport and PTA (Public Transport Authority),"
"We have a couple of regular sites and a couple of existing cities in Eastern Province that would make economic sense to build first because these cities are already constructed," he added.
Within Saudi Arabia, using Hyperloop would mean it would take less than 60 minutes to move from Riyadh to the Red Sea Project, 41 minutes from Riyadh to Makkah, and five minutes to move from Makkah to Jeddah, according to an infograph sent by Virgin Hyperloop One to Zawya.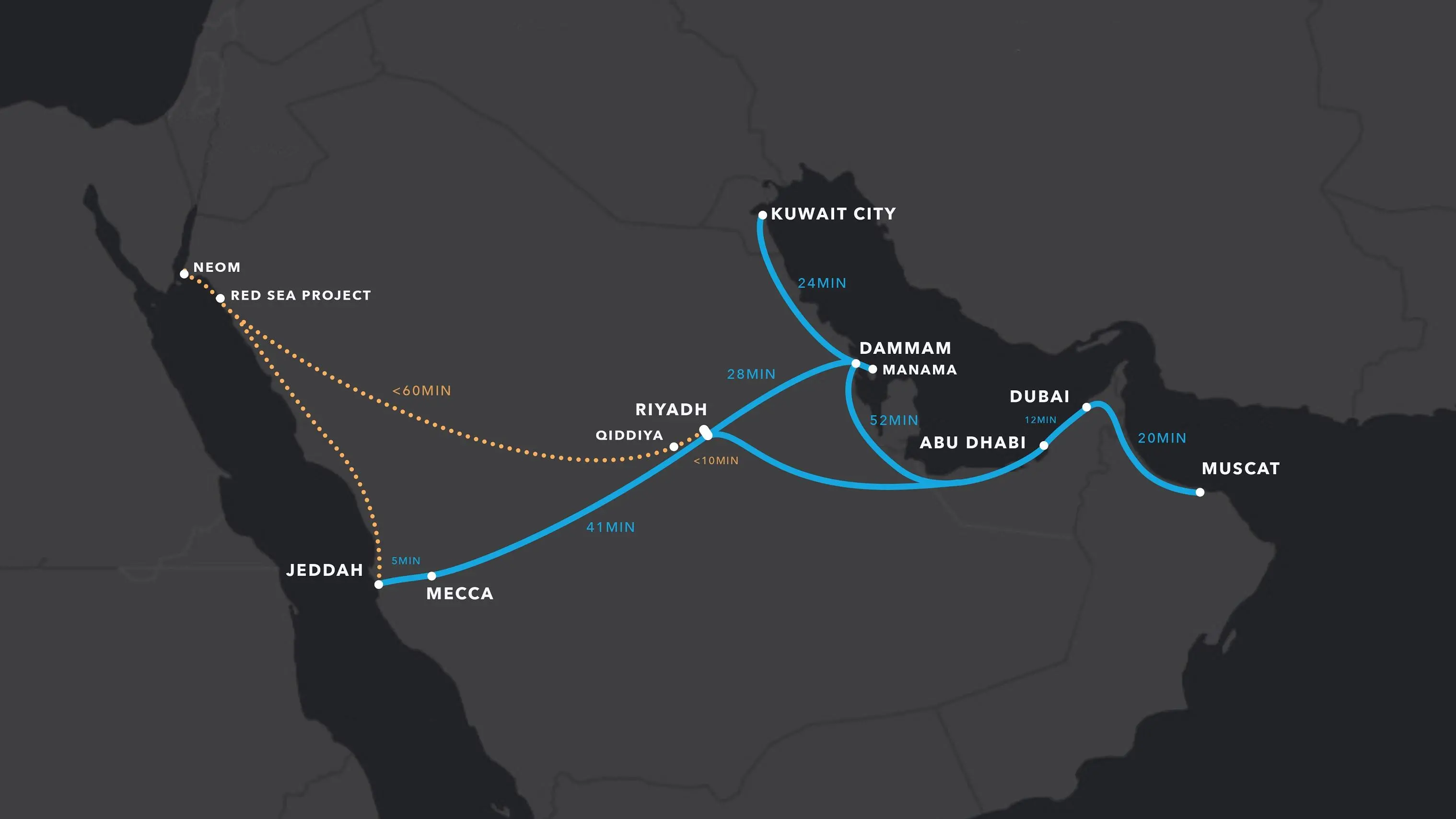 >
"So in Riyadh, in (the) Qiddiya project, it is maybe 50 kilometers outside of Riyadh, and right now it is a destination that people may want to go once per week. But if we could get people there once per day because the journey is quick and economically efficient, then you have the opportunity to incentivise what they're trying to create in Saudi," he said.
The same concept applies when looking at other mega-projects in the kingdom, including the Red Sea project and NEOM, he added.
"What NEOM really stands for is a city of the future, autonomous vehicles, no drivers anywhere, and if there's a way to connect people to move around that site, which is a big site, how can we do that efficiently? And in moving people along such distances, people care how long it takes. You can keep the idea of NEOM being industrial and residential area because you can connect between the two cities relatively fast," he added. (Read more here). 
"I think it's really compelling so for us in exploring the opportunities trying to find out which one might be the right one to start with in Saudi," he said.
"In Dubai, we're working with RTA extensively on routes going to airports, going to Expo, or extending the metro system," Giegel said.
Back in December 2016, Hyperloop One signed an agreement with Dubai's Roads and Transport Authority to explore using the technology that would allow travel between Dubai and Abu Dhabi in 12 minutes, Dubai to Riyadh in 48 minutes, and Al Maktoum Airport with Dubai International Airport in six minutes.
"In Abu Dhabi, we focused a little bit more on the ecosystem, like developing partnerships for the construction of pods," he said.
"It's been more about transforming of ecosystem development, working with Mubadala at bringing technology in construction and also operations maintenance, and then ultimately, if this is the first mover, being able to export that either to India or the U.S. by having the track from here," he added.
Mubadala's Al Ain-based aerospace manufacturing subsidiary, Strata, designs, develops and manufactures major aircraft units.
Cargo and China's Silk Road
In November 2018, Sultan Ahmed bin Sulayem, CEO of Dubai's DP World was elected as the Chairman of Virgin Hyperloop One, after Richard Branson stepped down from the role, yet Virgin Group remains a minority investor in it. The firm also began the shift from being a technology startup to a mass transportation company.  (Read more here).
On whether the firm is looking to take part in China's plans for a new 'Silk Road', Giegel said to Zawya: "That would be the goal. Right now, it takes eight weeks on a boat to go from Beijing to Berlin, but you could do that in about 10 hours on a hyperloop.
"Our largest investor is DP World, and Sultan, the chairman, believes strongly in the cargo case and one of his exciting long term routes is 8-10,000 km, and it'd be transformative to get things out of China into Europe," he said.
"If we look at the GCC, part of Vision 2030 is creating a hub between the three continents and to be able to tie that through here would be something that our chairman would really like and would help transform this region," he added.
In April 2018, Virgin Hyperloop One, along with DP World, introduced an international brand for hyperloop-enabled cargo named DP World Cargospeed. (Read more here).
DP World is currently the largest investor in Hyperloop One and supports the cargo case, where light-weight high-value cargo could be transported at flight speed and trucking cost at the same time.
Certification challenge
According to its co-founder, the Hyperloop One pods look like a plane body, whereas the tube looks like a train, and the control system looks like air traffic control so the firm has to deal with a variety of different safety organisations.
On the key challenges for making the technology commercial, Giegel said: "I think the biggest is getting a certification. People are entrusting their lives riding on our systems.
"We've seen some issues like 737 MAX where people are shaken by how things that are normally safe are having problems, so we have to get it certified," he noted.
"So right now, the biggest difference between our systems and high speed planes is that they're certified, so if you want to buy one, you can go get it," he said.
"But they don't have the benefits of our systems as they are not as fast, not as economic, nor as sustainable. So we need to get to that same level and that's what we're working on over the next three years to get that certification ready."
As for the elements of sustainability of the hyperloop versus other modes of transport, he said: "We're 100 percent electric. In this part of the world, we could actually cover the top of the tube with solar panels and basically generate all the electricity for our system through completely clean energy given that in GCC there is so much sun.
"The other side of it, our systems has no moving parts so there is a lot less wear and tear and there is nothing that gets hot," he noted.
In the Middle East, one of the additional safety concerns in existing mass transport systems is having camels walking across the tracks, as well as sand impeding movement, according to Giegel.
"If you look at the high speed rail that was built between Jeddah, Makkah, Madinah, we can see the amount of land that it actually takes and protecting that land from camels walking across," he said.
"But with the hyperloop, you're in closed area, you're not subject to sand blowing on the tracks or camels walking across it. And then finally, it's really compatible with the way technology is moving, with electric vehicles coming into the automotive space, so it has become a natural setting," he added.
The idea of the hyperloop was promoted by Tesla's Elon Musk, who published a white paper known as Hyperloop Alpha back in 2013 suggesting a transport system that could reach up to 600 miles per hour. The main competitors to Virgin Hyperloop One are Hyperloop Transportation Technologies, which is also working on projects in the United Arab Emirates, and Toronto-based TransPod.
Prior to Hyperloop One, Giegel worked at Musk's SpaceX, where he served as the lead analyst on six different successfully-tested rocket engines before leading a team of engineers set on turning the hyperloop into a reality.
(Reporting by Nada Al Rifai; Editing by Michael Fahy)
Our Standards: The Thomson Reuters Trust Principles
Disclaimer: This article is provided for informational purposes only. The content does not provide tax, legal or investment advice or opinion regarding the suitability, value or profitability of any particular security, portfolio or investment strategy. Read our full disclaimer policy here.
© ZAWYA 2019