PHOTO

Dubai, UAE: Dubai Electricity and Water Authority (DEWA)'s electricity, water transmission and distribution lines witnessed substantial growth across Dubai in 2022. The total length of transmission and distribution electricity lines has reached 42,586.71 kilometres, while the water transmission and distribution lines has reached 13,769 kilometres.
HE Saeed Mohammed Al Tayer, MD & CEO of DEWA, highlighted DEWA's commitment to continue providing a solid and advanced infrastructure to meet the increasing demand for electricity and water. This is according to the highest standards of efficiency, quality and reliability, as part of the Dubai 2040 Urban Masterplan, to keep pace with the increase in the number of Dubai residents, which is expected to reach 5.8 million by 2040.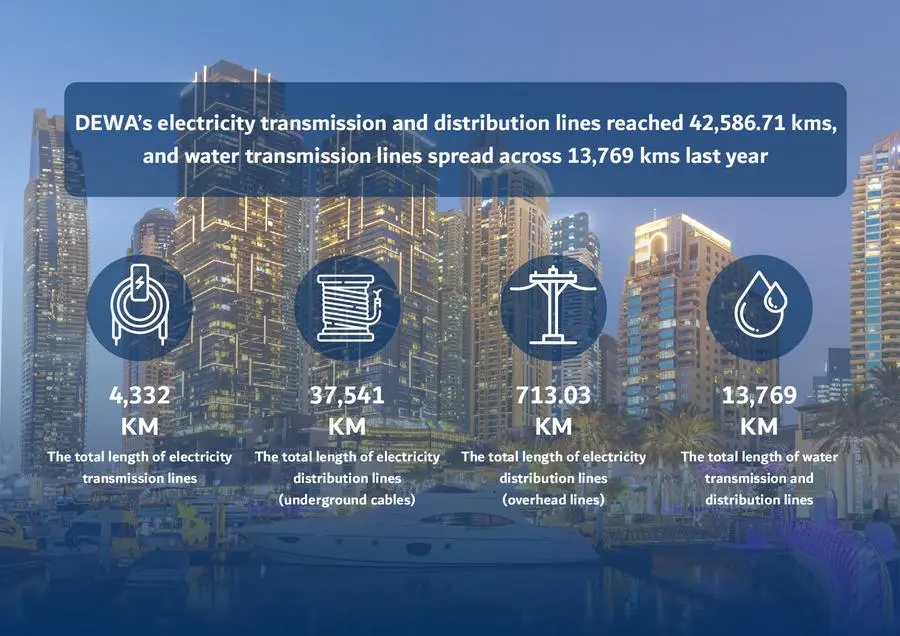 "As a globally leading fully integrated utility and the exclusive provider of electricity and potable water in Dubai, we work in line with the vision of His Highness Sheikh Mohammed bin Rashid Al Maktoum, Vice President and Prime Minister of the UAE and Ruler of Dubai, to keep pace with the growth and prosperity of Dubai and the increase in its population. DEWA's total energy production capacity is 14,617MW of electricity and 490 million imperial gallons per day (MIGD) of desalinated water. DEWA is developing major projects and strategic initiatives to achieve the goals of the Dubai Clean Energy Strategy 2050 and the Dubai Net Zero Carbon Emissions Strategy 2050 to provide 100% of Dubai's total production capacity from clean energy sources by 2050. In 2022, DEWA's results again surpassed major European and American utilities in several key performance indicators. Line losses from electricity transmission and distribution networks were reduced to 2.2% compared to around 6-7% in Europe and the USA. DEWA has achieved a new world record in electricity Customer Minutes Lost (CML) per year. Dubai recorded 1.19 minutes per customer, compared to around 15 minutes recorded by leading utility companies in the European Union," added Al Tayer.
By the end of 2022, the total length of electricity transmission lines reached 4,332 km, and the total length of electricity distribution lines - underground cables increased to 37,541 km. Meanwhile, the total length of electricity distribution lines - overhead lines reached 713.03 km. In 2022, DEWA inaugurated 17 new substations. These include fifteen 132kV stations with a conversion capacity of 2,280 megavolt amperes and two 400kV stations with a conversion capacity of 4,000 megavolt amperes. DEWA installed five kilometres of 400kV overhead transmission lines and 247 kilometres of 132 kV ground cables to connect the substations to the main transmission network. DEWA also commissioned 1,113 - 11 kV distribution substations across Dubai. There are now 73 - 33kV substations in service, and 42,771 medium voltage (11Kv or 6.6Kv) substations. 
-Ends-
For more information, please contact:
Khuloud Al Ali / Ribal Dayekh                                                                                 Afaf Abaza / Mohammed Meshal
Dubai Electricity and Water Authority                                                                     Hattlan Media
Media@dewa.gov.ae / Ribal.Dayekh@dewa.gov.ae                                             afaf@hattlan.com / mohammed@hattlan.com
For more information, please visit DEWA's website www.dewa.gov.ae
DEWA's social media accounts:
https://www.facebook.com/dewaofficial
https://www.youtube.com/dewaofficial
https://twitter.com/dewaofficial
https://www.instagram.com/dewaofficial
https://www.Snapchat.com/add/dewaofficial
https://www.linkedin.com/company/dewaofficial