PHOTO

Kuwait: Kuwait Telecommunications Company – stc, a world-class digital leader providing innovative services and platforms to customers, enabling the digital transformation in Kuwait, announced that it has successfully completed a certification exercise for Quality Management System (ISO 9001:2015), in addition to a surveillance audit of its existing Information Security Management System (ISO 27001:2013) and Business Continuity Management System (ISO 22301:2019). The certification comes after a thorough and vigorous auditing process performed by Top-Certifier, one of the leading consultation firms in ISO certifications.
stc indicated in a statement that the certification process was headed by the Quality Assurance, Cyber Security and Business Continuity Team, and involved several other departments within the company. The process revealed that the practices and procedures implemented within the Company are as per its Quality Management, Business Continuity & Information Security plans. During the evaluation process, the team presented the necessary requirements requested by the international ISO standard in details, while confirming the adherence of internal policies and procedures. The requirements and documented procedures were delivered to the independent auditing team at Top-Certifier for verification prior to the submission.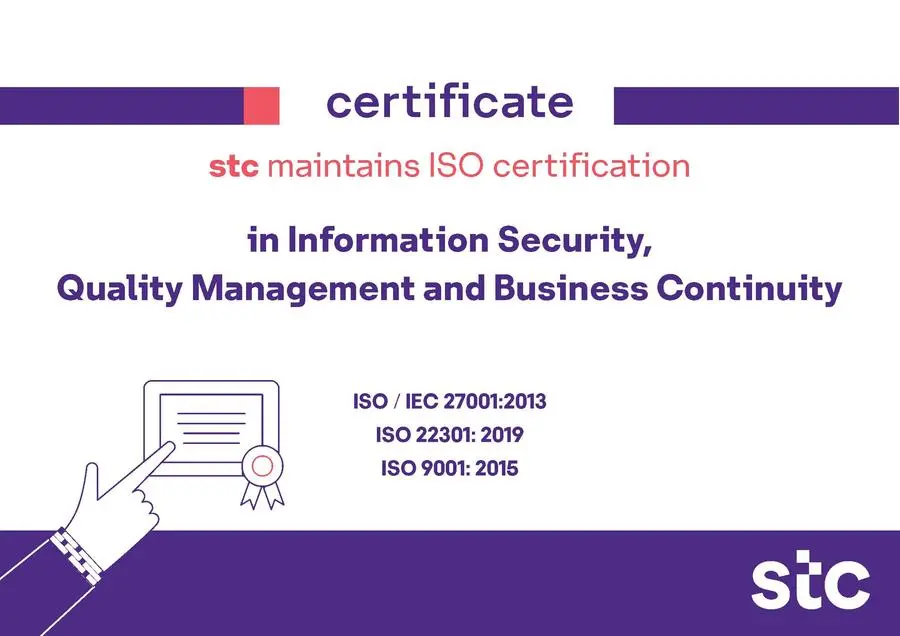 The ISO Certification in Quality Management, Information Security and Business Continuity comes as a testament to the diligent approach taken by stc to implement policies and guidelines to maintain all business-related operations. While the continuity plan goes beyond any restrictive measures, the team at stc developed a comprehensive management system to effectively control such incidents in case they occur. Through active monitoring and continuous system enhancements, stc managed to safely continue its operations for customers and stakeholders while abiding to the guidelines imposed by the government.
stc Chief Technology Officer, engineer Fahad Abdulrahman Al Ali, said, "Maintaining our ISO certifications confirms and demonstrates our commitment to implement robust Quality Management, Information Security and Business Continuity Systems that are adaptable to different circumstances and resilient during times of uncertainty. At stc, we continuously search for new ways to enhance the offerings and solutions we provide to our customers. To maintain the same quality of services to our customers, it is critical that we provide our employees with access to the necessary resources they need through a streamlined and documented process."
He added, "Our focus is to uphold the highest international standards when delivering our digital solutions to customers, while simultaneously implementing our digital transformation strategy. We are committed to supporting our customers and the Kuwaiti community by delivering our range of solutions interruptions-free. We identified the challenges that appeared in our path and transformed them into opportunities to elevate the user experience. This enabled us to introduce new-to-market products that leveraged the strength of our strong 5G network, while revamping our solutions to provide greater access to our individual and corporate customers. Moving forward, we aim to further enhance our offerings and expand our spectrum of digital solutions to cater to the needs of our diverse customer base." In his words of appreciation, Al Ali thanked the team at stc and all those who participated in achieving this great achievement for the Company.
-Ends-
About stc
Kuwait Telecommunications Company (stc) is a Kuwaiti shareholding company incorporated pursuant to Amiri Decree No. 187 on 22 July, 2008, to operate and manage the third GSM mobile network in Kuwait as per Law No. 2 of 2007. Accordingly, stc launched its operations in December 2008 and was listed on Boursa Kuwait in December 2014. It is a world-class digital leader providing innovative services and platforms to customers and enabling the digital transformation in Kuwait, and is a subsidiary of stc Group. stc has rapidly reached a leadership stance in the market through its customer and employee centric strategy.
stc offers an innovative range of world-class products, services and solutions with high quality, that cater to the customers' needs and demands, both for individuals and enterprises (solutions by stc). In 2019, stc acquired 100% of the share capital of the Internet Service Provider, Qualitynet General Trading and Contracting Company (solutions by stc) in Kuwait. Further enhancing its digital capabilities, in 2022 stc acquired the entire share capital of e-portal Holding Company and its subsidiaries, one of the most prominent ICT providers in Kuwait.
In 2021, stc obtained the approval from the Communication and Information Technology Regulatory Authority's (CITRA) to launch the first-of-its-kind mobile virtual network operator (MVNO) license to launch Virgin Mobile Kuwait in partnership with Virgin Mobile Middle East & Africa.
stc offers high internet speeds due to the implementation of the most advanced 5G network and deployment of the largest network nationwide. In 2021, stc was the first operator in Kuwait to launch the latest 5G Standalone technology dubbed 'FULL 5G' that brings the 5G experience to a new level with better speeds, lower latency, and improved coverage.
stc's CSR program focuses on outreaching to the local community with a primary focus on health, environment, entrepreneurship, sports, and education through contributing and supporting various community-driven initiatives.