Year sales volumes increased 37.1% YoY resulting in 40.3% revenue growth.
Net profit grew by 46.6% YoY, supported by cost rationalization.
Board proposes FY2022 dividends of SAR 225 million or SAR 1.5 per share.
Riyadh: Riyadh Cables Group Co. ("RCG") (Saudi Stock Exchange symbol: 4142), Saudi Arabia's leading manufacturer of wires and cables, has announced its financial results for the twelve-months ended 31 December 2022.
Highlights for the twelve months to 31 December 2022: RCG reported revenue of SAR 6.9 billion, increasing by 40.3% versus 2021. Strong local and regional demand drove an increase in volumes, resulting in sales growth, with sales volumes increasing by 37.1%. Year-on-year sales volume grew by 37.1%, to 190Kt.
Gross profit for the full-year period stood at SAR 647.1 million, up 39.7% YoY, while EBITDA recorded a value of SAR 521.7 million, up 42.2% YoY, primarily driven by strong revenues and cost management. Net profit for the year amounted to SAR 351.9 million, increasing by 46.6% over the previous year.
RCG's Board proposes FY2022 dividends of SAR 225 million equivalent to SAR 1.5per share, in line with its previous guidance and subject to shareholders' approval at the Annual General Assembly Meeting.
Commenting on the results, Mr. Borjan Sehovac, Chief Executive Officer of RCG, said: "In a historic year for our business, not least for the successful debut of RCG on the Saudi Exchange, we are delighted to report growth in both our volumes and revenues. Increased sales coupled with focus on operational excellence and efficiency have not only resulted in profitability but also ensured our long-term growth. RCG is proud to be a supplier to realization of Saudi Vision 2030 projects, having earned our reputation for reliability and prompt delivery.
As we look ahead, we will continue to prioritize operational excellence and innovation, while maintaining our commitment to delivering the highest-quality products and services to our customers. We are confident that with our team and financial solidity, we will be in a position to continue the momentum in 2023 and beyond."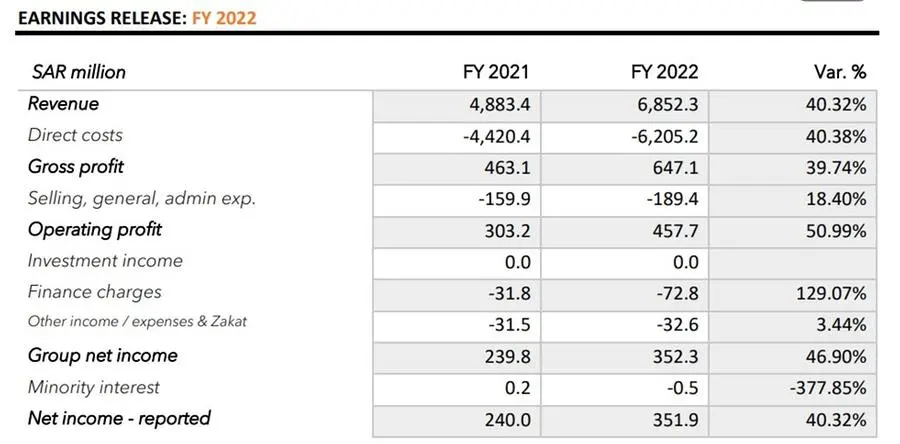 -Ends-
ANALYST CALL AND EARNINGS PRESENTATION
Riyadh Cables Group will hold a results conference call on 13 March 2023 at 11:30 KSA time (GMT+3). Please use the link below to register for the call: RCGC YE 22 Call For details, please email ir@riyadh-cables.com. The earnings presentation and the call transcript will be posted on the IR website in due course.
Contacts
Investor Relations & Media : Email: ir@riyadh-cables.com
About Riyadh Cables Group
Riyadh Cables Group Co. (RCG) [Symbol: 4142] is a public company that listed on the Saudi Exchange (Tadawul) on December 19th, 2022. Founded in 1984, RCG is headquartered in Riyadh, Kingdom of Saudi Arabia, with a four-decade track record in the wires and cables sector.
RCG serves customers in Saudi Arabia, the GCC and international markets, and owns and operates state-of-the-art cable and related materials manufacturing and testing facilities, extending over 1.5 million square meters in Riyadh (Kingdom of Saudi Arabia), Sharjah (United Arab Emirates) and Baghdad (Iraq). RCG has a vast regional distribution network and a production capacity of 264,000 MT per year.
For more information, please visit Riyadh Cables Group's Investor Relations page and Corporate Website.