PHOTO

As COVID-19 restrictions ease, demand for oil is expected to recover by almost 2 million bpd in 2023, with China's surging oil consumption accounting for half of the growth.
While Chinese demand and Russian supply will determine the pace of stock depletion/building in 2023, prices are expected to average around $90/bbl, according to global data platform Refinitiv.
"As far as price forecasts are concerned, oil is expected to average around $90/bbl. Bullish forecasts see prices increasing to $115/bbl in the latter part of 2023," Ranjith Raja, Head of EMEA Oil & Shipping Research at Refinitiv, said during a Refinitiv-ICC Qatar seminar held at Doha.
As an apex business chamber, ICC Qatar connects the government and the businesses and also promotes trade expansion and business networking.
"Bears see prices falling to levels around $60/bbl after 2025, while bulls see oil prices jumping to above $130/bbl by 2026," Raja said.
Oil prices recovered after falling to levels around $75/bbl early in December.
While supplies were seen as adequate, the introduction of a crude price cap led to a short-term dip in Russian exports, which is unlikely to last, Raja said, adding that forecasts for oil demand have been revised upwards due to Chinese easing.
Besides China, India, backed by a robust economy growth will also play a key role in driving demand.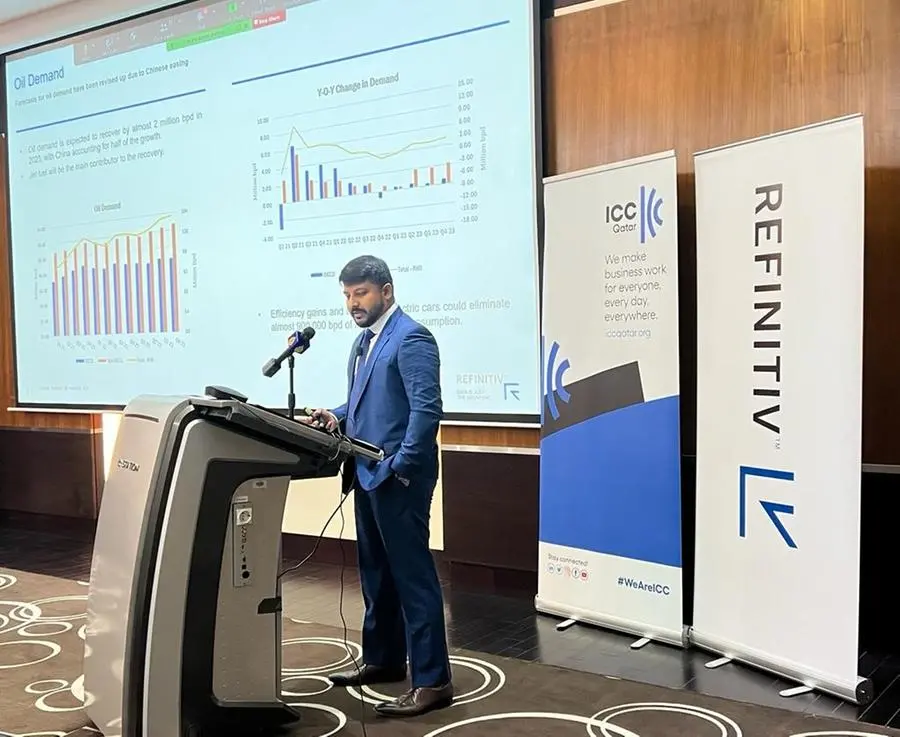 Besides China, a key role in driving demand will also be played by India, backed by robust economic growth.
India became the third-largest automobile market in 2022, surpassing Japan as vehicle sales rose on the back of a rebound in demand during the festival season. Elections and political campaigns in the country have also spurred demand for transportation.
However, oil demand remains weak in the US amidst fears of a recession. According to the EIA, total implied demand in the first six weeks of the year in the US was around 11% lower than a year ago.
Demand for oil in the Europe also remains weak. "Europe is facing a double whammy of an economic slowdown amid oil supply issues," Ranjith said during the Refinitiv-ICC Qatar event. 
(Writing by Seban Scaria seban.scaria@lseg.com; editing by Daniel Luiz)