PHOTO

Start-ups in the Middle East and North Africa (MENA) region have raised more funding during late-stage rounds compared to their global peers this year, but there has been a decline in interest from international investors, according to a report.
MENA start-ups raised a total of  $643 million in late-stage funding during the first six months of the year, buoyed mainly by mega-deals and up by 4% compared to a year earlier, according to a report released by venture capital data platform MAGNITT.
Global late-stage funding, however, fell 49% year-on-year amid economic uncertainty.
"Globally, investments in the late stage have been constrained by economic uncertainty and macro factors," MAGNITT noted.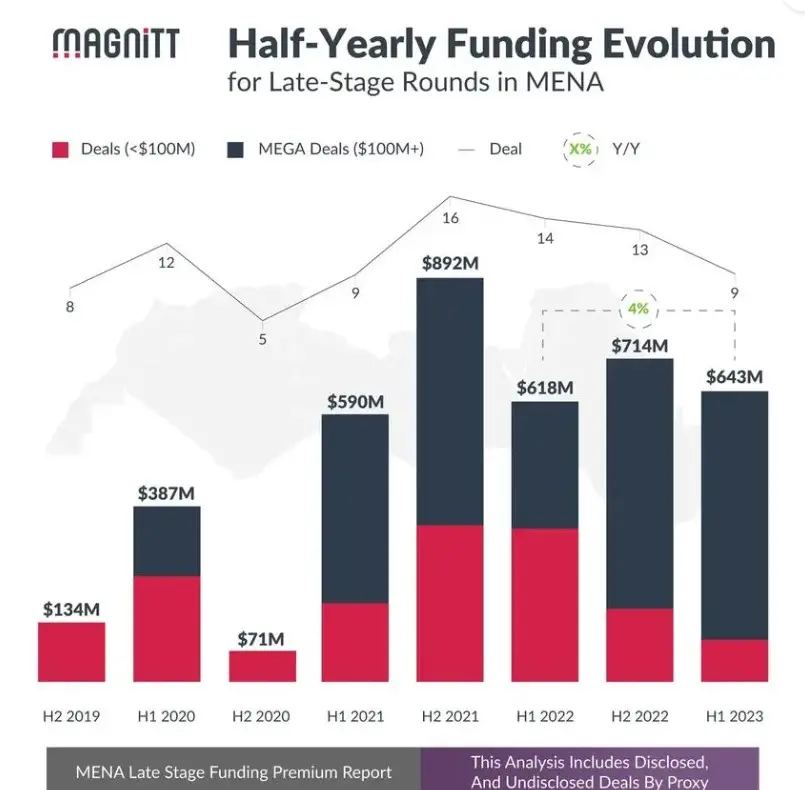 Late-stage funding refers to investments made into post-Series A rounds, and includes disclosed and undisclosed deals.

The majority of funds deployed for start-ups in the region during the first half of the year went into mega-deals raised by Egypt's Halan and Saudi Arabia's Nana and Floward. Overall, mega-deals accounted for 85% of the total funding.
However, late-stage funding in non-mega rounds was at its lowest point since the second half of 2020.

"In MENA, the mega-deals ($100 million plus deals) have elevated the funding seen in late-stage rounds compared to global benchmarks," MAGNITT said.
Investors retreat
There has been a sharp retreat in international investor participation in the region, MAGNITT noted.
Between 2019 and 2022, investors based outside MENA dominated the late-stage venture capital landscape in the region in terms of the amount of capital deployed, contributing more than half (57%) of late-stage VC investments.

During the first half of the year, however, only 13% of the capital deployed in the region came from international investors.

"This year's market volatility resulted in a global investor retreat in both absolute dollar terms as well as relative participation by international investors," said Philip Bahoshy, CEO of MAGNITT.
(Writing by Cleofe Maceda; editing by Seban Scaria)