Operational Cash Flow2 increases by 36.9% to SAR 3.5 bn, thanks to steady growth in EBITDA coupled with CAPEX ramp-down on completion of strategic objectives
Solid set of results supports the Board's recommendation to raise cash dividends by 70% to SAR 0.85/share for 2021 from SAR 0.50/share for 2020
Riyadh, Saudi Arabia: Etihad Etisalat Company ("Mobily" or the "Company"), a leading Saudi Arabian telecommunications services provider, announces its financial results for FY 2021.
Net income showed significant increase by 36.8% YoY on the back of healthy growth in revenue coupled with margin stability owing to tight control of costs. Based on the solid performance, on November 24, 2021, the Board of Directors recommended to the Annual General Assembly the distribution of cash dividends amounting to SAR 654.5 million, equivalent to SAR 0.85/share, for 2021, representing a 70% increase over the cash dividends distributed in 2020.
Financial Performance Highlights – FY 2021
Revenue increased by 5.6% YoY to reach SAR 14,834 million, driven by strong growth in the Business and Consumer segments, with the latter showing promising growth in Fibre-To-The-Home (FTTH). Mobily's subscriber base continued to exhibit healthy growth.
EBITDA1 recorded SAR 5,594 million, representing a 4.6% YoY growth, mainly on the back of the increase in the top-line. The EBITDA margin reached 37.7% compared to 38.1% last year.
Net Income increased by 36.8% YoY to reach SAR 1,072 million, predominantly owing to the solid growth in the top-line in addition to a 10% YoY decrease in finance charges which reached SAR 505 million, thanks to Mobily's deleveraging strategy, coupled with an easing in SAIBOR.
CAPEX decreased by 25.1% YoY to reach SAR 2,092 million in 2021 due to the completion and achievement of strategic objectives. As a result, CAPEX/revenue stood at 14.1% in 2021 compared to 19.9% in 2020. Mobily mostly focused its 2021 CAPEX toward the ongoing roll-out of 5G.
Operational Cash Flow2 increased by 36.9% to reach SAR 3,502 million due to the increase in EBITDA and decrease in CAPEX.
Key performance highlights (SAR million, unless stated otherwise)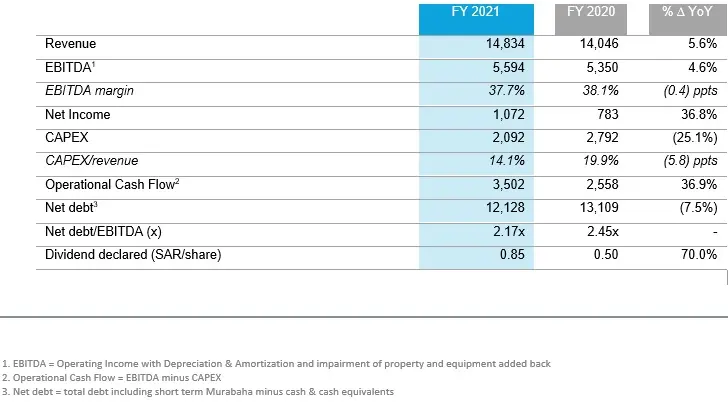 >
 Eng. Salman Bin Abdulaziz Al Badran, Chief Executive Officer at Mobily commented:
"All sectors in Mobily showed significant performance in 2021, and as a result, Mobily was able to achieve significant operational successes and meet ambitious targets in line with our strategy of growing core sectors while optimizing efficient delivery of services and products. Highlights for the year included the digital enhancements, as well as a substantial increase in our FTTH customer segment. Our Business Unit achieved excellent results in servicing a growing range of company accounts, and we were delighted to facilitate a Kingdom-wide health information system. Our notable growth in net income demonstrates the strength and resilience of our business model, and we look forward to further expand our business in the coming years."
Khalid Abanami, Chief Finance Officer at Mobily commented:
"Sales in all of the company segments went from strength to strength as the year progressed, enabling the Company to increase its year-on-year revenues in 2021 after successfully managing pandemic-related headwinds in the early part of the year. Thanks to our continued focus on effective cost management and streamlining efficiencies in areas including customer care, the launch of several enterprise projects, and expansion of 5G services, we were able to improve our performance and solidify our position as a leading telecommunications provider in the Kingdom. Furthermore, we are delighted that our robust financial position supported the recommendation of a higher dividend payout for our shareholders."
Performance Highlights
Mobily managed to successfully grow the Consumer segment's revenues over the course of 2021, despite a slow return to pre-pandemic travel that not only affected sales and revenues in Q1 but further drove a dip in roaming returns due to the restriction in inward Hajj and Umrah travel from abroad.
The Company's stores resumed normal operations and contributed significantly to monthly sales. In addition, digital channels, supported the introduction of new services and products, including carefully planned digital promotions and innovative new Family and eSIM50 packages.
As the Company continued to introduce 5G across a wider range of geographies, data uptake and average revenue per user saw a rapid increase across a number of GSM and data packages in 2021. In parallel, Mobily expanded fixed wireless access in 5G coverage areas, which supported growth in the home segment revenue and customer base. Similarly, FTTH saw steady growth in 2021, driven by consumers' high demand for premium home services.
Mobily ended 2021 with the highest-ever revenue and gross margins as well as best cash collection performance in the Business segment. By focusing on new customer acquisitions and improving the value proposition for existing clients, the Company was able to mitigate threats to its business that were caused by the slow economic recovery in 2021.
Mobily continued to focus on prominent Small and Medium-sized Businesses (SMBs) and Government sector through its highly experienced sales and presales teams.  The Company further invested in enhancing its customer service and experience, resulting in a significant growth in its customer base across the Kingdom.
Similar to the Consumer segment, Mobily continued to innovate and drive digitization in the Business segment, in line with the objectives outlined in its GAIN strategy. The Company made several strategic investments in digital solutions, and expects to succeed in capturing the growth potential in the market. Examples of other digital achievements included the introduction of a disaster recovery and back-up service solution.
The financial statements for the period ended 31 December 2021 will be made available through Mobily's IR App for mobile and tablet devices, as well as Mobily's Investor Relations website after being published on the Saudi Exchange website. 
-Ends-
About Etihad Etisalat Company
Etihad Etisalat Company (Mobily) is a leading Saudi Arabian telecommunications services provider that caters to three main sectors: individuals, business, and carriers. Mobily has one of the largest wireless networks by coverage in Saudi Arabia and the region, one of the widest fiber-to-the-home (FTTH) networks, and one of the largest data center systems in the world. The Company was both established and listed on the Saudi Exchange in 2004. It has a share capital of SAR 7,700 million, divided into 770 million shares of SAR 10 each. 
Investor Relations & Media Enquiries                    
Etihad Etisalat
Email: IRD@mobily.com.sa
Website: www.mobily.com.sa 
Disclaimer
This document has been prepared by Mobily (the "Company") solely for presentation purposes. The information contained in this document has not been independently verified and no representation or warranty, expressed or implied, is made as to, and no reliance should be placed on the fairness, the accuracy, the completeness or the correctness of the information contained herein. None of the Company or any of its respective affiliates, advisors or representatives shall have any liability whatsoever for any direct or indirect loss whatsoever arising from any use of this document, or contents, or otherwise arising in connection with it. This document does not constitute an offer or invitation to purchase any share or other security in the Company and neither it nor any part of it shall form the basis of, or be relied upon in connection with, any contract or commitment whatsoever. Before making any investment decision, an investor should consider whether such an investment is suitable for his particular purposes and should seek the relevant appropriate professional advice. Any decision to purchase shares or other securities in the Company is the sole responsibility of the investors. Certain information contained in this document consists of forward-looking statements reflecting the current view of the Company with respect to future events. They are subject to certain risks, uncertainties and based on certain assumptions. Many factors could make the expected results, performance or achievements be expressed or implied by such forward-looking statements (including, but not limited to, worldwide economic trends, economic and political climate of Saudi Arabia, the Middle East and changes in business strategy and various other factors) to be materially different from the actual historical results, performance achieved by the company. Should one or more of the risks or uncertainties materialize or should the underlying assumptions prove different stock movements or performance achievements may vary materially from those described in such forward-looking statements. Recipients of this document are cautioned not to place any reliance on these forward-looking statements. The Company undertakes no obligation to republish revised forward looking statements to reflect changed events or circumstances.
© Press Release 2022
Disclaimer: The contents of this press release was provided from an external third party provider. This website is not responsible for, and does not control, such external content. This content is provided on an "as is" and "as available" basis and has not been edited in any way. Neither this website nor our affiliates guarantee the accuracy of or endorse the views or opinions expressed in this press release.
The press release is provided for informational purposes only. The content does not provide tax, legal or investment advice or opinion regarding the suitability, value or profitability of any particular security, portfolio or investment strategy. Neither this website nor our affiliates shall be liable for any errors or inaccuracies in the content, or for any actions taken by you in reliance thereon. You expressly agree that your use of the information within this article is at your sole risk.
To the fullest extent permitted by applicable law, this website, its parent company, its subsidiaries, its affiliates and the respective shareholders, directors, officers, employees, agents, advertisers, content providers and licensors will not be liable (jointly or severally) to you for any direct, indirect, consequential, special, incidental, punitive or exemplary damages, including without limitation, lost profits, lost savings and lost revenues, whether in negligence, tort, contract or any other theory of liability, even if the parties have been advised of the possibility or could have foreseen any such damages.