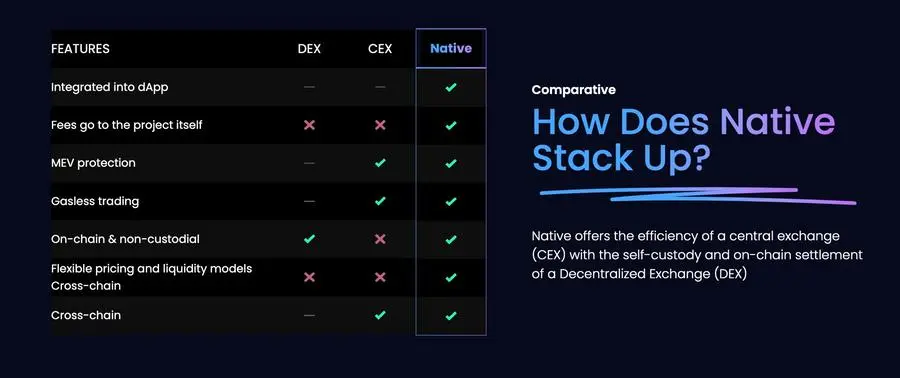 Dubai: Native, the groundbreaking financial infrastructure layer, and Cypher Capital, the leading MENA Web3 venture capital fund, are thrilled to announce a newly forged partnership and funding agreement that will propel Native's impressive growth and further revolutionize the financial landscape in the Middle East and North Africa MENA region.
Native offers a game-changing solution that transforms exchanges into an integrated feature. With Native, any application can swiftly transform itself into a fully functioning exchange, seamlessly integrating top-tier liquidity providers and generating substantial trading fees.
This strategic partnership will provide Native with the necessary resources to advance its product development efforts, placing a strong emphasis on flexibility, modularity, and interoperability. By leveraging Native's cutting-edge technology, projects gain full control over their swap experience, including the user interface, pricing model, risk management settings, and swap fees. All of this is made possible through an intuitive web-based interface that abstracts the complexities of the underlying smart contracts and APIs.
The implications for applications are profound, offering an enhanced user experience, improved capital efficiency, deeper liquidity, and an unparalleled new revenue stream.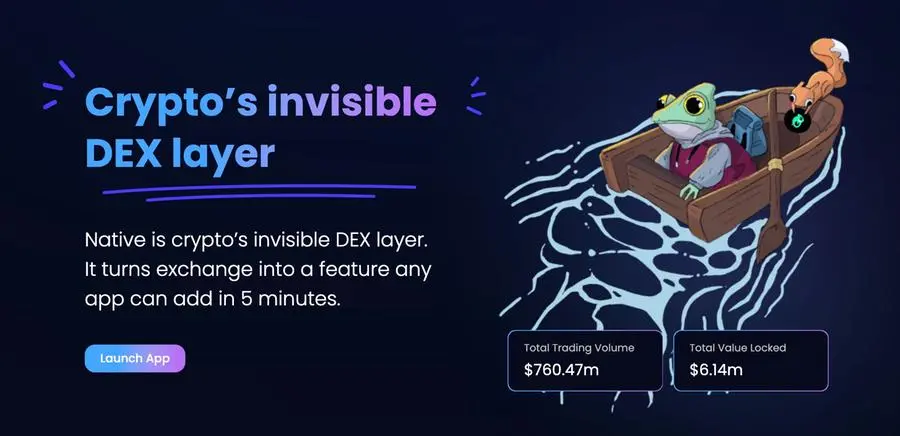 Bill Qian, Chairman of Cypher Capital, expressed his enthusiasm for the partnership, stating, "We are delighted to invest in Native, an innovative financial infrastructure layer. Native's exceptional capability to empower applications to establish their own exchanges in minutes, seamlessly integrate top-tier liquidity providers, and generate trading fees is truly remarkable. This strategic partnership and funding agreement will further bolster Native's product development, with a strong focus on flexibility, modularity, and interoperability. By providing projects with complete control over their swap experience, from the user interface to the pricing model, Native simplifies the complexity of underlying smart contracts and APIs. The result is an elevated user experience, increased capital efficiency, deeper liquidity, and a significant new revenue stream for applications. We firmly believe in Native's vision and are excited to embark on this transformative journey together."
Meina Zhou, Cofounder of Native, commented "We are thrilled to announce that Cypher Capital has invested in Native. This strategic investment will provide us with the necessary resources to advance our product development and expand our platform's reach in the MENA region. Cypher Capital's investment is a major step forward in realizing Native's overall vision of building crypto's modular DEX infrastructure. It also aligns with NativeX's aspirations to establish itself as the leading DEX for Altcoins across DeFi. We look forward to the exciting opportunities that lie ahead as we revolutionize the world of DeFi."
Through this partnership, Native and Cypher Capital aim to revolutionize the MENA region's financial ecosystem, empowering businesses, and developers to leverage Native's groundbreaking technology to drive innovation, enhance financial inclusivity, and unlock unprecedented opportunities.
-Ends-
About Native:
Native is the modular DEX layer for Web3 dApps. Similar to how Shopify abstracted away e-commerce infrastructure for merchants, Native provides the tools for projects to deploy their own exchanges and go to market faster. Since April 2023, Native-powered DEXs have achieved a remarkable trading volume of over $634 million USD, ranking among the top 10 protocols on both Ethereum and BNB according to DefiLlama. 
NativeX, on the other hand, is a retail-targeted decentralized exchange built using Native technology. NativeX leverages an advanced PMM-RFQ Pricing mechanism, that combines the capital efficiency of CEXs with the self-custody of DEXs. NativeX is designed for maximum trader-friendliness, offering highly-competitive pricing, zero slippage, zero trading fees, and protection from MEV (Miner Extractable Value) attacks. Notably, NativeX's beta launch went live on July 7th, and has already generated a total volume of $14 million USD within just three days.
About Cypher Capital:
Cypher Capital is a leading multi-strategy crypto investment firm based in the UAE, covering venture capital, public markets, nodes, mining, etc. Working alongside globally acclaimed Web 3.0 founders, not limited to only financial capital investment, it also leverages global relationships and industry expertise to ensure long-term success.
Cypher Capital invests in companies building their businesses at the blockchain protocol & infrastructure level. This could include exchanges and asset transfer protocols, stable coins, smart contract platforms, digital currencies, and utility tokens for high growth industries. By seeking legal advice from the best legal parties, it creates a tailor-made legal framework that is fully compliant with current regulations.
Cypher Capital offers efficient and complete market access in the Middle East and Africa region and builds ground partnerships with start-ups and helps them establish relationships with other influential companies in the Middle East, Africa, Turkey, and India. It supports start-ups that intend to expand in these regions in terms of headcount and infrastructure.
For further information, please contact:
Orient Planet Group (OPG)
Email: media@orientplanet.com
Website: www.orientplanet.com