PHOTO

Dubai is one of the world's best cities to visit, work, live and invest in this year, according to a new study that ranks 100 metropolitan destinations. 
The World Best Cities 2021 study by Resonance Consultancy ranks cities based on several factors ranging from physical experience, airport connectivity, diversity to income. 
Overall, Dubai came fifth on the list, just behind London, which took the first spot, Paris (second place), New York (third) and Moscow (fourth). Abu Dhabi landed the 14th place, ahead of San Francisco (15th) and Amsterdam (16th). 
The report highlighted Dubai's economic development, ability to fight the COVID-19 pandemic, as well as its "blend of over-the-top experiences, Arab heritage and luxury shopping". 
"Dubai is so over the pandemic," said the report. 
"The city reinvented itself yet again throughout the 2010s, growing from a sterile playground for a handful of ultra-rich Emiratis to an international tourism and business destination." 
The cities included in the study are those with populations of more than 1 million. It took into account the feedback from locals and visitors in six metrics: place, product, people, prosperity, programming and promotion. 
Within the "place" category, the cities were scored based on factors like the weather, safety, parks and outdoors, among others.  
Under the "product" category, the cities earned scores based on airport connectivity, attractions, museums and convention centres. 
The diversity, as well as educational attainment, of a city's population were also among the main considerations in the "people category", while income equality and unemployment rate were considered in the "prosperity" category. 
As for "programming", researchers took into account the quality performing arts, nightlife experiences, as well as dining and shopping options. 
Within the "promotion" category, the scores were based on the number of Facebook check-ins, TripAdvisor reviews, Google searches and Instagram hashtags made for a particularly city. 
Dubai scored number one overall in the "place" and "people" categories. It also scored high in "promotion" (4th), but ranked 37th in "prosperity", 44th in "programming" and 92nd in "product" categories. 
The Ten Best Cities in the World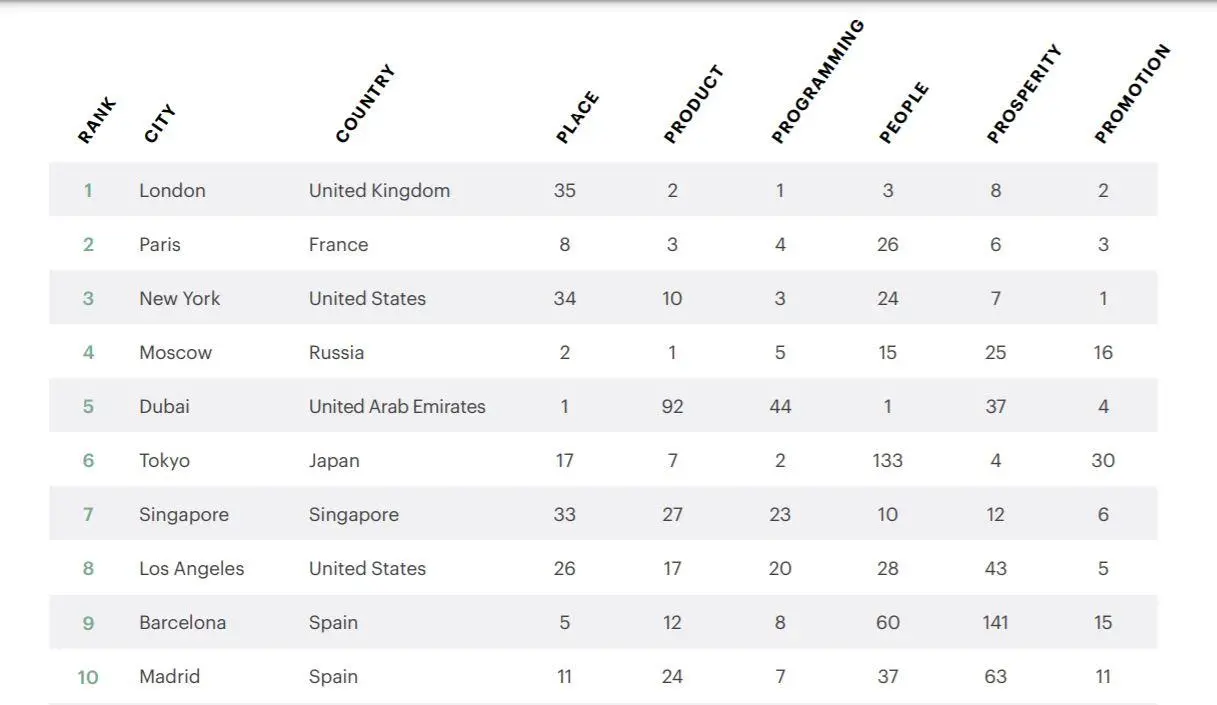 >
(Reporting by Cleofe Maceda; editing by Daniel Luiz) 
Disclaimer: This article is provided for informational purposes only. The content does not provide tax, legal or investment advice or opinion regarding the suitability, value or profitability of any particular security, portfolio or investment strategy. Read our full disclaimer policy here.
© ZAWYA 2021