Healthy sovereign debt pipeline in 4Q-2012
By Joey Geadah of Zawya
MENA countries sold a combined total of USD 10.2 billion of conventional bonds in the third quarter of 2012, down 36% from the previous quarter, according to data compiled by Zawya Bonds Monitor. North Africa was the most active market in the MENA region, accounting for 39% of total bond volume in the July-September period of this year.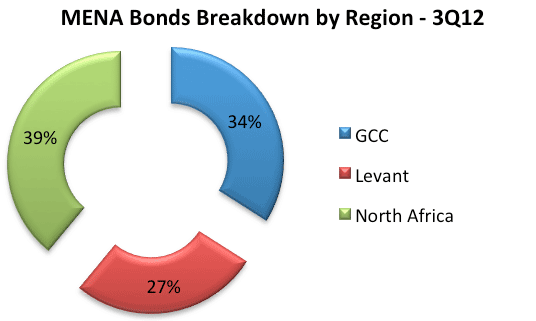 Source: Zawya Bonds Monitor
August alone recorded unprecedented issuance value and number of issues compared to previous Eid months. USD 3.5 billion was sold across the region through 18 issues, an increase in value of 70% compared to August 2011, through 10 more issues.
MENA's bonds market in 4Q12 will anticipate a prolific sovereign debt pipeline. GCC, Levant and North Africa will compete to display their sovereign debt skills.
The world's top liquefied natural gas exporter, Qatar, may issue a sovereign bond to local banks and consider modifying and organizing its bank lending rates.
Hosting the 2022 FIFA World Cup, the nation's central bank is aiming high to increase debt investors' appetite through its Qatar Sovereign Bond. This could secure funding for years, if adequately executed. However, this should move in parallel with regulatory measures, which were first observed recently through monthly auctions of 91-, 182- and 273-day Treasury bills.
The UAE may recommence its quest for a first sovereign
UAE Federal Bond
, which has been anticipated since 1Q12.Fixed income analysts have speculated that the Emirati issue will hover around the USD 1 billion mark and will come to market before 2012 ends, especially in light of a joint law to establish a unified public debt.
The Dubai government is considering issuing a Dubai Bond primarily to repay its existing debt, leaving its options wide open. "It is too early to take a decision on the matter as it depends on Dubai's national budget and other obligations," Abdulrahman Al Saleh, director general at the emirate's department of finance, told Zawya Dow Jones. "All options are set on the table and issuing bonds is one of those options. We may issue bonds if needed."
The Levant is no stranger to Treasury and sovereign issuance. The dual debt powerhouses of Lebanon and Jordan remain the drivers in this segment.
The Lebanese government may issue a dollar-denominated Lebanon Eurobond by the end of October. "The government and the ministry of finance are thinking of going to the market again, maybe in October, with an issue of the Republic of Lebanon in dollars," the central bank governor Riad Salameh said on the sidelines of a meeting of Arab central bankers in Kuwait.
In the last week of September, the Lebanese ministry of finance taped the local debt market via a 10-year LBP 1.15 trillion Lebanon Treasury Bill 2022 issue with a coupon of 8.24%. Proceeds of the T-bills and upcoming Eurobond will be largely utilized to finance government expenditure such as public sector salary increases.
Between USD 750 million and USD 1.5 billion is expected through a Jordan Eurobond in order to fund the kingdom's expenditure requirements. Reaching a balance between domestic and overseas borrowing remains the challenge. The Eurobond would be just the second in Jordan's history in the capital markets. The dollar-dominated bond will carry a tenor of between seven and 10 years.
In North Africa, Morocco could tap the international bond market in October for a potential USD 1 billion Morrocco Sovereign Bond. Rabat could use the money to attain the postponed budgeting of deficits and controlling of public debt. Moreover, use of proceeds might also finance reforms regarding the Moroccan judicial system.
Officials linked the potential Eurobond to the flexibility showed by the International Monetary Fund, after it had given the green light to resume the inflow of financial support to the African nation. Morocco first announced plans for the bond in August.
With 3Q12 maturing, 4Q12 seems inspiring yet cautious of last-second withdrawals of debt transactions, with the alibi of waiting for more suitable market conditions always hovering on a foggy horizon. The key remains in capitalizing on global debt appetite alongside "proper" political circumstances.
Joey Geadah is Zawya's bonds analyst and can be contacted at joeyg@zawya.com.
© Zawya 2012
---
© Copyright Zawya. All Rights Reserved.
---
---
People Who Read This Also Read