PHOTO

Godrej & Boyce, the flagship company of the Godrej Group, is strategically positioning itself to expand its global presence in alignment with the Indian government's export target of $5 billion by 2024-25.
With revenues of over INR147.96 billion ($1.8 billion) in FY 2022-23 and over 15,000 employees, Godrej & Boyce has a diverse presence across 10 industries, from complex engineering to branded consumer goods to appliances to furniture, locks and security solutions.
"Exporting finished goods and being part of the global chain for our intermediate products, is the way forward for us," said Anil G Verma, Executive Director & CEO at Godrej & Boyce. 
Currently, exports constitute seven percent of the organisation's total turnover. The company's objective is to double its revenue within five years, accompanied by a 30 percent increase in exports over the next two years.
In an exclusive interview with Zawya Projects, Verma elaborated on the company's strategy to play a prominent role in India's pursuit of becoming a global manufacturing hub. He outlined key components of the strategy, such as elevating export targets and enhancing manufacturing capabilities.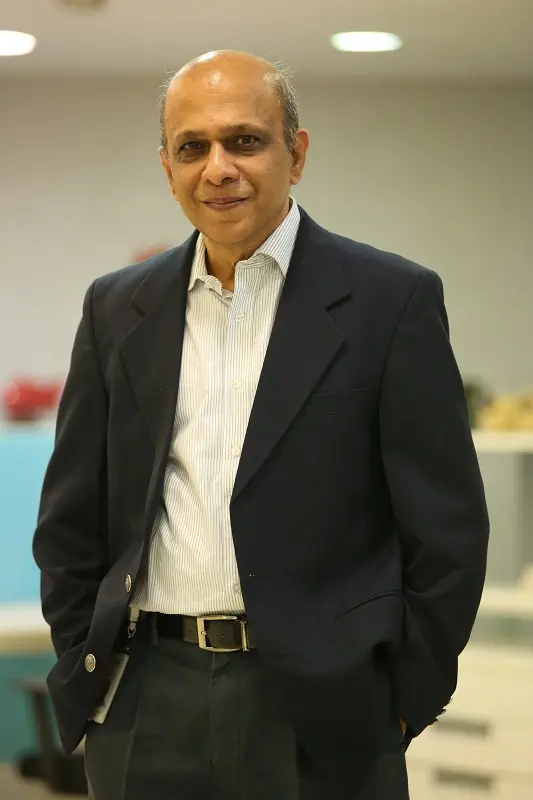 Excerpts from the interview: 
Could you share your thoughts on the Indian government's focus on growing exports and how a company like Godrej & Boyce can contribute to that growth?
India is one of the fastest-growing economies in the world. However, to reach the target of $5 billion, the country needs to ramp up its exports and enhance its local ecosystem of suppliers.
As a manufacturing company, we believe India can be the factory to the world. We plan to follow two routes, first, exporting finished goods and second, participating in the global supply chain for our intermediate products.
We have invested $25 million in the construction of our manufacturing facility in Dahej as well as an additional $40 million for its expansion. All the manufacturing lines are designed keeping in mind the tenets of sustainable manufacturing. 
What will be your area of focus in terms of operations outside of India? What is the size of your business outside India?
Our process equipment business has an expansive global footprint and most of what we manufacture is for overseas clients including leading EPCs and end users. 
Revenues from exports have already crossed INR10 billion and are projected to cross 10 percent of our turnover by 2027. Thirteen of our business units are already engaged in export to Asia, Australia, SAARC, and Africa. Some of them are also engaged in business in Europe and the Americas. 
Our export strategy is driven by the multiple categories we are operating in India and hence, we export not only consumer categories such as locks, appliances, and steel storage but also office furniture, storage solutions, and forklift trucks. 
We have been increasing our global footprint through the setting up of local manufacturing units, where we believe we have the capability to win. Accordingly, through subsidiaries and joint ventures, we have established our local manufacturing units in Vietnam and Oman and are also present in Malaysia and Singapore.  
Our global presence also includes the acquisition of a vending machine manufacturing company in Europe. Moreover, we are also engaged in OEM manufacturing for material handling companies.  
What is the role of the Middle East region in your overseas growth strategy? 
Our exports to the Middle East contribute to 10-15 percent of our overall export revenue. We are anticipating very good growth in the double digits in the region and have been putting in our best efforts to ensure that our goals are met.
The B2B and B2C products from our consumer businesses, storage solutions and some of our industrial product businesses are actively engaged with the market. 
We have established a local office in Sharjah in the UAE to house some of our businesses. The office serves as a base for covering the entire region as well as North and East Africa. 
What are your growth plans in the renewable energy portfolio? How do you look at the opportunity to capitalise on the rapidly growing green energy projects in India and the Middle East?
The advent of fresh energy technologies and the simultaneous worldwide energy crisis is resulting in a shift towards a more sustainable and reliable energy system, with most of the new energy investments focussing on renewables. We plan to use this opportunity to grow in the global energy market.
The Middle East is a key focus area for our Process Equipment division, which aims to double its business by 2025. We are actively searching for and participating in clean energy initiatives, such as supplying essential equipment for processes involved in hydrogen production, transmission, and storage.
We have provided equipment globally for blue hydrogen projects and are presently executing a prestigious order for blue hydrogen. Additionally, we are providing critical heat exchangers for a green hydrogen project.
We will continue to strengthen our presence in the nuclear energy projects sector, where we have a longstanding history of supplying equipment.
In the Middle East, particularly in the UAE, Saudi Arabia, Qatar, Bahrain, Kuwait, and Oman, we are targeting refinery, petrochemical, fertiliser, and hydrogen projects. 
(1 US Dollar = 83.12 Indian Rupees)
(Reporting by Syed Ameen Kadar; Editing by Anoop Menon)
(anoop.menon@lseg.com)
Subscribe to our Projects' PULSE newsletter that brings you trustworthy news, updates and insights on project activities, developments, and partnerships across sectors in the Middle East and Africa.