The activity of online scammers in Telegram has significantly increased, as they take advantage of the convenient functionalities of the messenger, according to Kaspersky experts. Phishers are skillfully utilizing the messenger's capabilities to provide various services from mass-scale automated phishing creation to selling data stolen during a phishing attack. Kaspersky's new research provides a wide overview of phishing market in Telegram.
Phishing bots. Automated, quick and easy.
One of the most significant aspects of this trend is the use of Telegram bots to automate illegal activities, such as creating phishing pages and collecting user data. While bots in Telegram help users and businesses automate many routine processes, attackers have found ways to use these bots to automate their malicious activities.
Creating fake websites in a Telegram bot is a free and easy process that usually consists of several steps. A beginner scammer subscribes to the bot creator's channel, selects the desired language, creates their bot, and sends the token to the main bot. The new bot is then created to receive data from users who followed phishing links and tried to log in to a fake site. Attackers can use this method to collect a wide range of data, including email addresses, phone numbers, account passwords, IP addresses, and the victim's country. These bots provide a variety of targeted platforms, including messengers, social media, and popular brand websites, to be abused in a future phishing page.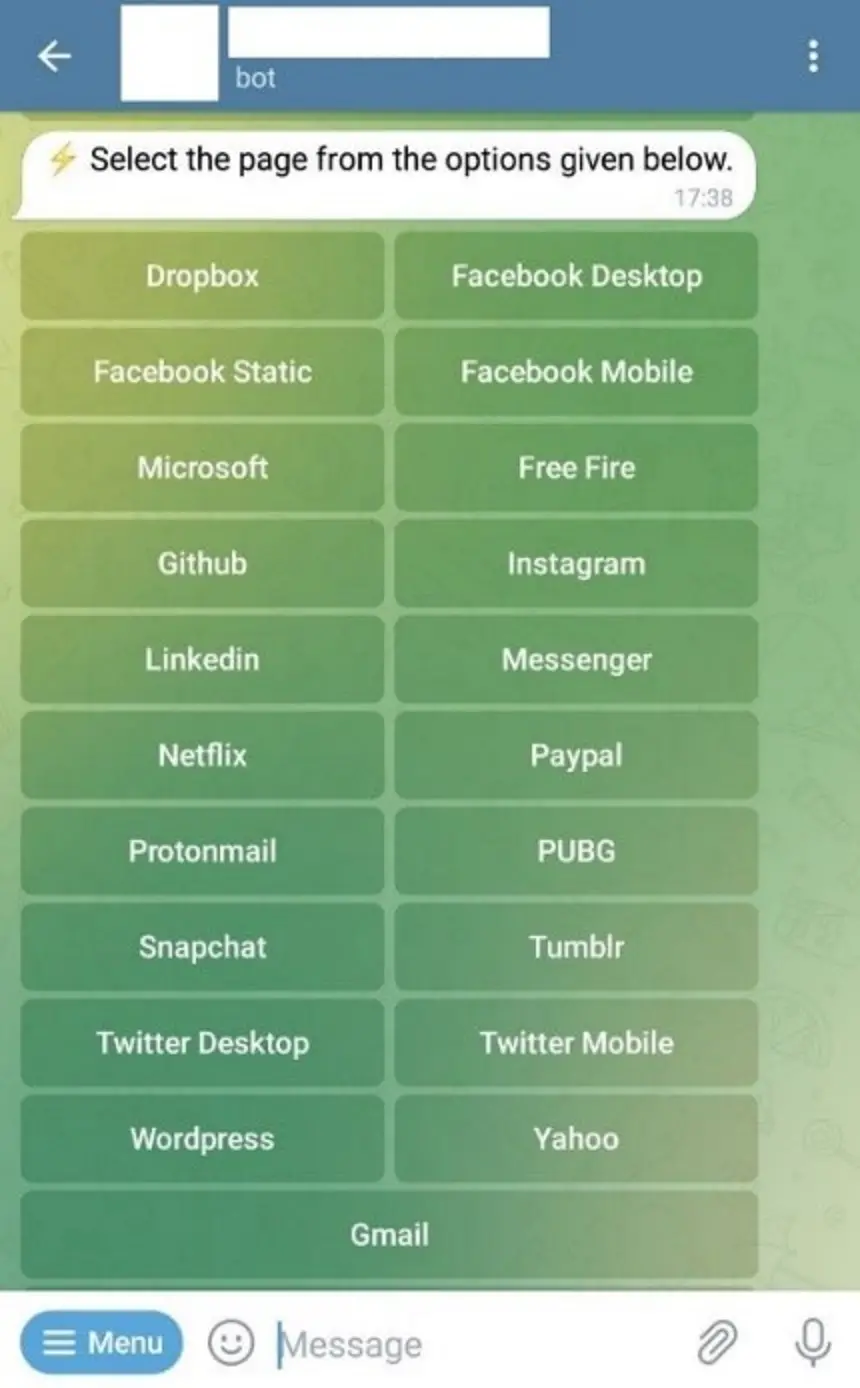 Phishing-as-a-service. Exclusive, more targeted, more expensive.
In addition to free phishing kits and automated creation of phishing via Telegram bots, scammers offer paid goods and services under the phishing-as-a-service model. Attackers sell scam and phishing "VIP Pages" - websites created from scratch with a wider range of features or tools for generating such pages. These are no longer primitive copies of well-known brand websites, but more advances targeted scam resources. For example, a VIP Page may contain social engineering elements such as attractive design and promises of big wins, detection protection, etc. The prices for such fake pages vary from US$10 to $300.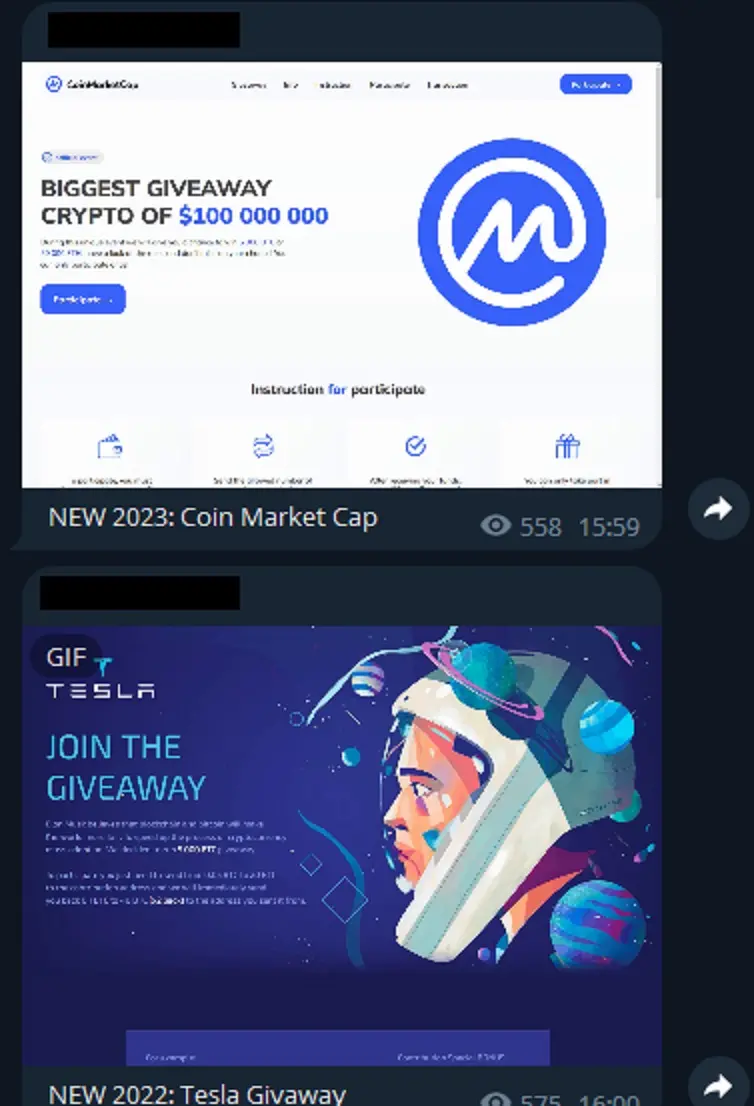 Data for sale. No need to perform an attack, buy the data directly.
In addition, bank account data obtained through phishing is also put up for sale. Unlike the free data discussed above, paid data is verified up to the amount in the user's account. For example, to access a bank account with a balance of US$1,400, the owners are asked to pay US$110, and the credentials from an account with a balance of US$49,000 were billed for $700.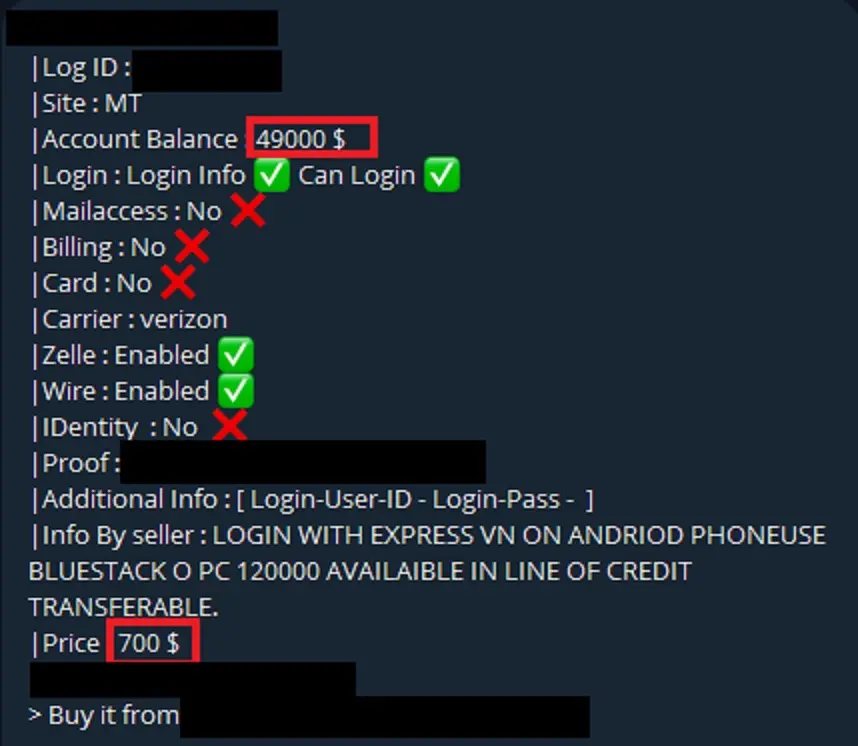 "Messengers' rise in popularity has unfortunately led to an increase in criminal activity on the platform. With its powerful automation capabilities, scammers have turned Telegram into a new avenue for darknet activity, including phishing and selling stolen data. It's important for both users and security experts to stay vigilant and proactive in identifying and combatting these threats," comments Olga Svistunova, security expert at Kaspersky.
Learn more about phishing market in Telegram, on Securelist.com.
To keep your data protected from phishing attacks and leaks, Kaspersky experts recommend:
Be cautious of messages from unknown senders: Phishing attacks often come from unknown or suspicious-looking senders. If you receive a message from an unfamiliar user or number, don't click on any links or provide any personal information.
Use strong passwords: Use unique passwords for all your messaging app accounts. Avoid using the same password across multiple accounts, and consider using a password manager to generate and store strong passwords.
Verify the authenticity of links: Before clicking on any links, check to see if they're legitimate. Scammers often create fake websites that look similar to the real ones, so it's important to double-check the URL before entering any login credentials or other sensitive information.
Use two-factor authentication: Adding an extra layer of security to your account can help prevent unauthorized access. Enable two-factor authentication on your messaging app to ensure that only you can access your account.
Use security solutions: a reliable security solution will protect your devices from various types of threats and will keep your data safe.
-Ends-
About Kaspersky
Kaspersky is a global cybersecurity and digital privacy company founded in 1997. Kaspersky's deep threat intelligence and security expertise is constantly transforming into innovative security solutions and services to protect businesses, critical infrastructure, governments and consumers around the globe. The company's comprehensive security portfolio includes leading endpoint protection and a number of specialized security solutions and services to fight sophisticated and evolving digital threats. Over 400 million users are protected by Kaspersky technologies and we help 240,000 corporate clients protect what matters most to them. Learn more at kaspersky.com
Follow Kaspersky on:  
Media Relations
Amine Mneimne
amneimne@golin-mena.com
Golin MENA, Dubai