PHOTO

The Islamic Fintech market size within the Organisation of Islamic Cooperation (OIC) countries was $49 billion in 2020 and is projected to grow at 21 percent CAGR to $128 billion by 2025, according to a new report. 
While this is a higher growth projection compared to conventional fintech market, forecasted to grow at 15 percent CAGR for the same period, in terms of volume it represents only 0.7 percent of global fintech transaction volume, the Global Islamic Fintech Report 2021 produced by Islamic economy consultancy DinarStandard and investment firm Elipses noted. 
The top five OIC markets by transaction volume for Islamic fintech are Saudi Arabia, UAE, Malaysia, Turkey and Kuwait, indicating a strong dominance by MENAT region countries. Collectively, the top five markets account for 75 percent of the OIC Islamic fintech market size, the report said.
Market developments
US-based Islamic fintech start-up Wahed, backed by Saudi Aramco, acquiring British digital banking app Niyah was one of the most newsworthy stories of Islamic fintech in 2020.
The global Islamic fintech market also witnessed a number of innovative use cases that heralded a maturing of the market, the report said citing LSE-listed Supply@ME Capital (SYME)'s plans to introduce Shariah-compliant inventory monetisation Fintech solution as an example.
Global Islamic Fintech Index
The report revealed the Global Islamic Fintech (GIFT) Index, which represents countries that are most conducive to the growth of Islamic fintech market and ecosystem in their jurisdictions.
The index comprises an overall ranking of 64 OIC and non-OIC countries. Malaysia, Saudi Arabia and the UAE lead the Index.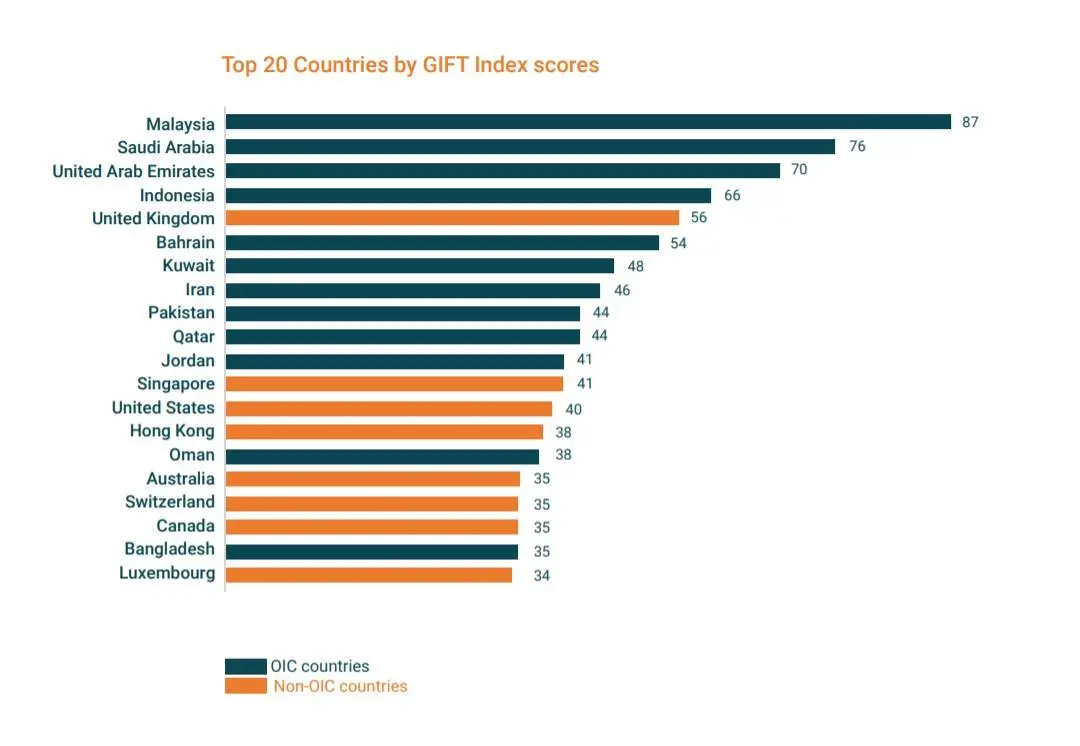 >
Within the set of 64 countries, nine out of the top ten (90%) countries are OIC, Muslim majority countries; the exception is the UK, which has a thriving Islamic Fintech ecosystem.
According to the report, the index applied a total of 32 indicators across five different categories for each country. These five categories are: Talent; Regulation; Infrastructure; Islamic Fintech Market & Ecosystem and Capital.
(Writing by Seban Scaria; editing by Anoop Menon)
Disclaimer: This article is provided for informational purposes only. The content does not provide tax, legal or investment advice or opinion regarding the suitability, value or profitability of any particular security, portfolio or investment strategy. Read our full disclaimer policy here.
© ZAWYA 2021