PHOTO

The UAE is set to lead the world in the market for fifth-generation (5G) telecom services, with majority of the consumers showing a huge appetite for the wireless technology, according to the latest survey by YouGov. 
The market research firm found that 54 percent of UAE consumers are willing to pay more to access 5G technology, the fourth highest in the world after Indonesia, India and China. Nearly half (48 percent) also claim to own a 5G-enabled phone, the second highest in the world after China.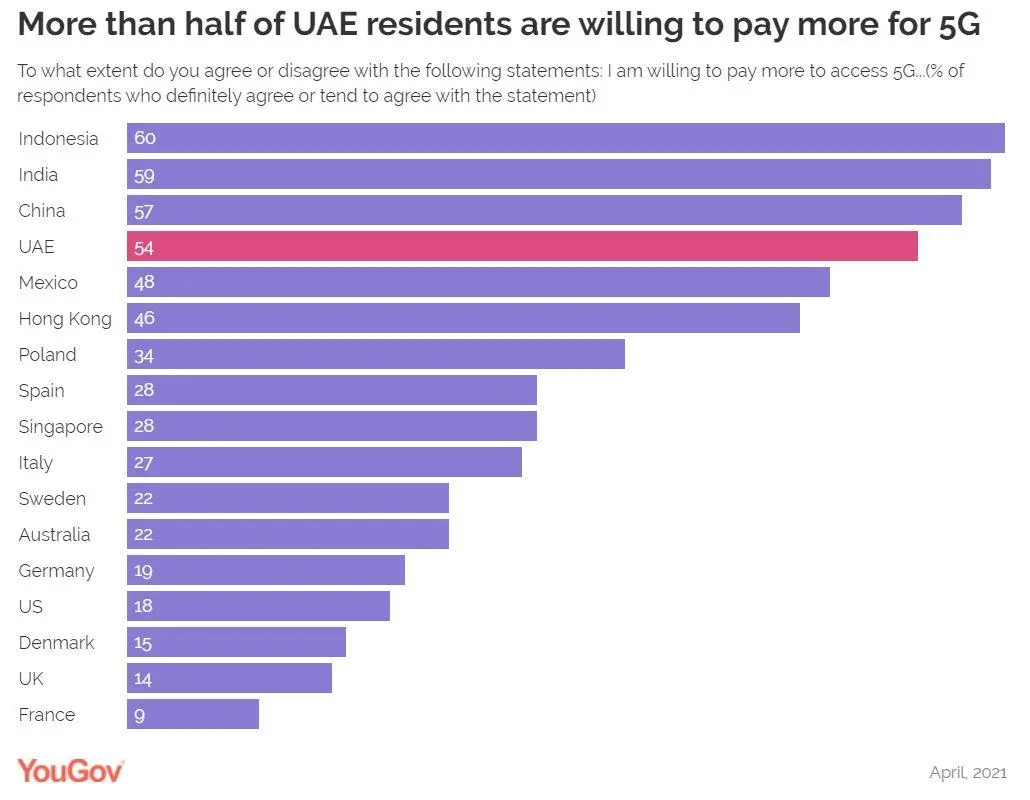 >
Graph courtest YouGov

YouGov's "International Telco Report 2021" looks into consumer attitudes, behaviour and preferences towards 5G in 17 markets worldwide. The study found that while the new technology has yet to gain traction in many countries, the UAE market is showing a huge potential for growth. 
"The UAE has come a long way in adopting and making 5G a part of its future plans. Data suggests that… UAE is one of the leading countries where (48 percent of) respondents claim to be using a 5G-enabled smartphone," the whitepaper said. 
Smaller markets 
In comparison, consumers in other developed countries like Germany (17 percent), the United Kingdom (16 percent) and France (16 percent) are least likely to say they own a 5G-enabled smartphone. Worldwide, only 26 percent of the respondents have devices that are capable to access 5G. 
In the UAE, about three in 10 (29 percent) said they are currently paying 5G tariffs, nearly five times higher than respondents in France (6 percent), Italy (6 percent) and the United States (8 percent). 
The UAE market is also showing high optimism about how 5G will disrupt the telecom landscape, with 77 percent of the respondents agreeing with the statement "5G will change how people connect to the internet". 
Among different age groups, the majority of those between 25 and 34 years (80 percent) agree with the statement, while respondents aged 18 to 24 agree with the same (77 percent). Those in the older cohorts, between 35-44 years and 45-55 years, are less likely to agree (73 percent and 76 percent, respectively). 
"The favourable attitudes among younger respondents towards 5G is likely to translate to higher levels of current engagement and future intent," the report said. 
(Writing by Cleofe Maceda; editing by Mily Chakrabarty) 
Disclaimer: This article is provided for informational purposes only. The content does not provide tax, legal or investment advice or opinion regarding the suitability, value or profitability of any particular security, portfolio or investment strategy. Read our full disclaimer policy here.
© ZAWYA 2021