Article
#economy
|
24 August, 2019
Global aerospace, defense outlook still positive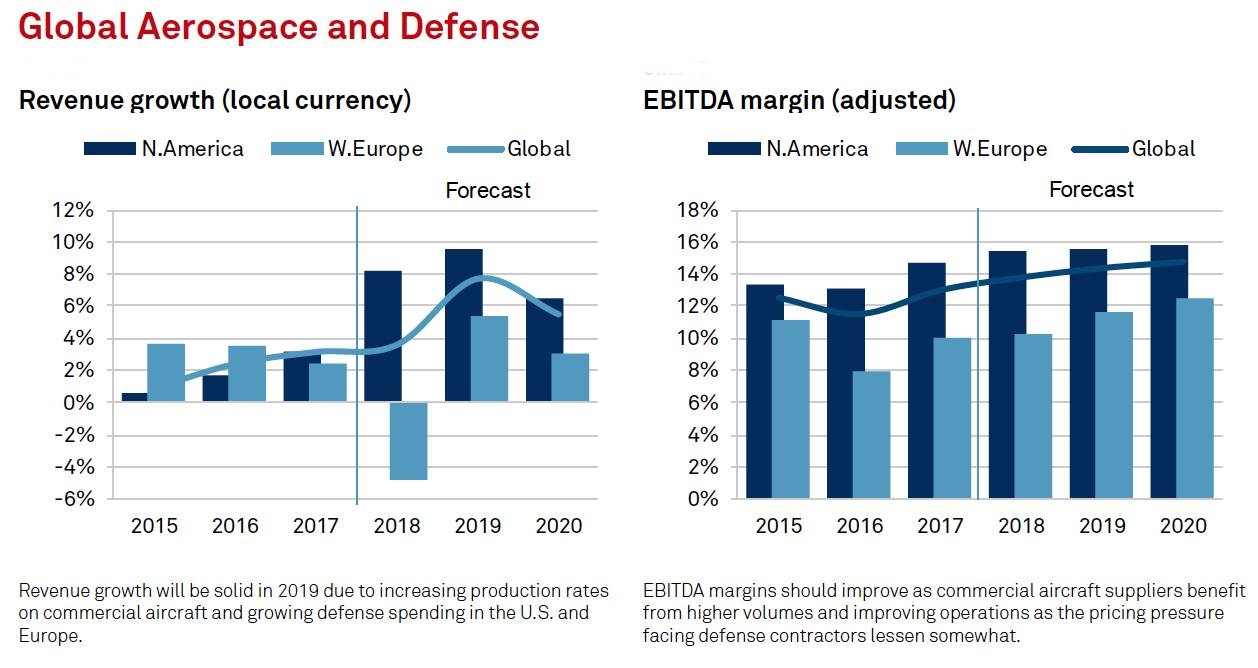 LONDON — The outlook for the aerospace and defense sector globally for the coming 12 to 18 months remains positive, Moody's Investors Service said Friday in its annual outlook report on the industry.

The key driver of the positive outlook is the expected resumption of the sector's operating profit growth to well over 10% in 2020 after dipping to 5%-7% in 2019, on the back of suspended deliveries of the Boeing Company's (A2 negative) grounded 737 MAX.


"While still positive, our outlook is less upbeat than 12 months ago on the back of intensifying US-China trade tensions, rising geopolitical risks in North Korea and the Middle East, slowing macroeconomic activity and potentially longer-than-expected 737 MAX delivery delays," said Martin Hallmark, Senior Vice President.

Defense budgets will grow around 3% through 2020, driven by the US. Other large defense budgets including those of France, the UK, Germany and Japan will expand by around 3% and 5% through 2020.

Meanwhile, S & P Global Ratings in November 2018 Aerospace and Defense Industry Trends for 2019, said rating trends across the global industry will likely be fairly stable as growing defense spending in the U and Europe and increasing aircraft production rates

support higher earnings and cash flow. However, the credit quality of some commercial aerospace suppliers could be affected by their continued struggles to increase production rates. Likely high levels of merger and acquisition (M&A) activity in both sectors could also lead to increasing ratings volatility.

"We expect credit ratios to improve in 2019 on moderate revenue growth and higher margins. However, this improvement could be constrained by operational issues at suppliers and increased leverage to fund M&A activity. Shareholder returns at the larger firms remain a concern, though less so now than in recent years."

S&P forecast that production rates of commercial aircraft to continue to increase in 2019, despite the flat to declining level of new orders, though at a slower pace than in 2018.

"In the US. we expect defense spending growth to moderate this year, though companies will

continue to benefit from the strong growth in 2018. In Europe, large order backlogs for commercial (mainly the Airbus A320) and defense aircraft continue to support credit metrics."

However, the largest risk facing the commercial aerospace industry is that suppliers will be unable to keep up with higher production rates while, at the same time, facing elevated margin pressure due to their evolving relationship with the aircraft manufacturers.

For US, defense contractors, political concerns and competing fiscal priorities that limit the growth of military spending are key risks to growth. In Europe, the main risk is Brexit and its potential impact on the supply chain for commercial aerospace. The uncertainty over Britain's EU exit has already led to increased inventories and could cause production delays, S&P said. — SG

© Copyright 2019 The Saudi Gazette. All Rights Reserved. Provided by SyndiGate Media Inc. (Syndigate.info).
Disclaimer: The content of this article is syndicated or provided to this website from an external third party provider. We are not responsible for, and do not control, such external websites, entities, applications or media publishers. The body of the text is provided on an "as is" and "as available" basis and has not been edited in any way. Neither we nor our affiliates guarantee the accuracy of or endorse the views or opinions expressed in this article.
Read our full disclaimer policy here
.