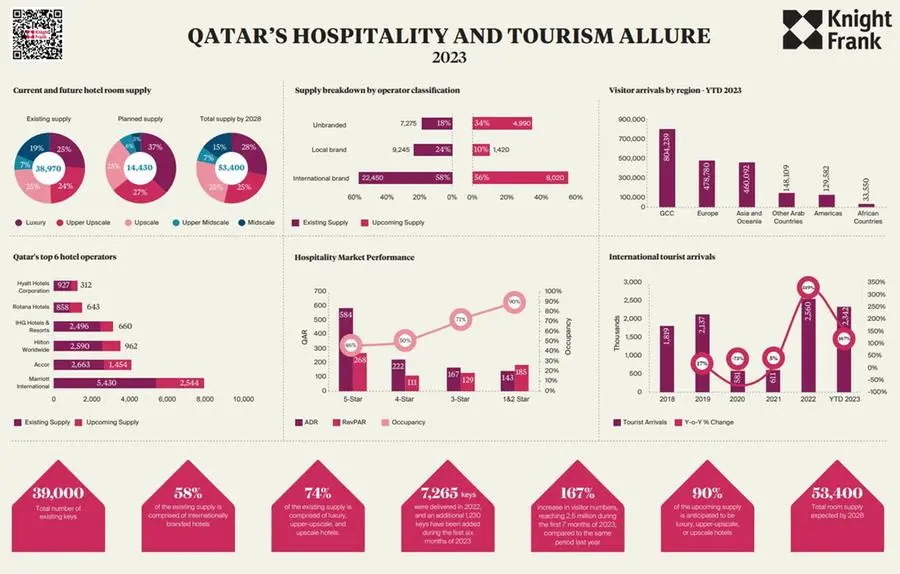 Qatar: Qatar's hospitality sector is experiencing substantial growth, poised to achieve a total room supply of 53,400 by 2028, including both ongoing construction and planned developments, according to the latest analysis by global real estate consultancy, Knight Frank.
Faisal Durrani, Partner – Head of Research, MENA, outlined: "Qatar's global appeal continues to edge upwards, with visitor numbers climbing 167% in the first seven months of the year to 2.5 million, helping to boost average occupancy levels to 54%. Clearly this is helping to instil confidence in hotel developers and operators who are planning to add a further 14,400 keys to the city's inventory in the next five years."
Leading this growth are Qatar's top six hotel operators, at the forefront is Marriott International, with an existing inventory of 5,430 rooms and plans to add 2,544 more, solidifying its position as a hospitality powerhouse in the region. Hyatt Hotels Corporation is set to enhance its offerings with an additional 312 rooms, augmenting its existing supply of 927 rooms. Similarly, Rotana Hotels is in line to introduce 643 new rooms alongside their existing 858 rooms.
IHG Hotels & Resorts and Hilton Worldwide are also contributing significantly, with existing room counts of 2,469 and 2,590, respectively, and forthcoming expansions of 660 and 962 rooms. Accor, with an existing supply of 2,663 rooms, is also amid a substantial expansion, adding 1,454 more rooms to their portfolio.
Delving further into Qatar's hospitality landscape, the nation currently boasts 39,000 existing keys, with a notable 58% affiliated with international hotel brands. Luxury, upper-upscale, and upscale hotels account for 74% of the existing supply, underlining Qatar's commitment to providing top-tier accommodations. This segment of the market looks set to expand further to 78% by 2028, with more budget friendly hotels retaining a smaller share of the market at just 22%.
Adam Stewart, Head of Qatar says: "2022 witnessed the introduction of 7,265 new keys, and the growth trend has continued into 2023, with an additional 1,230 keys added in the first six months. This rapid expansion coupled with a 167% increase in visitor numbers, reaching a staggering 2.5 million arrivals during the initial seven months of 2023, is testament to Qatar's rising prominence as a sought-after travel destination."
Looking ahead, Qatar's dedication to offering luxury accommodation is set to persist, with 90% of the upcoming supply falling within the luxury, upper-upscale, or upscale categories, according to STR data cited by Knight Frank.
Examining visitor arrivals by region for the year-to-date 2023, Qatar's global appeal is evident. The Gulf Cooperation Council (GCC) leads the visitor's influx with 804,239 arrivals, followed by Europe with 478,780 visitors, and Asia & Oceania with 460,092 guests. Other Arab Countries contributed 148,109 visitors, while the Americas and Africa accounted for 129,582 and 33,550 arrivals, during H1.
In summary, Qatar's hospitality sector is undergoing significant transformation, with prominent hotel operators and a strategic focus on luxury and upscale offerings. The nation's increasing visitor numbers reflect its growing appeal as a global travel destination, cementing Qatar's reputation as a hospitality hub to watch in the coming years.
About Knight Frank:

Knight Frank LLP is the leading independent global property consultancy. Headquartered in London, the Knight Frank network has 487 offices across 53 territories and more than 20,000 people The Group advises clients ranging from individual owners and buyers to major developers, investors, and corporate tenants. For further information about the Firm, please visit www.knightfrank.com.
In the MENA region, we have strategically positioned offices in key countries such as the United Arab Emirates, Saudi Arabia, Bahrain, Qatar, and Egypt. For the past 13 years, we have been offering integrated residential and commercial real estate services, including transactional support, consultancy, and management.
Understanding the unique intricacies of local markets is at the core of what we do, we blend this understanding with our global resources to provide you with tailored solutions that meet your specific needs. At Knight Frank, excellence, innovation, and a genuine focus on our clients drive everything we do. We are not just consultants; we are trusted partners in property ready to support you on your real estate journey, no matter the scale of your endeavour.
Let's connect socially - find us on LinkedIn, Instagram, and Twitter. For more information and to explore how we can be your partners in property, please visit our website at https://www.knightfrank.ae/
For all Media and PR inquiries, please contact:
Roksar Kamal, Press Manager
Roksar.kamal@me.knightfrank.com
Editor Notes:
Qatar Hospitality and Tourism Allure – 2023
​​​​​​Adam Stewart – Partner, Head of Qatar
Faisal Durrani - Partner, Head of Research, MENA