PHOTO

Modest fashion is more visible than ever, whether on the street, online or on the catwalk. 
Mainstream brands such as US sportswear giant Nike and Japan's Uniqlo have launched modest fashion lines. Given a burgeoning sale of modest fashion, investors have taken a note of the sector. 
With Muslim spend on apparel and footwear estimated to be worth $283 billion in 2018, there is significant potential for modest fashion to take a much larger slice of the $2.5 trillion global apparel market, according to a report on the 2019/20 State of the Global Islamic Economy (SGIE). 
Global Muslim spend on modest fashion has increased by 4.8 percent from $270 billion to $283 billion in 2018 with Turkey, UAE and Indonesia ranked as the top three countries spending the most. Muslim spend on clothing and apparel is projected to grow by 6 percent to reach $402 billion by 2024. 
The SGIE report produced by Dinar Standard defines the Islamic economy as "sectors whose core products [and] services are structurally affected by Islamic ethics and law," which drive the faith-inspired ethical consumption needs of the 1.8 billion Muslim consumers worldwide.
The consumers of the Islamic economy are primarily Muslims but also include others outside the Islamic faith who share similar values. 
Modest fashion presents substantial opportunities for investors seeking untapped opportunities. Multinational companies can benefit form investing in new brands or developing modest fashion projects, the report noted. 
The report cited many examples: Turkish online modest fashion retailer Modanisa sold a minority stake estimated at $15 million to Goldman Sachs and Wamda Capital to further fund its expansion. Dubai-based online retailer The Modist has attracted investment from British ecommerce fashion site Farfetch and Annabel Investment Holding. US-based Haute Hijab secured $2.3 million in financing to create the digital native Muslim cultural lifestyle brand worldwide. 
Havva Kahraman, Modanisa Brand Coordinator, said: "As a business we had twin mandate: to fill a major clothing gap and empower these consumers to express their identities, values and personal tastes in style. Our approach is to truly understand the customer and address her evolving needs." 
"Many of our customers are entering the workforce for the first time and require apparel options that allow them to operate comfortably and confidently in a professional environment, while upholding modest standards. Modanisa is modest from the original intent of our garment design and selection," she added. 
On investor opportunities in the sector, the report notes that despite strong growth, the Islamic Economy deal value remains far below potential. However, the sector has seen $42 million investment in the Islamic lifestyle sector in 2018/19.
Major retailers and brands can generate substantial revenues by adapting collections as well as launching modest fashion lines, the report said, identifying luxury modest fashion, modest active wear and men's modest clothing as hot sectors for growth in 2020.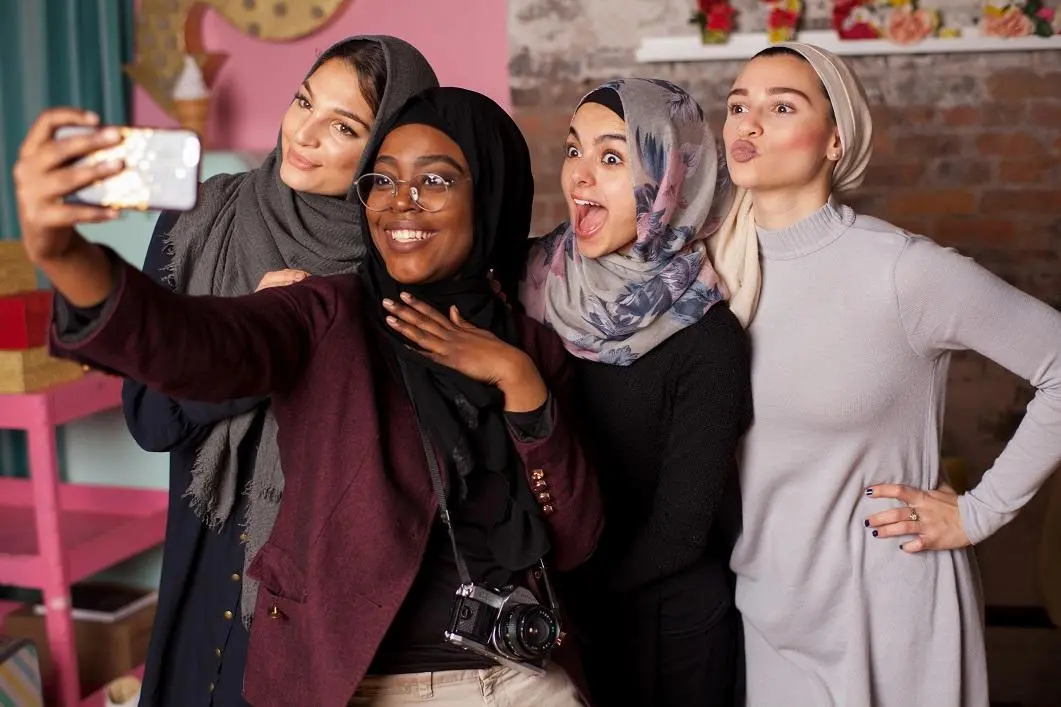 >
Global Muslim spend on modest fashion has increased by 4.8 percent from $270 billion to $283 billion in 2018 with Turkey, UAE and Indonesia ranked as the top three countries spending the most. Image supplied by Getty Images
Government opportunity
Modest fashion can boost GDP by developing local talent and generating jobs. The The Organisation of Islamic Cooperation (OIC) governments are starting to support modest fashion to diversify their national economies with Dubai and Indonesia playing a lead role in promoting modest fashion designers, the report noted. 
Operational developments
Modest fashion could be transformed by making use of innovative crowdsourcing and inventory management techniques.  The sector is yet to explore new business models notably crowdsourcing, the report said. 
Crowdsourcing has been successfully used by fashion startups to raise funds to source fabrics and launch their business. For instance, US brand Lady Farmer raised $51,652 and DudeRobe raised $67,498 on Kickstarter, a platform that uses crowdsourcing to raise funds for projects. 
Strategic considerations
Investors, governments and businesses can address substantial opportunities across the modest fashion sector by developing robust strategies, the report said.  
Investors can engage modest fashion consultants for opportunities in the brands and e-commerce and can seek out partnerships for greater commercial reach. 
Governments can establish modest fashion advisory bodies for retailers and brands seeking guidance and analyse what ethical standards can be adopted for the industry. The governments can also issue standards on modest fashion and sustainability in coordination with stakeholders. 
Businesses can conduct a feasibility study on developing modest fashion products, create a team to research unique modest fashion needs and seek out modest fashion partners for design and e-commerce. 
Challenges and risk
The industry also faces challenges in different fronts, as the concept of modest fashion varies across the OIC, with no possibility for a universally agreed upon standard. While certain OIC countries impose dress codes, no agency can implement a globally accepted standard for the modest fashion sector. 
When it comes to businesses, though major retailers and brands can generate substantial revenues by adapting collections, many corporates don't fully realise the scale of the opportunity.
Multinational retailers have released one-off collections or items such as hijabs but have not been consistent in modest fashion offerings despite the potential, considering it a religious trend rather than a style. 
There is a lack of innovation and support for modest fashion entrepreneurs. Beyond private investment and crowdfunding, there is limited dedicated support from governments and investors in developing modest fashion, the report said. 
(Writing by Seban Scaria; editing by Daniel Luiz)
Our Standards: The Thomson Reuters Trust Principles
Disclaimer: This article is provided for informational purposes only. The content does not provide tax, legal or investment advice or opinion regarding the suitability, value or profitability of any particular security, portfolio or investment strategy. Read our full disclaimer policy here.
© ZAWYA 2019