PHOTO

The deal announced by two of Qatar's privately-owned banks on Tuesday to undergo a merger has been welcomed by analysts, with one describing it as "a definite positive" for customers.
Barwa Bank, an Islamic lender which last year made a net profit for shareholders of 753.2 million Qatari riyals ($206.9 million) on income of around 2.25 billion riyals, announced on its website that it had signed a final agreement with conventional lender International Bank of Qatar for a merger "to create a leading Sharia-compliant financial institution with a solid financial position and robust liquidity".
The combined entity would have total assets of 80 billion riyals, and shaherholders' equity of 12 billion riyals, the statement said, adding that a consultancy had been appointed to develop an integration plan and a strategy to achieve the merger's goals, the most important of which would be to grow revenue and reduce costs.
Approval for the deal is still required both from each banks' shareholders and from regulators before it concludes later this year but if successful, the enlarged entity would have a 6 percent share of Qatar's overall banking market, Chiradeep Ghosh, a banking analyst at investment bank SICO Bahrain, told Zawya in response to questions via email on Wednesday.
"We believe Sharia-compliant banks have strong growth potential, especially in the private sector with serious competition from only Qatar Islamic bank and Qatar International Islamic Bank," he said.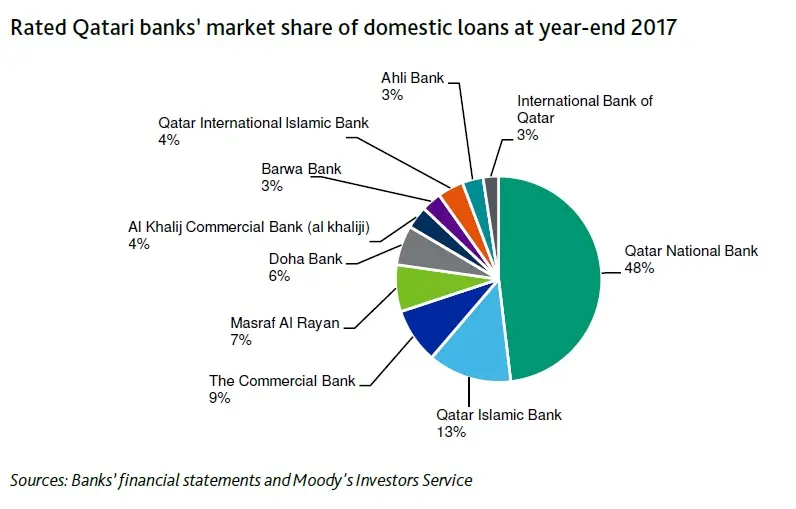 >
He added that a combined entity with an enlarged equity book also "makes Barwa Bank-IBQ more competitive to tap into big-ticket projects".           .
Akber Khan, a senior director of asset management within Doha-based Al Rayan Investment, said: "With ten local players, consolidation would certainly be welcome within the Qatari banking sector. In retail in particular, too many banks are targeting the same several hundred thousand high value customers."
He added in an email to Zawya on Wednesday that both IBQ and Barwa "have the advantage of being unlisted, so will avoid the glare of quarterly public scrutiny while they set their combined house in order".
Moreover, he said that while neither bank has a major branch network, they should still be able to make savings by centralising head office costs.
Barwa and IBQ had been part of an earlier process alongside a third lender, Masref Al Rayyan, to merge three banks, but this deal collapsed in June after 18 months of talks. If it had succeeded, the deal would have created the joint-second biggest lender in the market (alongside Qatar Islamic Bank) with a combined share of 13 percent. Qatar National Bank remains the country's biggest lender by some distance, with a 48 percent share, according to Moody's.
Moody's last month changed its outlook for Qatar's banking sector. Although it maintained the same 'Aa3' credit rating on the country's 10 major banks, including Barwa and IBQ, it changed the outlook for the banks to stable from negative.
The improvement followed a similar change to Qatar's sovereign outlook three days earlier, which Moody's said was based on the fact that the country had shown 'resilience' to an economic boycott imposed by four neighbouring countries - Bahrain, Egypt, Saudi Arabia and the United Arab Emirates. The four countries began the boycott in June last year, claiming that Qatar had supported terrorism - a claim that Qatar denies.
Moody's said it expected that "the capacity of the Qatar government to support the country's banks will remain unchanged".
(Reporting by Michael Fahy; Editing by Mily Chakrabarty)
(michael.fahy@thomsonreuters.com)
Our Standards: The Thomson Reuters Trust Principles
Disclaimer: This article is provided for informational purposes only. The content does not provide tax, legal or investment advice or opinion regarding the suitability, value or profitability of any particular security, portfolio or investment strategy. Read our full disclaimer policy here.
© ZAWYA 2018