PHOTO

Oil prices
Oil prices fell on Friday as initial talks to review the terms of a global oil supply pact that has been in place for 17 months started between energy ministers of Saudi Arabia and Russia at St. Petersburg this week, along with their counterpart from the United Arab Emirates.
OPEC and non-OPEC ministers will convene in Vienna on June 22-23, and the final decision will be taken there.
"After hitting that $80 level, which is a psychological level, we were seeing a little bit of a pull-back yesterday, and then rhetoric out of Saudi and Russia has only exacerbated the sell-off today," Matt Smith, director of commodity research at ClipperData, told Reuters on Friday.
Brent crude futures fell $2.35, or 3 percent, to settle at $76.44 a barrel. The global benchmark lost about 2.7 percent this week, its largest weekly drop since early April. The contract hit its highest since late 2014 at $80.50 last week.
U.S. West Texas Intermediate (WTI) crude slumped $2.83, or 4 percent, to finish at $67.88 a barrel. For the week, WTI tumbled about 4.9 percent, its biggest loss since early February, a sharp course reversal after six weeks of gains.
Global markets
Uncertainty over a United States-North Korea summit restrained equity markets and a retreat in oil prices hit equity markets on Friday.
On Wall Street, the Dow Jones Industrial Average fell 59.15 points, or 0.24 percent, to 24,752.61, the S&P 500 .SPX lost 6.46 points, or 0.24 percent, to 2,721.3 and the Nasdaq Composite .IXIC added 9.43 points, or 0.13 percent, to 7,433.85.
MSCI's gauge of stocks across the globe shed 0.29 percent.

Middle East markets
Stock markets in the Middle East were mixed on Thursday.
Qatar's index rose 0.6 percent, after Qatar Islamic Bank rose 2.1 percent.
Dubai's index added 0.3 percent, with DXB Entertainments adding 3.4 percent. DXB has gained 16.5 percent over the last four days.
Abu Dhabi's index added 0.3 percent, as TAQA jumped 4.9 percent.
The Saudi index closed roughly flat after profit-taking in some banks. National Commercial Bank lost 0.4 percent, while SABB lost 2.8 percent.
Egypt's index was down 0.2 percent, Oman's index added 0.2 percent, Bahrain's index was down 0.3 percent and Kuwait's index was down 0.7 percent.

Currencies
A retreat in oil prices pushed the dollar higher on Friday.
The dollar index rose 0.48 percent, with the euro was down 0.53 percent to $1.1657.
The dollar has rebounded after touching two-week lows versus a basket of currencies .DXY on Thursday, helped by gains against commodity-linked currencies, as oil prices fell.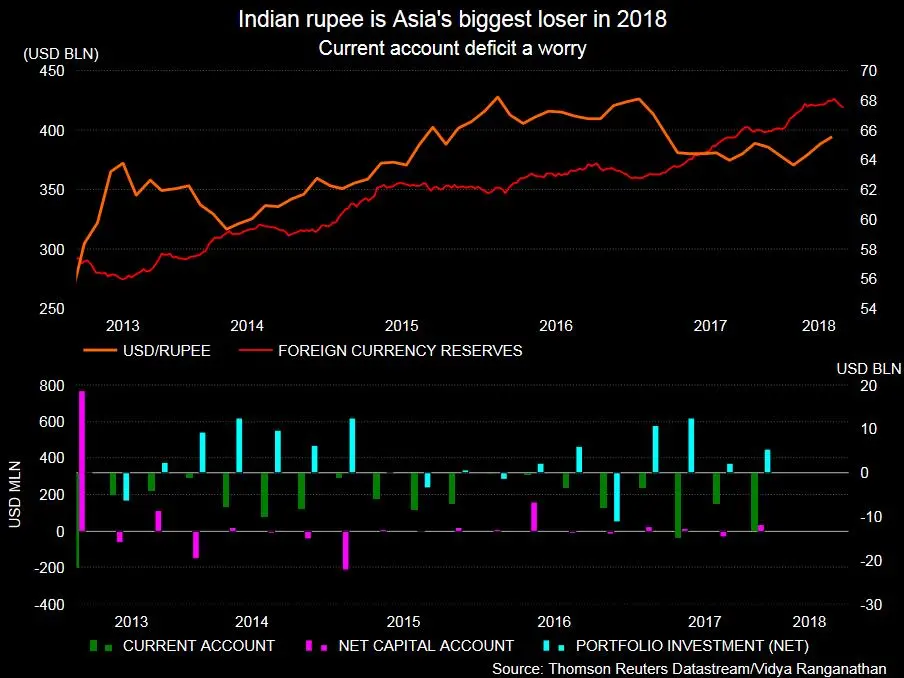 >
Commentary: The Indian rupee is down more than 6 percent against the dollar this year and is Asia's worst performing currency in 2018.

Gain a deeper understanding of financial markets through Thomson Reuters Eikon.

Precious metals
Gold prices slightly edged down on Friday on a stronger dollar.
Spot gold lost 0.1 percent at $1,303.34 per ounce by 1:38 p.m. EDT (1738 GMT).
(Writing Gerard Aoun; Editing by Shane McGinley)
(gerard.aoun@thomsonreuters.com)

For access to market moving insight, subscribe to the Trading Middle East newsletter by clicking here.

Our Standards: The Thomson Reuters Trust Principles
---
Disclaimer: This article is provided for informational purposes only. The content does not provide tax, legal or investment advice or opinion regarding the suitability, value or profitability of any particular security, portfolio or investment strategy. Read our full disclaimer policy here.
© ZAWYA 2018