PHOTO

Oil markets closed the week on a strong note, with Friday's gains eclipsing the weakness of the rest of the week, which was truncated by holidays.
Prices were down in the middle of the week but bounced back on Friday to close the week and the year higher. While the spurt in COVID-19 cases in China post the relaxation of curbs spooked the market, support came in the form of increased fighting in Ukraine.
The Dubai Brent EFS spread was seen climbing last week on support from the Brent benchmark, which rose sharply on Friday. Dubai benchmark was largely tepid on account of the situation in China and low end of year trades. The time spreads in Dubai swaps were largely flat through the week.
Weekly crude oil exports from the Middle East and North Africa were lower, at 106.9 million bbl and 8.1 million bbl, respectively.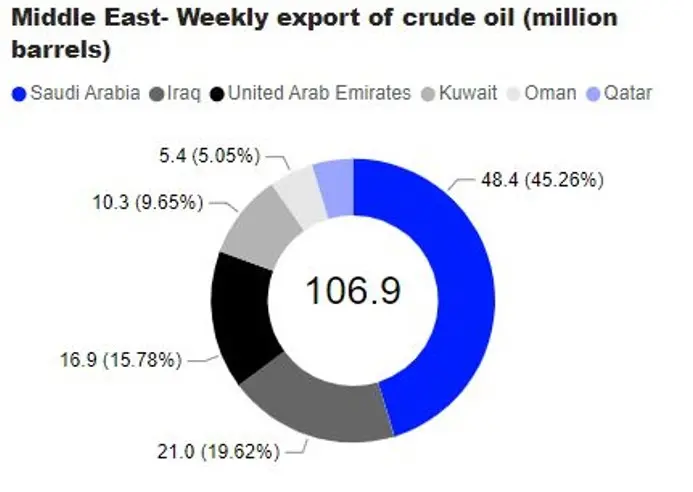 The weakness caused by the economic uncertainty, high interest rates and increasing COVID-19 cases in China are likely to counterbalance the supply side strength emerging from the sanctions on Russian oil and potential OPEC+ action leaving oil prices only marginally higher in 2023.
The second half (H2) of 2023 is expected to be stronger as global air travel continues to pick up, economies stabilise and central banks become less hawkish. The first six months of the year will still be dominated by the progress of the COVID-19 scenario in China and potential spillover into global economy.
A Reuters poll for price forecasts in 2023 pegged the Brent benchmark to average $89.37/bbl in 2023, lower than estimates seen in the November poll.
While 2022 was a year of several ups and downs with benchmarks moving significantly in both directions, the volatility could spill into 2023 with lingering uncertainties which have the potential to turn the markets strongly in either direction. On a broader level though, longer term supply scenario continues to remain an area of concern with spare capacity limited and concentrated, leaving little room for adjustment in case of a strong positive demand upside.
India: Lower diesel demand in December
Diesel sales by Indian state refiners fell in December with a cold wave in the northern part of the country curtailing movement of trucks as per preliminary sales data quoted by Reuters. And unlike western countries, diesel is not a major fuel used for heating and hence winter does not prop up demand. Data showed a m-o-m drop of 3.7% in diesel sales while gasoline sales were marginally up 0.3%.
(Reporting by Sudarshan Sarathy; editing by Seban Scaria)