PHOTO

An estimated $475 million worth of investment banking fees were generated in the MENA during the first six months of 2023, according to Refinitiv data.
The investment banking fees churned in H1 is half the value recorded during the same period in 2022 and the lowest first-half total since 2015, the global data provider said in its quarterly report.
JP Morgan earned the most investment banking fees in the region during the first half of 2023, a total of $36.2 million or a 7.6% share of the total fee pool.
This was followed by HSBC and First Abu Dhabi Bank at $27.8 million and $24.6 million, respectively.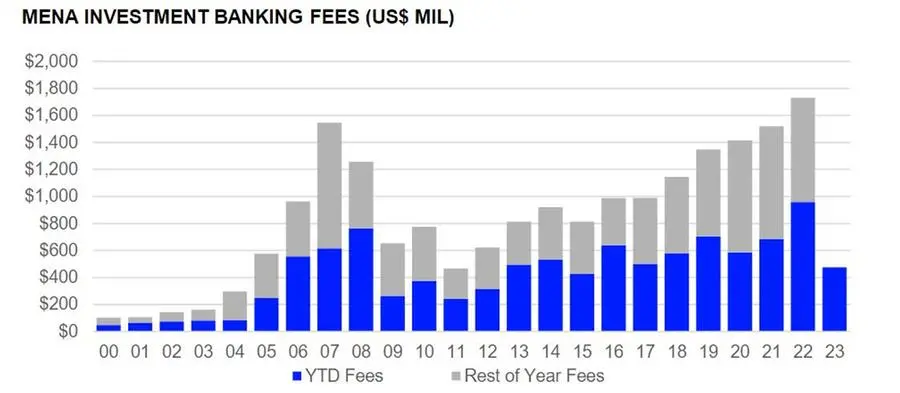 Advisory fees earned from completed M&A transactions in the region totalled $95.4 million, a 70% decrease from year ago levels and the lowest first-half total in five years. 
Equity capital markets underwriting fees also recorded a decline, falling 46% year-on-year (YoY) to $128.1 million, a two-year low.
Syndicated lending fees declined 68% to a twelve-year low of $113.7 million, while debt capital markets underwriting fees increased 170% to a two-year high of $137.7 million.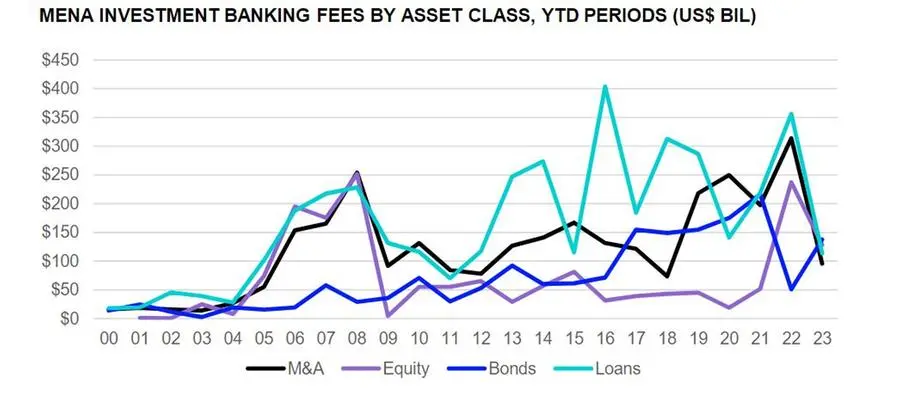 The MENA fees accounted for 0.9% of investment banking fees earned globally during the first half of 2023, down from 1.6% during first-half 2022.
Thirty-nine percent of all MENA fees were generated in the UAE , followed by Saudi Arabia (37%).
(Writing by Seban Scaria; editing by Daniel Luiz)
(seban.scaria@lseg.com)