PHOTO

Investment banking fees reached $110.5 billion during 2022, representing a 33% decrease compared to 2021, marking the slowest annual period for global IB fees since 2019, according to data from Refinitiv.
JP Morgan secured the top spot for investment banking fees earned during 2022 with $7.1 billion, maintaining its 2021 ranking.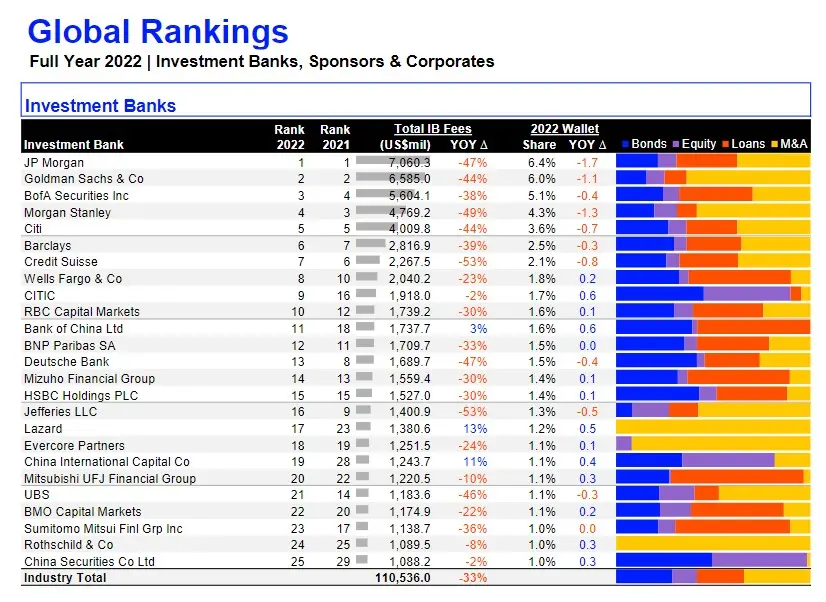 Goldman Sachs remained in second place with an estimated 6.0% of global wallet share. BofA Securities took the third spot with $5.6 billion in fees, while Morgan Stanley and Citi rounded out the top five. 
Fees during Q4 2022 declined 9% compared to Q3, marking the slowest quarter for IB fees since the fourth quarter of 2016.
While the Americas contributed 48% of all fees generated globally with $53.0 billion, a 40% downtick compared to 2021 levels. Imputed fees in the EMEA region decreased 32% to $25.2 billion during full year 2022. 
Total IB fees in Asia-Pacific hit $28.6 billion, registering a 17% decline compared to 2021 levels, while Japan fees fell 41% compared to a year ago.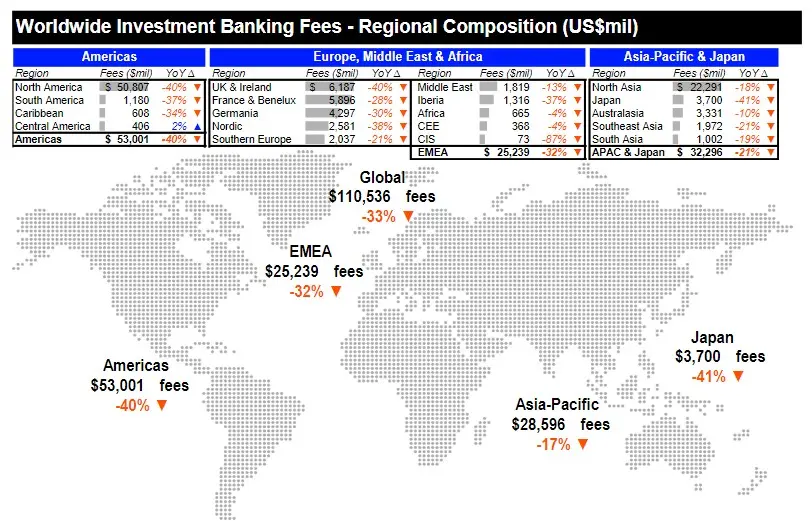 With significant declines across IPOs, Follow-Ons and Convertibles, ECM underwriting fees totaled $14.2 billion during 2022, a 66% decrease compared to 2021 levels.
DCM underwriting fees decreased 30% compared to 2021. Completed M&A advisory fees registered a 24% downtick compared to a year ago with $37.8 billion in fees globally, Refinitiv said in its Global Investment Banking Review report.
Government and agency fees down 6%
Fees from global government and agency-related activity totaled $10.4 billion, down 6% compared to a year ago.
Imputed fees from the financial sector accounted for 32% of full year 2022 totals, registering a decrease of 34%. Fees from industrials deal making was down 33% compared to last year.
The retail and telecommunications sectors registered the strongest double-digit percentage decreases, down 58% and 46%, respectively, compared to 2021.
(Reporting by Seban Scaria; editing by Daniel Luiz)
(seban.scaria@lseg.com)