PHOTO

Investment Banking (IB) fees worth around $1.6 billion were generated in the MENA region during 2022. Fees increased 5% compared to 2021, in contrast to a 33% decline in global IB fees, according to Refinitiv.
Advisory fees earned from completed M&A transactions in the region reached $509.6 million, a 35% increase from last year.
Equity capital markets underwriting fees also increased 31% year-on-year to reach $450.0 million during 2022, Refinitiv, one of the world's largest providers of financial markets data and infrastructure, said.
Syndicated lending fees declined 3% to a three-year low of $521.2 million, while debt capital markets fees declined 54% to $124.9 million, the lowest full year total since 2015. 
HSBC Holdings earned the most investment banking fees in the region during 2022, a total of $120.3 million or a 7.5% share of the total fee pool, followed by Citi and JP Morgan.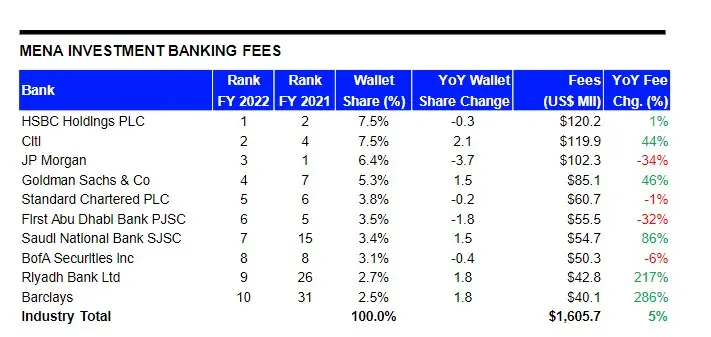 Thirty-eight percent of all MENA fees were generated in Saudi Arabia during 2022, followed by the UAE (35%).
Mergers and Acquisitions
The value of announced M&A transactions with any MENA involvement reached $85.2 billion during 2022, 31% less than the value recorded in 2021, Refinitiv reported.  
Despite the decline in value, the number of deal announcements in the region increased 6% from last year, according to the global data provider.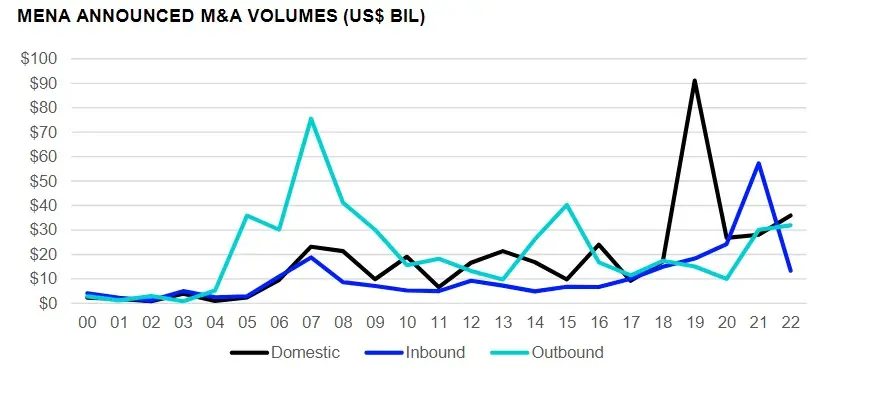 Deals involving a MENA target totalled $49.3 billion during 2022, down 42% from last year and a four-year low.
The number of deals increased 1% from last year and marked the highest full year deal count of all time.
Inbound deals involving a non-MENA acquiror declined 77% from last year's all-time record to $13.4 billion, while domestic deals increased 28% in value to $36.0 billion.
The top deal with MENA involvement included CDPQ, a global investment group, investing $5 billion in three of Dubai-based DP World's flagship UAE assets.
MENA outbound M&As totalled $31.9 billion, up 6% compared to the value recorded during 2021 and a seven-year high.
The industrials sector was most active, with deals targeting industrial companies accounting for 23% of MENA target M&A during 2022, followed by the financial sector with 22%.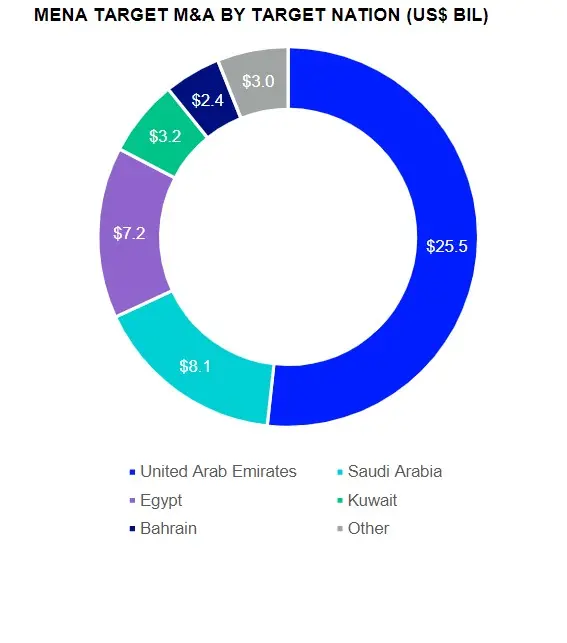 The UAE was the most targeted nation, followed by Saudi Arabia and Egypt.
While Citi was ranked the top financial advisor for M&As with MENA involvement, JP Morgan and Goldman Sachs & Co followed in the second and third position, Refinitiv said. 
(Reporting by Seban Scaria; editing by Daniel Luiz)
(seban.scaria@lseg.com)