PHOTO

Clean-energy investments have received a significant boost in 2023; in fact, they have overtaken spending on fossil fuels, thanks to the recovery from the COVID-triggered slump and a swift response to the recent global energy crisis.
"Comparing our estimates for 2023 with the data for 2021, annual clean energy investment has risen much faster than investment in fossil fuels over this period (24% vs 15)," International Energy Agency (IEA), said in its report, World Energy Investment 2023.
Russia's invasion of Ukraine has accelerated momentum behind the deployment of range of clean energy technologies, even as it also prompted a short-term scramble for oil and gas supply, the IEA noted.
According to its estimates, around $2.8 trillion will be invested in energy in 2023. More than $1.7 trillion is going to clean energy, including renewable power, nuclear, grids, storage, low-emission fuels, efficiency improvements and end-use renewables and electrification.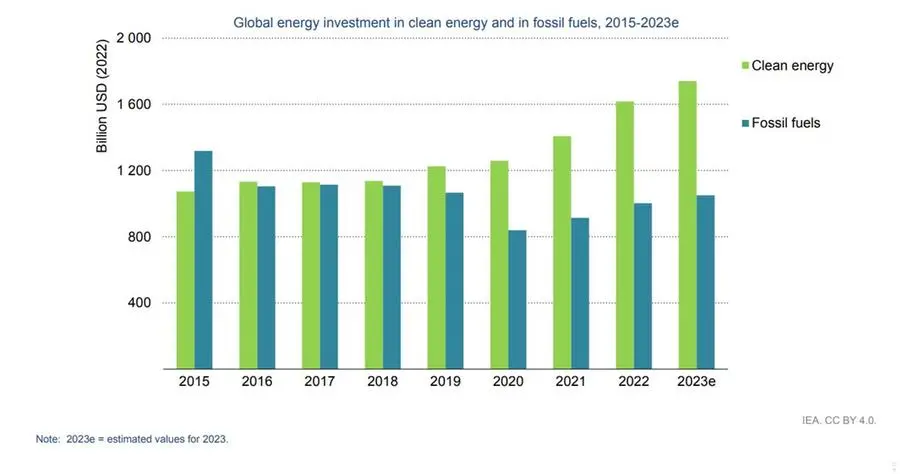 The remainder, slightly over $1 trillion, is going to unabated fossil fuel supply and power, of which around 15% is to coal and the rest to oil and gas.
For every $1 spent on fossil fuels, $1.7 is now spent on clean energy. Five years ago, this ratio was 1:1, IEA said.
Clean energy investments have been boosted by a variety of factors:
Improved economics at a time of high and volatile fossil fuel prices
Enhanced policy support through instruments like the US Inflation Reduction Act and new initiatives in Europe, Japan, China and elsewhere
A strong alignment of climate and energy security goals, especially in import-dependent economies
A focus on industrial strategy as countries seek to strengthen their footholds in the emerging clean energy economy
(Reporting by Seban Scaria; editing by Daniel Luiz)