Rated GCC corporate firms to focus on preservation rather than growth: S&P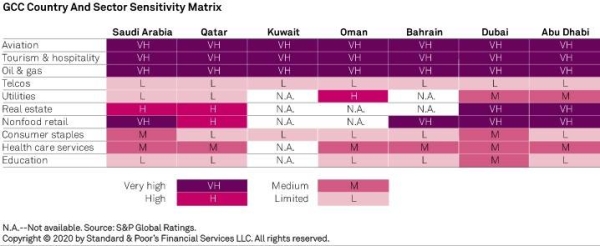 S&P GCC Country and Sector Sensitivity Matrix
DUBAI — S&P Global Ratings forecasts that the key focus for rated GCC corporates will be on preservation rather than growth as key priorities for businesses include cost optimization, managing liquidity, and cash flow preservation, with new investments expected to take a back seat for most sectors.

The agency expects a mid-to-high single digit real GDP contraction for most rated GCC sovereigns in 2020 and operating conditions to remain weak over the next few quarters.


In its recent report "Twin Shocks of Low Oil and COVID-19 Mean Double Trouble for GCC Corporates", the ratings firm expects a more cautious spending approach from oil and gas players, with capital expenditure cuts and downward revisions from 2020 guidance already announced so far.

However, GCC national oil companies should benefit from their cost advantage compared with global peers in the low oil price environment.

Overall, the region has witnessed a decline in new investments and the reduction and postponement of capital expenditures by a number of companies — particularly those in the real estate sector.

However, the deterioration appears to be relatively limited for telecom operators, utilities, and some government-related entities (GRE). The region's leading national oil companies have also announced deferments to investments.

Regional banks however, still remain accommodative to good credits, providing funding at better terms than the capital markets. Therefore, we expect relatively limited debt capital market activity for most rated GCC corporates in 2020, outside of opportunistic refinancing.
© Copyright 2020 The Saudi Gazette. All Rights Reserved. Provided by SyndiGate Media Inc. (Syndigate.info).
Disclaimer: The content of this article is syndicated or provided to this website from an external third party provider. We are not responsible for, and do not control, such external websites, entities, applications or media publishers. The body of the text is provided on an "as is" and "as available" basis and has not been edited in any way. Neither we nor our affiliates guarantee the accuracy of or endorse the views or opinions expressed in this article.
Read our full disclaimer policy here
.