Article
#UAE
|
09 September, 2019
KFC's new ads raise awareness in the UAE
YouGov recently reported that in the UAE, KFC ranked 5th in the most improved brands and top within the dining sector for the 12 months ending 30th June 2019 as seen in the YouGov BrandIndex 2019 annual brand health rankings.
Following up on this, in August, YouGov's brand tracker shows that KFC achieved the highest uplift in Ad Awareness (whether someone has seen an ad for the brand in the past two weeks) during the month out of all 590 brands tracked in the UAE. Ad Awareness showed a statistically significant increase of 7.1 percentage points from 37.3% to 44.4%.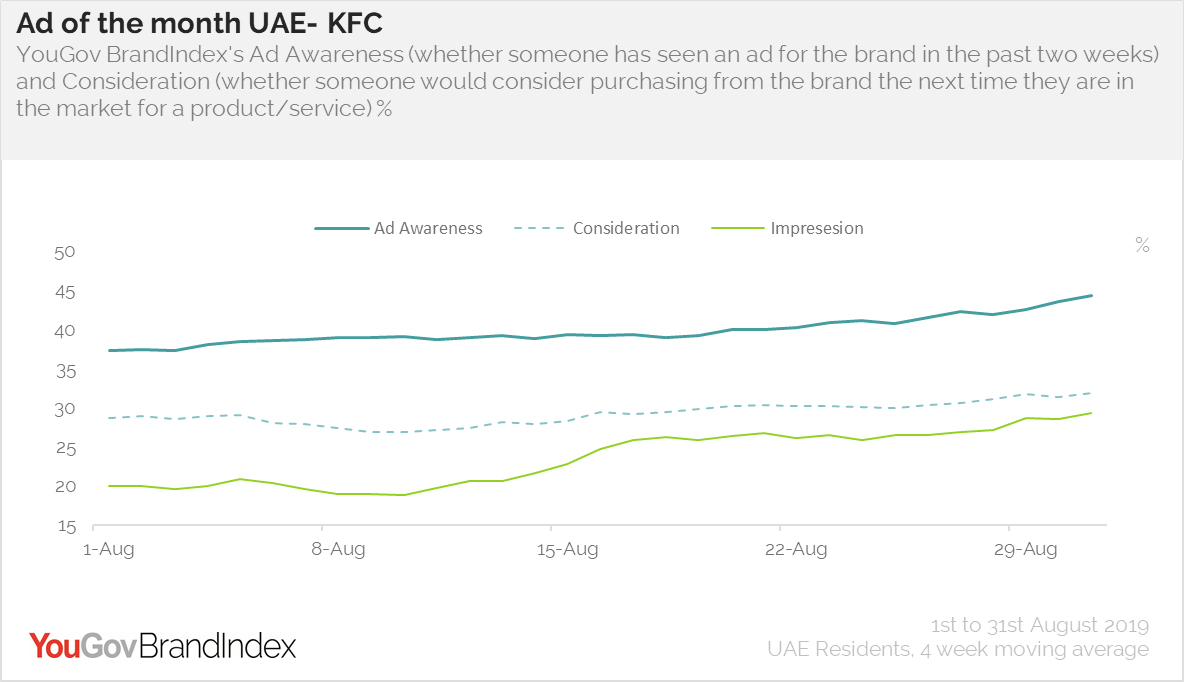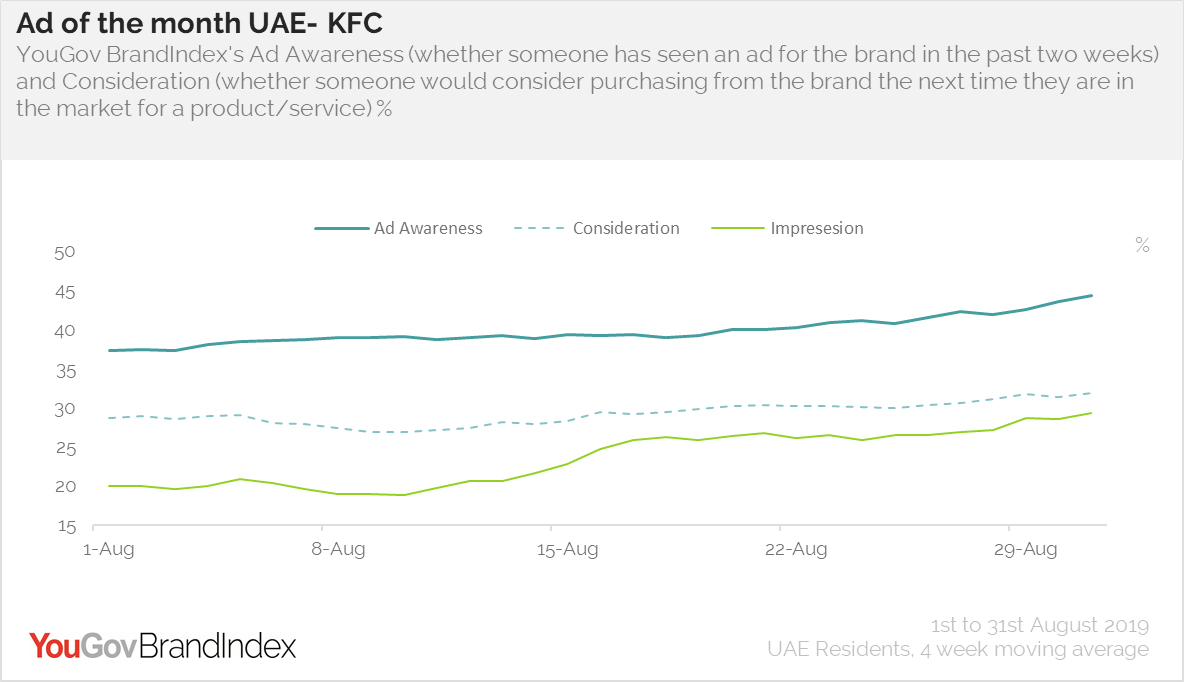 The Eid Mubarak advert, along with the 'Not traveling this summer? Travel to KFC' adverts and the Double down Promotion also resonated with the general public. We can see an improved general impression of the brand, with Impression scores (whether someone has a positive or negative impression of a brand) up 10.4 points from its lowest point to its highest in August. People's reactions to the brand has also changed, with Consideration scores (whether people would consider purchasing from KFC the next time they are in the market to purchase food and drinks) improving by 4.9 points from the lowest point to the highest at the end of the month.
As the increased Ad Awareness and Consideration scores in August suggest KFC's brand health has improved which is a positive sign for how the brand is performing in the UAE recently.
Having recently announced an intention to open up to 70 new outlets, we will continue to monitor KFC scores on BrandIndex in the coming year to see whether they are able to sustain the growth seen in August.
-Ends-
About BrandIndex
BrandIndex is the authoritative measure of brand perception. Unlike any other brand intelligence service, it continuously measures public perception of thousands of brands across dozens of sectors. We interview thousands of consumers every day, yielding over 2.5 million interviews a year. BrandIndex operates at national and international levels, allowing you to track brand perception in just one country, compare across multiple countries or monitor a global picture.
Media Enquiries:
Bhawna Singh
Bhawna.Singh@yougov.com<mailto:Bhawna.Singh@yougov.com>
Mobile: +919769803043
© Press Release 2019
Disclaimer: The contents of this press release was provided from an external third party provider. This website is not responsible for, and does not control, such external content. This content is provided on an "as is" and "as available" basis and has not been edited in any way. Neither this website nor our affiliates guarantee the accuracy of or endorse the views or opinions expressed in this press release.
The press release is provided for informational purposes only. The content does not provide tax, legal or investment advice or opinion regarding the suitability, value or profitability of any particular security, portfolio or investment strategy. Neither this website nor our affiliates shall be liable for any errors or inaccuracies in the content, or for any actions taken by you in reliance thereon. You expressly agree that your use of the information within this article is at your sole risk.
To the fullest extent permitted by applicable law, this website, its parent company, its subsidiaries, its affiliates and the respective shareholders, directors, officers, employees, agents, advertisers, content providers and licensors will not be liable (jointly or severally) to you for any direct, indirect, consequential, special, incidental, punitive or exemplary damages, including without limitation, lost profits, lost savings and lost revenues, whether in negligence, tort, contract or any other theory of liability, even if the parties have been advised of the possibility or could have foreseen any such damages.