Article
petrochemicals
|
16 September, 2019
Saudi petrochem sector to see lower Q3 earnings: Al Rajhi Research
Riyadh – Mubasher: Saudi petrochemical companies are expected to have lower production rates in the coming days after Saudi Aramco's oil facilities at Abqaiq and Khurais have been recently attacked with drones, according to a report released by Al Rajhi Capital on Monday.
Al Rajhi Capital cut its estimates for petrochemical firms' earnings for the third quarter of 2019.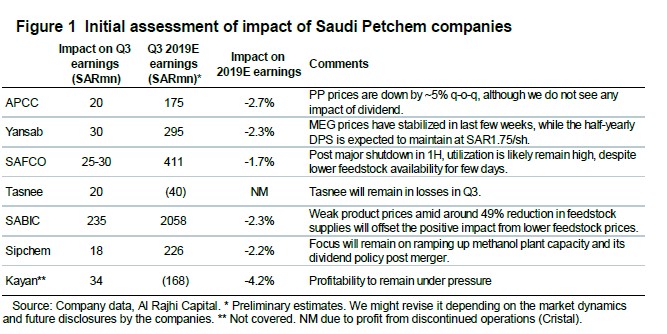 As they rely on Aramco's supply for feedstock requirements, most petrochemical firms have already revealed a 40% reduction in feedstock supplies such as the National Petrochemical Company (Petrochem) and Sahara International Petrochemical Co (SIPCHEM), the report added.
Accordingly, production may be lowered by about 5% during Q3-19 and additional costs will likely be incurred.
However, major petrochemical firms with higher inventory level such as Saudi Basic Industries Corp. (SABIC) could be able to redistribute available inventory among its units to alleviate the shortage.
In addition, lower production may also increase oil and polymer prices if the rise in cost sustains.
Source: Mubasher
All Rights Reserved - Mubasher Info © 2005 - 2019 Provided by SyndiGate Media Inc. (Syndigate.info).
Disclaimer: The content of this article is syndicated or provided to this website from an external third party provider. We are not responsible for, and do not control, such external websites, entities, applications or media publishers. The body of the text is provided on an "as is" and "as available" basis and has not been edited in any way. Neither we nor our affiliates guarantee the accuracy of or endorse the views or opinions expressed in this article.
Read our full disclaimer policy here
.